Speaking of New Year's Resolutions… If you live in Paris, it may be time to change up your usual running routes.  If you are just visiting, running is a great way to see the city from a different perspective, and to cover more ground. 
Here is my Top 10 List for Paris Running Routes: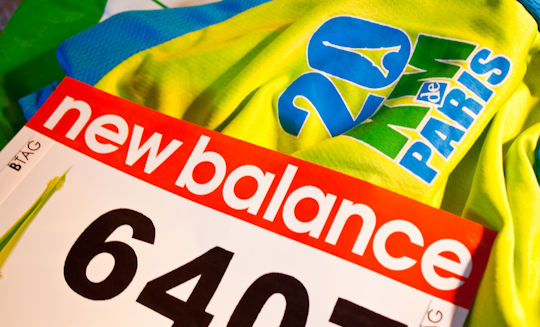 Quai to André Citroën: On Sundays, starting just in front of the Musée d'Orsay in the 7th, the left bank quais are closed to cars and you can run (on a combination of roads, parking lots and paved and cobblestoned quais) all the way to the edge of the city. For a run that's about 8 miles (13km) round trip, run from the Musée d'Orsay to Parc André Citroën in the 15th arrondissement and back.
Quai to Bastille: The right bank quais are also closed on Sundays, from near the Pont des Arts to a bit past Bastille.  However, you can also run further in both directions on the cobblestones and other pedestrian areas.  It is about 5 miles (8 km) from the Grand Palais in the 8th arr. to Bercy in the 12th.
Le Viaduc des Arts: This elevated green space ("Promenade Plantée") runs for about 0.6 miles/1 km starting just behind the Opéra in Bastille (12th arr.), but connecting greenways and parks allow you to run all the way to the Bois de Vincennes (about 2.8 miles/4.5 km).

Buttes Chaumont: There are not too many hill run options in Paris, unless you want to do stadiums up to Sacré Coeur in Montmartre, but the Parc des Buttes Chaumont in the 19th arr. is a big exception. You may never want to see a hill again!

Parc Saint-Cloud: Just outside of Paris (but still metro accessible is the Parc Saint-Cloud, a wonderful mix of fields and forests and varied terrain.  The hills may not be as severe as in the Buttes Chaumont, but you will get a workout!
Parc de Sceaux: One of the most beautiful and peaceful parks in the Paris area if you do not mind the extra effort of taking the RER B to the start of your run.  This park also has an exercise course with hurdles, pull-up bars and other stations to get you fit.  See my recent post on the Coulée Verte and Parc de Sceaux for logistical information.
La Coulée Verte: A wonderful option for a longer run as it is about 7.5 miles (12 km) from one end to the other and by running to the end and back and/or including a loop round Parc de Sceaux, you can run for quite a while with very few traffic crossings.  See my recent post on the Coulée Verte and Parc de Sceaux for logistical information.
Jardin de Luxembourg: Only about 1.2 miles/2 km around, but you can run several loops, picking the outer loop around the park's perimeter or inside the park, during opening hours between sunrise and sunset.  Tack on a loop around avenue de l'Observatoire and the Jardin Marco Polo to make the perimeter loop a bit longer and take in some extra sites.
Home from Work: Running home from work is the ultimate in multi-tasking.  It requires a bit of coordination, but a small backpack that you can strap tightly to your body may help.  It takes me about 25 minutes to run home from my office, but I can vary the route to make it longer.  Running home from work means crossing a lot of intersections and running on sidewalks, but if it's later in the evening, the streets are not too busy.  I try to stick mostly to roads with wide sidewalks.
Semi-marathons and other Road Races: Every year, a number of road races are held in Paris.  These races are a good way to see the city, to feel the enthusiasm of other runners (though if you are accustomed to races in the U.S., you may be disappointed by the enthusiasm of the onlookers) and also to set a goal that drums up a bit of incentive to train.  Click here to see a list of races in the Paris region.  I have run and would recommend the Semi-marathon de Paris (half-marathon – 13.1 miles/21km, every March); the 20km de Paris, every October; and the Paris-Versailles (10 miles/16 km and quite a bit of it uphill, every September).  Be sure to sign up well in advance as these races all fill up, sometimes months in advance.
I should also mention the classic parks for short and long runs: the Bois de Boulogne in the west of Paris and the Bois de Vincennes in the east.  You may also want to peek at Run the Planet for more ideas.  A very useful tool for runners is Map My Run, which allows you to plan routes or trace them afterwards to see exactly how far your route takes you.