Every month, I post a list of some of my favorite or just the most eye-catching articles, recipes, blogs and other links I have come across in the past month.  Some relate to Paris and European travels and some have nothing at all to do with the themes of Paris Weekender.  Enjoy!  See August's favorite links post for more fun snippets.  And be sure to also visit my page entitled Some Favorite Links for my all-time favorite sites I go back to over and over.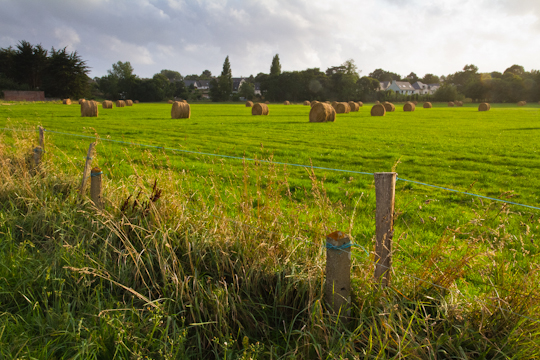 Haystacks in Saint-Cado, Brittany

Paris
Check out this fantastic new app for calling a taxi without the hassle. Thanks to Weekend in Paris for sharing!
Have you tried any of My Little Paris's new picks yet? I am always a fan of their restaurant maps….
France & French
I have been corresponding with some avid Paris Weekender readers and the owners of Le Petit Village in Burgundy, hoping to plan a visit sometime soon, as they have accurately pointed out that I do not spend enough time in or write enough about Burgundy! If you get the chance to visit before me, let me know how it goes! Doesn't it look wonderful?
La Rentrée… Some of us outgrew the "back to school" hype after graduating from elementary school, but here's a country where it lives on. Whether's it's back to school or back to work, it's all you hear about in France in September. Here is Hip Paris Blog's survival guide.
General Travel
Time for a bit of shameless self-promotion: did you know that Boothbay Harbor was recently rated Maine's #2 prettiest village by the quasi-official state magazine, DownEast? I think it should be #1. Now is the time to come visit, and stay with me!
I just got back from a week in Greece (Athens, Hydra and Naxos – posts to come soon!) and I am already missing the amazing cuisine. I came across this post on 5 Ways to Cook Like a Greek. Unfortunately, it still never tastes the same outside of Greece….
And you thought ghost towns were just for the Wild West? Think again!
Food & Wine
I love Tomato Bread Soup. And I love anything from La Tavola Marche! I still have wonderful memories of the days we spent there with Jason and Ashley a few years back, and especially of Jason's cooking classes!
Lobster Mac N' Cheese… who can resist?
How to To Make Your Food Taste Awesome – some of these tips are pretty creative!!
Miscellaneous
In case you missed John Stewart's commentary on Clint Eastwood's "Awesome" Convention Speech, here it is!
Have you checked out Barack's store? It's actually got some pretty cool stuff!