For those of you who have followed my series of posts on Buying Property in Paris, you know that it has been a long process – the search, purchase and renovations. I moved into the apartment in late October, but I was living out of a suitcase and in a cloud of dust and sawdust for almost two months. I had no idea how long it would take to finish off the final details. There were moments when I was extremely frustrated, but I do think it was worth the wait!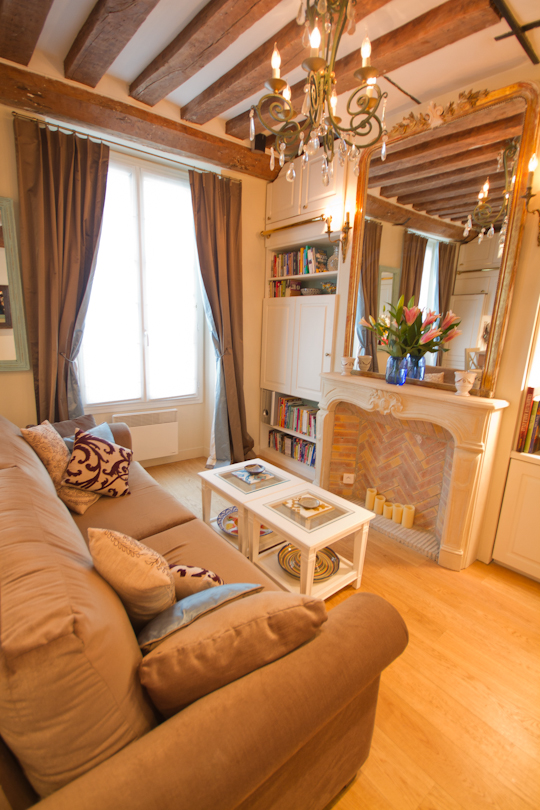 Only two weeks ago (more than 9 months after first laying eyes on the apartment) was I able to finally unpack my things. It is a wonderful feeling to finally be living here.
And now the big news: I will be renting! So if you or anyone you know is looking to rent an apartment in Paris, please send them this link to the apartment description below.
Reservations: 
To inquire about availability and pricing, please message me at parisweekender@gmail.com!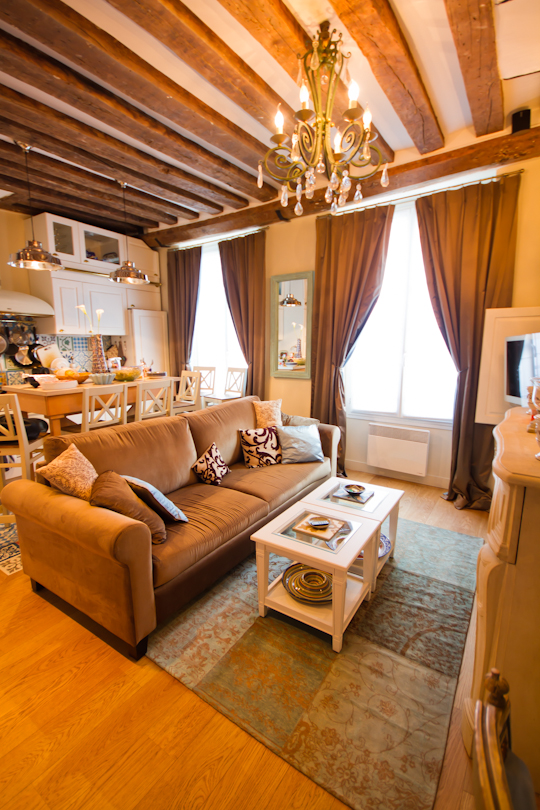 If you missed my prior posts, it's not too late: I invite you to read about my thoughts and experiences on pre-search preparations, the apartment search, signing the purchase agreement, planning for renovations, the closing, managing renovations, an interview with Adrian Leeds, an earlier update on the renovations, moving tips and a second update on renovations.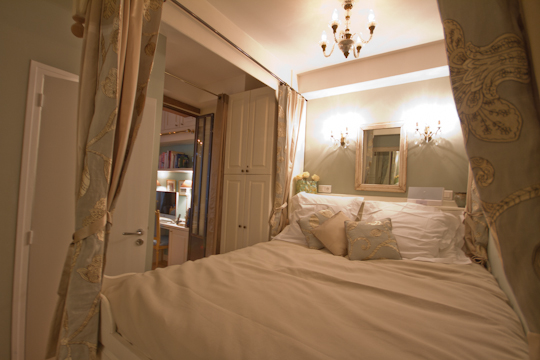 The apartment:
In the heart of the Marais, just two blocks from Saint-Paul metro (line 1), around the corner from the historic rue des Rosiers and a few minutes' walk from Place des Vosges, you will find my new favorite place in Paris, my new apartment! We have named the apartment Les Miroirs du Marais.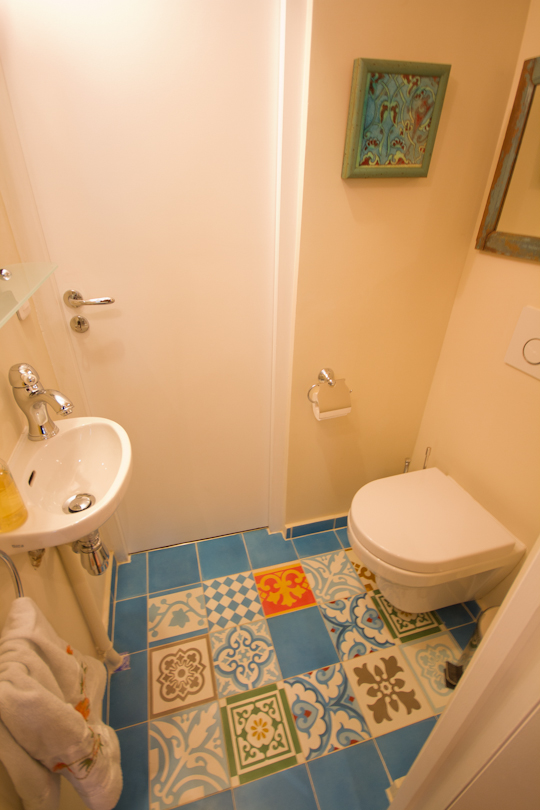 My apartment is a cozy 1-bedroom (34 square meters or 366 square feet) in a small and quiet 18th century building (just four other apartments). The apartment includes an open plan kitchen/dining/living room and one small bedroom, a toilet room and a shower room. There are high ceilings and exposed beams in the kitchen/living room. The apartment was fully renovated in 2012 by an architect and interior designer. Everything is custom-made, with traditional-style décor but modern appliances.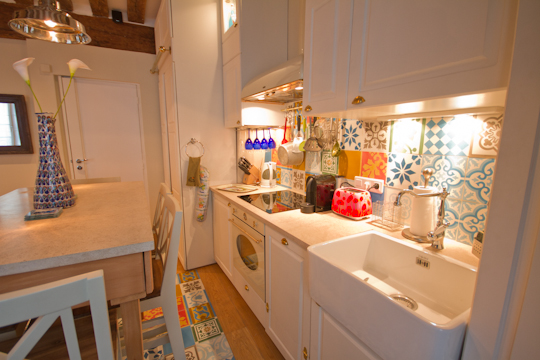 Here are the details: 
2nd floor apartment, European (3rd floor, American), no elevator
Intercom entry system
American/open kitchen and dining area with all-new state-of-the-art appliances, stone countertops, custom wooden cabinets, dining for six around kitchen island
Living area has a high-end 4-seater sofa that easily converts to a comfortable queen bed, traditional stone fireplace (non-working), desk area, flat-screen TV, DVD/stereo with surround sound, custom bookcases, antique chandelier (all lights on dimmers), large windows with custom curtains overlooking a narrow, quiet street
Bedroom: queen-size custom-built canopy bed, custom curtains, built-in shelves, drawers, two closets, large window opens to quiet courtyard
Shower room: Large Italian-style stone-tiled shower with large showerhead, custom-made metal/glass shower door, sink with stone countertop, access via bedroom
WC: Toilet and small sink, access from bedroom and from living room
Plenty of bed linens, hand, bath and kitchen towels
Washing machine and dryer
Hair dryer, iron, and ironing board
Refrigerator with freezer
4-burner electric/induction stovetop and oven
Microwave oven
A complete array of kitchenware (all cooking utensils, dinner and tableware, serving pieces)
Nespresso machine and French press
Electric tea kettle and tea pot
Toaster
Ipod dock/speakers in bedroom
Picnic bag & blankets for outings
DVD/CD player with surround sound, plays DVDs from all regions, with a small collection of movies in English and French (subtitles in French and English)
Flat screen color TV with cable channels, including BBC World, CNN International, ESPN World and Aljazeera International and cables to hook up a Macbook or iPad
Private telephone line with free long distance telephone service to landlines in 106 countries, including US and Canada, as well as to mobile phone numbers in France, the US and Canada
Ethernet cable and free WiFi internet access
Several shelves of guidebooks, cookbooks and other books in English
Manual with recommendations for local restaurants and instructions for equipment provided
Two fluffy bathrobes for use during your stay
Electricity, heat, telephone and internet included
Note: this is a non-smoking apartment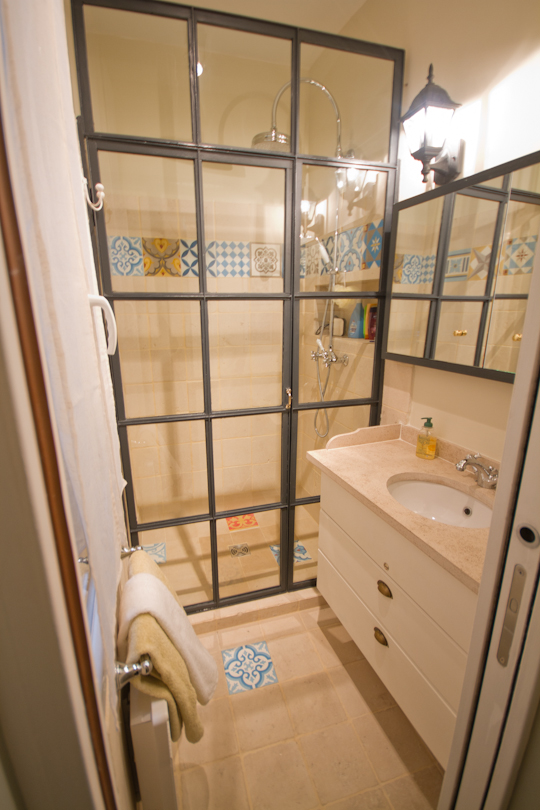 The neighborhood:
Le Marais is a historic neighborhood in the center of Paris, housing some of the city's oldest buildings. For many centuries, the Marais was a favorite residence for French nobility, particularly around the Place des Vosges. In the late 19th century and 20th century up until World War II, the Marais was a center of Jewish life in the capital.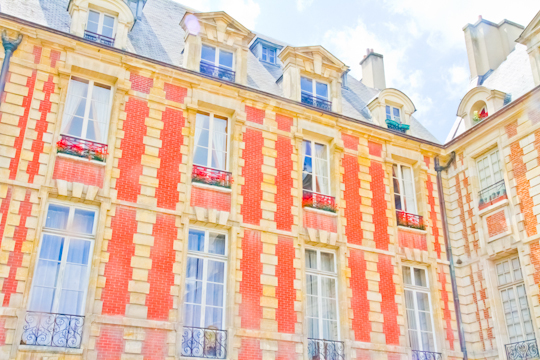 Place des Vosges
Today, the Marais's rue des Rosiers still plays an important role in the Jewish community of Paris. The Marais has also become a major center for the gay community. The narrow cobblestoned streets are lined with art galleries, fashion houses, boutiques and restaurants, both traditional and trendy.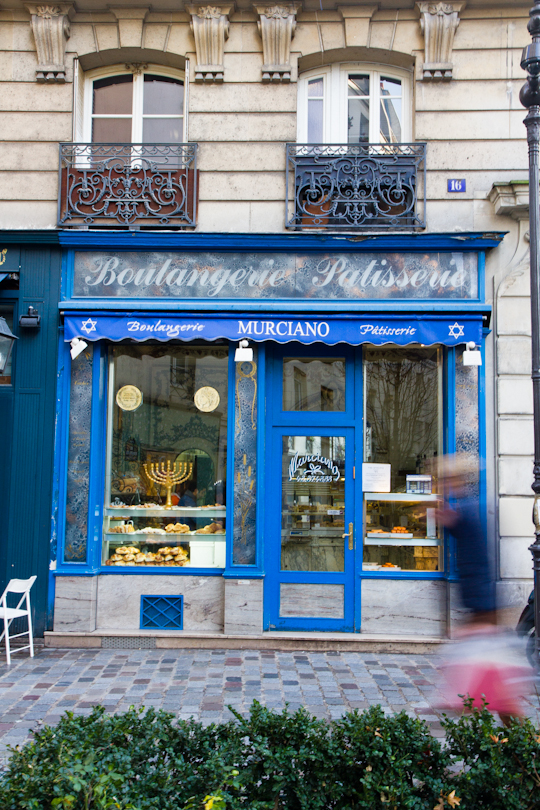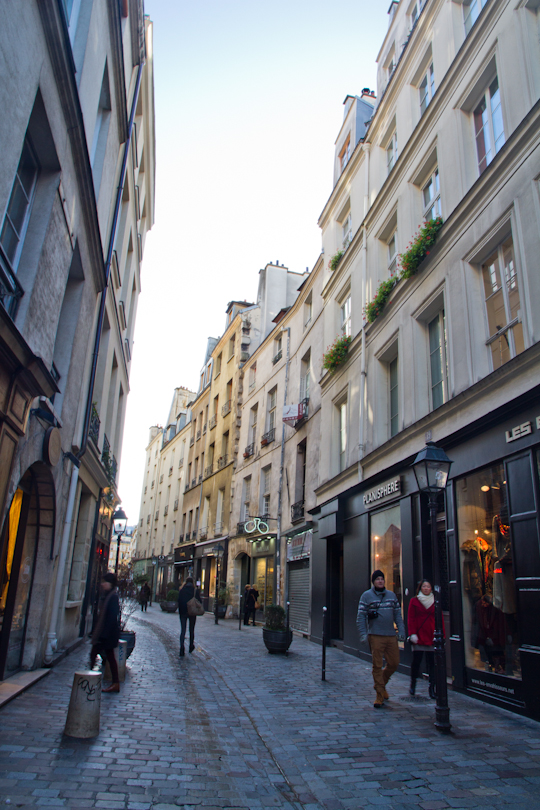 Rue des Rosiers
Sites in the Marais include:
Place des Vosges, including the home of Victor Hugo
The rue des Rosiers and the historic Jewish quarter
The Pompidou Center
Hôtel de Sully
Hôtel de Sens
The Cognacq-Jay Museum
The Picasso Museum, to reopen in the summer of 2013 after major renovations
The National Archives
The Carnavalet Museum
The Hôtel de Ville
The Memorial of the Shoah
The Museum of Jewish Art and History
The Museum of the Hunt and Nature
The Agoudas Hakehilos Synagogue
The Nicolas Flamel and François Miron historic (old!) houses
…and that is just the start!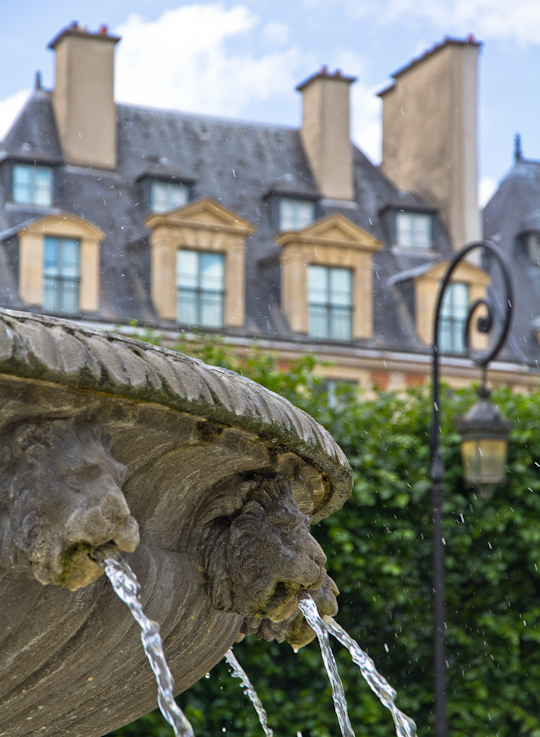 Place des Vosges
***
I invite you to view a slideshow of additional photos of the apartment and additional photos of the neighborhood.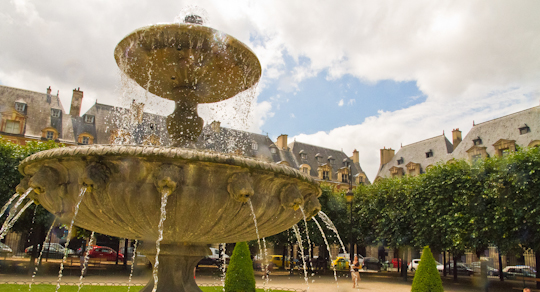 Place des Vosges
Just a reminder, for those fans of the before & afters…
Here  is the apartment when I first bought it: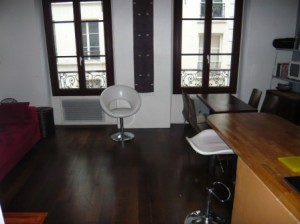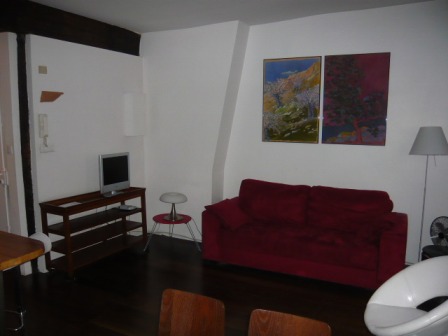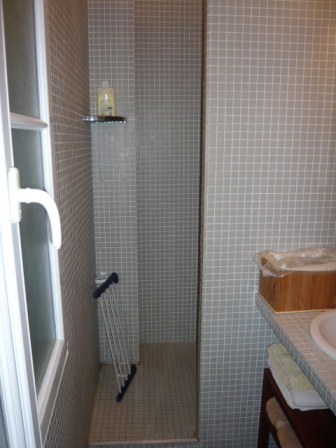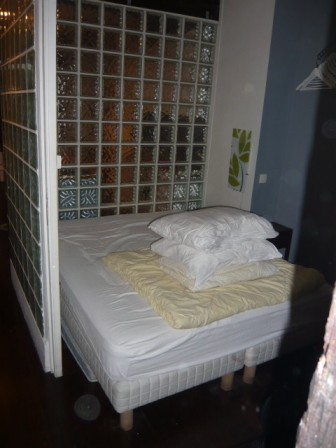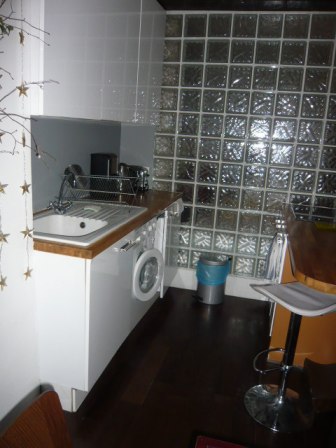 And mid-way through the renovations: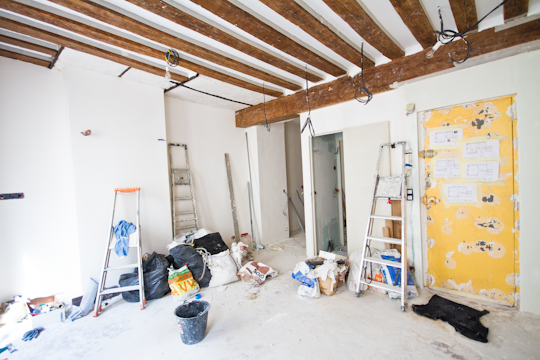 It was a long road, but it was worth it!