As homage to my new love, I thought it appropriate to write my first post about burrata.  I am obsessed with burrata.  It's my new addiction, my new vice, and unfortunately my friends have been of absolutely no help in leading me away from temptation.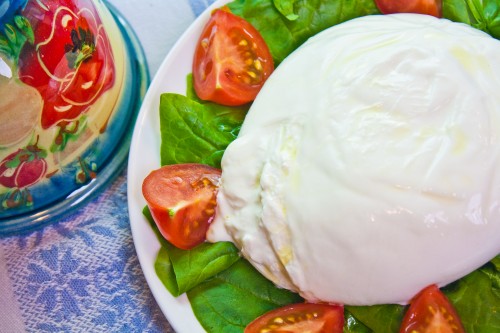 What is burrata, anyways?
It looks like mozzarella, but when you cut into it with your knife, the soft center slowly oozes out.  The taste is rich and creamy and hits your taste buds right in that "this is living" spot.  Not sweet, not salty, just good.  As it turns out, burrata has its own Facebook page in Italian with, at the time of this writing, almost 7,000 members and in English with 263 members.  I am proud to say that I am member #6826 and #263, respectively).  I learned from its Facebook profile that burrata is made of both mozzarella and cream—the outer shell is mozzarella while the gooey inside is a mixture of mozzarella and cream.  Hence, I would deem my description of it as a "yummier, gooey-er mozzarella" to be scientifically accurate.  I will not recount the entire history of this delicacy as you can read the Facebook page for yourself, but I will tell you that burrata was first made (and more importantly, first eaten) by the Bianchini family on their farm in the south of Italy (the town of Andria, in the region of Murgia to be exact) around 1920.  I am imagining the Blockbuster movie now: "Modern Civilization and the Quest for the Perfect Cheese" starring Penelope Cruz as Signora Bianchini who in a fit of passion cries out to her husband, "Amore mio, but why can we not inject more creamy calories into the center of that ball of cheese?!"  Of course Il Signor Bianchini resists at first but after several hours of seductive persuasion, Penelope finally wins over her amore, he gives it a go, and the world is forever changed.
I'm convinced, but where do I get this yummy gooeyness?
All this is to say, if you have not yet tried burrata, let this be your mission for this week.  So where do you find this scrumptious delight in Paris?
My favorite restaurants in Paris for burrata (meaning of course that they are some of my favorite restaurants in Paris, full stop!) are:
La Cremerie (6th) 9 rue des Quatre Vents, Tel. 01 43 54 99 30.  Open Tuesday to Saturday 10:30am-3pm and 5 pm-10 pm (get there by 8:30pm because they actual close up shop at 10:00pm sharp!).  It's a tiny place—an adorable wine bar with limited but very fresh food offerings—so you should reserve.  My mouth is watering just thinking about their burrata.  For €28 you get a huge helping (though that didn't stop my two friends and I from ordering two servings!)  I was assured that they always have burrata available, although their amazing chocolate cake is only available on Fridays and Saturdays.
Au Vieux Comptoir (1st) 17 rue des Lavandieres, Sainte Opportune, Tel. 01 45 08 53 08. Open Tuesday -Saturday10h00-0h00.  You must try their incredible burrata with black truffles and truffle oil (aux truffes) is if it's in season (€30).  But as I tell all my guests, it's not always available, so you must mentally prepare yourself for that possibility.  Luckily there's plenty of other delicious fare to be eaten, and the owners will give you one of the warmest welcomes you can find in Paris.  Be sure to reserve ahead.  I have in fact attempted to reserve the burrata ahead of time but I was told that would not be possible.  Do you think if I shamelessly plug them in multiple posts they will allow me to reserve it from time to time?  Perhaps I'll try offering up a credit card number over the phone next time… it's that worth it.
Le Béguin (9th), 2 Rue du Cardinal Mercier, Tel. 01 42 81 58 20.  Le Béguin may be my new favorite restaurant in Paris.  The burrata is amazing and only €8 for one person or €10.50 for a portion serving two people.  All ingredients are farm-fresh.  Excellent soups and salads, inviting 1950s diner-meets-bistro ecclectic decor, very friendly service.  Open Mon – Fri 9:30am – 2:00am and Sat 10:00am – 2:00am, closed Sundays.
And here's the best news of the day: you can buy burrata to take home at one of the Coopérativa Latte Cisternin locations (Tuesday through Saturday, 10:00am-1:30pm and 4:30pm-8:00pm) and when I stopped in just a few days ago, it was only €9/kilo—I paid just €5 for a softball-sized ball of burrata!
In the 5th: 17, rue Geoffroy-Saint-Hilaire (06 71 06 70 76)
In the 9th: 37, rue Godot-de-Mauroy (06 74 91 66 58)
In the 10th: 46, rue du Faubourg Poissonnière (Tel: 01 47 70 30 36)
In the 11th: 108, rue St Maur (Tel: 01 43 38 54 54)
I happened to visit the location in the 9th and was greeted by an Italian shopkeeper belting (Italian) opera** and oozing joie de vivre.  Spend just a few minutes in his shop and I guarantee you as well will leave with a smile (and most likely with more than just burrata—I picked up some pasta, white beans and a bit of ricotta cheese as well as the burrata and my total bill was just €9.05.  By the way, fresh Italian ricotta has nothing to do with the soc-called ricotta in the U.S.  But this post is about burrata, not ricotta!)
**I should note that on my second visit, he was singing along to American love songs from the 80s.  Sadly, they were already out of burrata when I arrived (around 1pm on a Saturday).  I think I'll stick to Thursday from now on!
And how do I eat burrata?
You take a ball of burrata home and then what do you do?  It's quite simple.  Here are my favorite options:
On bread: the fool-proof, no effort required way to impress your friends.  Find a soft baguette and layer the burrata on like you would with any soft cheese.
In a salad: put the burrata atop some arugula and cut up vine-ripe tomatoes and drizzle on a bit of olive oil and balsamic vinegar.
Aux truffes: You can make the truffle version at home!  Pick up a bit of (black or white) truffle oil at a shop such as Olivier & Co., dribble some on top of the burrata and serve with bread.  For special occasions, shave some real truffle flakes on top.  If you live in Paris, a great place to pick up black truffles is at the salons de vin (wine fairs) that are held about 5 or 6 times a year.  A truffle about 1 inch in diameter will be more than enough for one burrata (or to put top pasta for 4-6 people) and will run you about €30.
Get creative! Try tearing the burrata into bite-sized pieces and mixing it with slices of fresh figs, white beans or grilled eggplant and drizzling a bit of balsamic or a honey vinaigrette on top.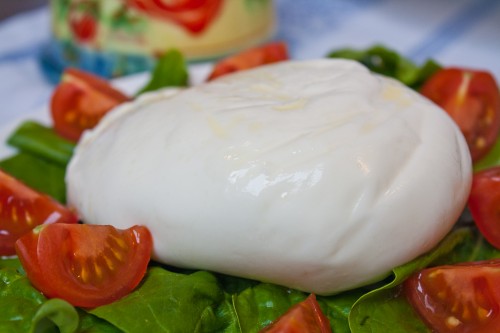 P.S. Despite the many good things I have to say about this luscious cheese, I would advise that you not look up the caloric content of burrata.  (Though it is zero carb!  Until you pile it onto a piece of bread….)