There are numerous benefits to renting an apartment in Paris compared to staying in a hotel:
You will save money: on the actual stay, but also with the ability to cook in for some meals in the fully-stocked kitchen, free high speed internet and free phone calls from the landline to 106 countries (including U.S. landlines and cell phones).
You will have a more authentic Parisian experience.
Especially for those of you looking specifically to stay in the Marais, there are not a lot of hotels to choose from, and certainly not on the quieter streets.
You will have more space and be more comfortable.
Why stay with us, specifically?
I renovated the entire apartment when I moved in. Every detail is specifically designed to make your stay more enjoyable.
I spend a good bit of time in the apartment each year. If there's something that isn't perfect, I almost always fix it or change it immediately. If there's something missing, I buy it. Trust me, I'm probably a pickier guest that you are.
You couldn't pick a better location for exploring historic Paris, its shops and its restaurants.
You'll have the benefit of my library of Paris and other France guide books, maps and travel literature.
You'll have the benefit of my 6+ years of living and working in Paris — I am always available to help you plan your stay and give suggestions. If you have a question, just ask!
You will be greeted by a trusted anglophone friend who will give you the keys, show you around the apartment and answer any questions you may have. You'll have her cell phone number so you can call her (or me) if any issues arise during your stay.
I have negotiated fixed rates for airport pick-up and/or drop-off for my guests with a trusted driver and we can assist you in making those arrangements.
I would be happy to help you with anything else that might make your stay more enjoyable and carefree.
How do I know you are trustworthy?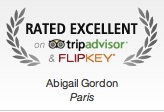 Many rental agencies warn against renting through individual owners, as scams are not uncommon. It is true, you need to be careful.
I rented through an agency for the first year. While I had no specific complaints from renters, I felt very removed from my guests and helpless if anything needed attention. I was not receiving any feedback from the guests. I was not able to give them suggestions to guide them during their stay. I decided to handle reservations on my own because I feel I can give you faster and better service. If anything in the apartment needs repair, I can get it done faster. If you have any other concerns, I can address them right away.
That being said, I encourage you to do your homework. Read the reviews on my online guest book and on Flipkey. Read about Katie from Cardigans and Couture's visit to Paris and stay at Les Miroirs du Marais! Feel free to read my short bio on my blog and read some of my more personal stories. Read the interview I did for the blog My French Life. Look up my LinkedIn profile. I also have three years' experience renting my home in Boothbay Harbor, Maine. Take a look at the guest comments I have received. Ask me for the link to my House Hunters International episode! And of course, feel free to e-mail me if you would like to arrange a time to speak by phone. I would be happy to provide references as well.