Just the Bars
This is my full list of bar recommendations, in order of arrondissement. I have indicated "**" for some of my real favorites! Please note that this list has not been fully updated since the start of Covid. Please let me know if you discover that some of these venues are no longer operating. Thank you!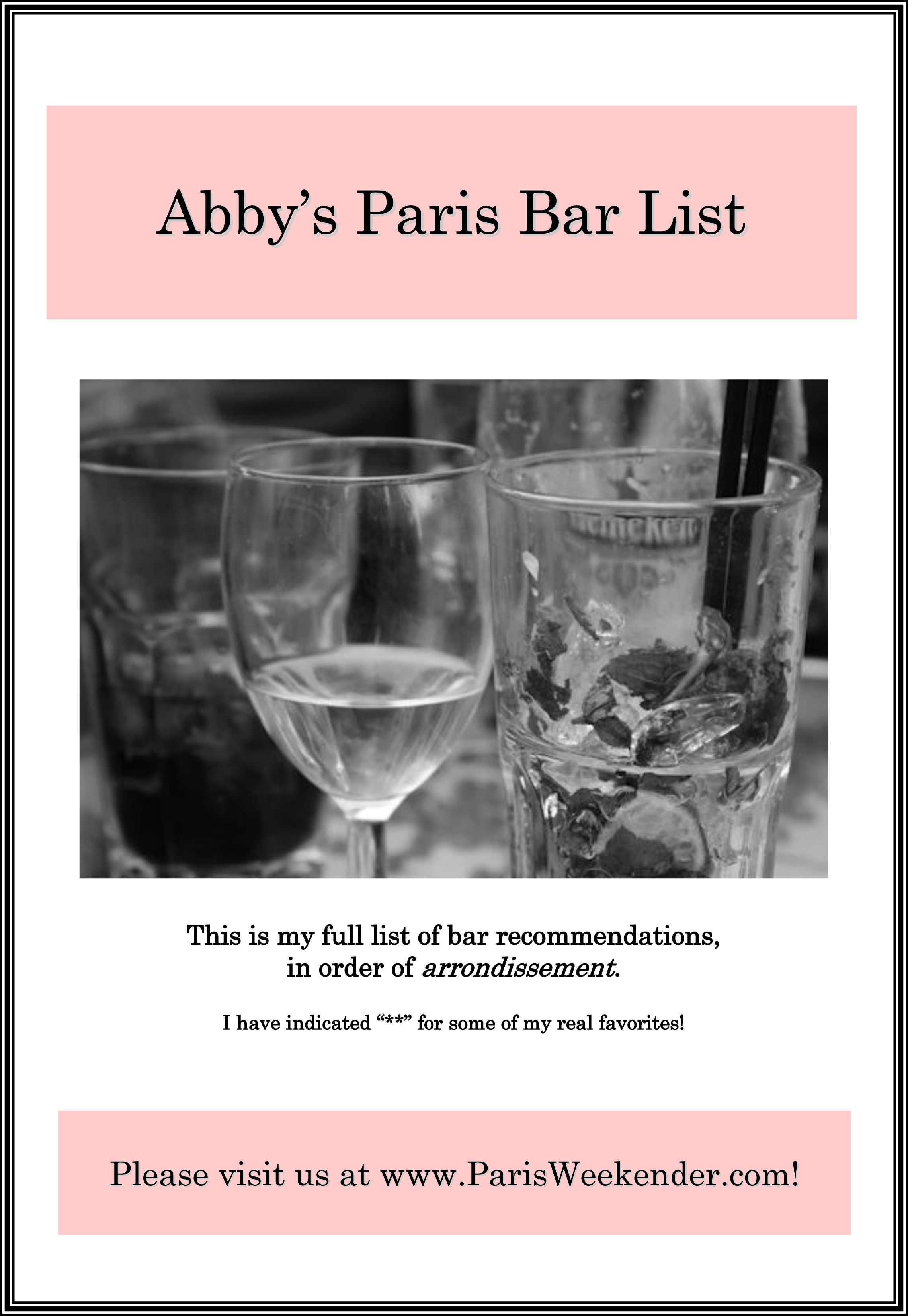 1st arrondissement
**Verjus (1st) 47 rue de Montpensier (wine bar) / 52 rue Richelieu (restaurant), Tel. 01 42 97 54 40.  This new wine bar run by Laura and Braden of Hidden Kitchen welcomes you warmly into its adorable stone-vaulted setting.  Order wine by the glass or bottle and if you are hungry, pick from small plates or wait just a couple of weeks for the restaurant upstairs to open.
**Ô Chateau (1st) 68, rue Jean-Jacques Rousseau, Tel. 01 44 73 97 80, contact@o-chateau.com. Formerly for wine tastings only, they now also have a wine bar with wine by the bottle or by the small, medium or large glass, and a limited food menu. It's a great way to try out new and nicer wines. Tasting rooms open for private parties or sign up for a group wine tasting.
**Wine by One (1st) 9 rue des Capucines, Tel. 01 42 60 85 76. An absolutely brilliant concept whereby you purchase a debit card that allows you to serve yourself from among 100 different wines and champagnes, ranging from very inexpensive and quite expensive. See my post for more details.
**Le Gobelet d'Argent (1st) rue de la Petite Truanderie. In this quieter corner of Les Halles, this tiny laid-back bar is an ecclectic mix of near-haunted house and retro.
**Le Café Marly (1st) in the Louvre (Tel. 01 49 26 06 60, technically 93 Rivoli but it's in the courtyard of the Louvre by the big glass pyramid). Great view of Louvre from the terrace. Really a restaurant but you can grab a drink on the terrace during non-peak hours. I recommend going to catch sunset and then staying to see the lights come on around the Louvre. Be prepared for not-so-friendly service though.
**Caveau Montpensier (1st) 15 Rue de Montpensier, Tel.: 01 42 60 12 89. Along the Palais Royal, this French wine bar meets Moroccan lounge is cozy and spacious at the same time. A friendly place to grab a drink both pre-dinner and post. Be sure to say hello to "Blue", the resident Dalmatian.
Le Ballroom du Beef Club (1st) 58 rue Jean-Jacques Rousseau, Tel.: 09 52 52 89 34. Hidden in the basement, the elegance of this place is surprising. It's not cheap, but no cocktail bars in Paris are. Not pretentious as some of these new-trend bars are though. Be sure to look up at the tin ceiling.
Hotel Costes (1st) 239, rue St-Honoré, Tel. 01 42 44 50 25. I still  have yet to try Hotel Costes' restaurant, but if you want the experience of this posh top hotel and restaurant without (all) the price, get dressed up and grab a drink in the bar area. It won't be cheap, but sip slowly and drink in the atmosphere.
Ritz Bars (1st) 15, Place Vendome—for super pricey (28-30 euros/drink) but a real experience… the Ritz Bar and the Hemingway Bar at the Ritz (15, Place Vendome)
[Le magnifique (1st) 25, rue de Richelieu. Chic but chill lounge/bar, probably better mid-week. They also have great sushi.][Temporarily closed]
Willie's Wine Bar (1st) 13, Rue Petits Champs, Tel: 0142610509. About 10 stools at a small bar, huge wine list.
Le Fumoir (1st) 6, rue de l'Amiral-de-Coligny, Tel: 01 42 92 00 24 (lefumoir.com). Good for lunch, dinner or just drinks. Great lounge/old library feel. Best to reserve ahead unless you're just going late for drinks. Open 11h00-2h00 daily.
2nd arrondissement
**Harry's New York Bar (2nd) 5, Rue Daunou Tel. 01 42 61 71 14.  Really two bars in one: upstairs it's a traditional, tin-ceiling bar; downstairs is a piano bar with red velvet seats.
**L'Ivress (2nd) 5 Rue Poissonnière, Tel. 01 42 21 90 26. Despite the name ("Drunkenness"), this wine bar is actually a relatively sophisticated (yet unpretentious) venue. The staff is quite friendly. Just beware that they close on the early side for a bar (generally around 11pm).
35 Tours (2nd) 35 rue Saint Sauveur, Monday to Saturday: 18h30 – 2h. A refreshingly quiet bar for the heart of Montorguiel. Very friendly service.
Au Rocher de Cancale (2nd), 78 rue Montorgueil, Tel. 01 42 33 50 29. It's a restaurant (not just a bar) and their tuna tartare with avocado and sesame seeds is fresh and delicious, but what I like most about this venue is the friendly service and that they will give you a table even if it's just for a drink and not for a meal.
Le Coeur Fou (2nd) 55 rue Montmartre, Tel.: 01 42 33 91 33. A small, relaxing and not too pricey bar for a beer, a glass or wine or more creative cocktails. Open every day from 5pm – 2am.
Le Cercle (2nd) 6 rue Etienne Marcel, Tel. 01 42 36 98 57, contact@leclubducercle.fr. Tues-Sat 18h to 2h. Quiet, library-like bar with a lot of space and cozy armchairs. If you're hungry, you can order food from the hotel next door until 1h30am. Extremely friendly service.
La Conserverie (2nd) 37 bis rue du Sentier. Tel. 01 40 26 14 94/info@laconserverie.eu. Open 6pm-2am Mon-Sat. Just opened in Aug 2009. Relaxed, friendly, lounge atmosphere, not too loud during the week. They serve dinner as well.
Experimental Cocktail Club (2nd) 37 Rue St-Sauveur, Tel. 01 45 08 88 09. Small, cozy, 18th –century French building with a huge assortment of cocktails.
3rd arrondissement
**Le Barav (3rd) 6 Rue Charles-François Dupuis, Tel. 01 48 04 57 59. My favorite new wine bar: run next door to buy a bottle of wine from their shop and for €5 more, they will open the bottle for you in the bar. They serve food as well (including excellent salads).
Candelaria (3rd) 52 rue de Saintonge, Tel. 03 42 74 41 28. This hole-in-the-wall Mexican joint with a trendy New York-style bar hidden through the back door was a wonderful spot until unfortunately it was discovered by the trend-seekers. It's still worth a visit for the cheap tacos or a more expensive cocktail earlier in the week.
Andy Wahloo (3rd) 69 Rue des Gravilliers, 3rd, M° Arts-et-Métiers or Rambuteau, Tel 01 42 71 20 38. A great art deco/Moroccan-themed, fun but not pretentious bar.
4th arrondissement
**Pamela Popo (4th) 15 Rue François Miron, Tel.: 01 42 74 14 65. Open Mon – Thurs 12h–23h, Fri 12h–23h30, Sat 13h–23h30, Sun 13h–23h. Small bar downstairs (open every day 18h – 2h) and restaurant upstairs. Mix of cozy, traditional and a touch of modern. Friendly service. Possibly the best café crème I have had in Paris.
La Belle Hortense (4th) 31 Rue Vieille du Temple, Tel. 01 48 04 71 60. A small and inviting bookshop/wine bar, the perfect stop for an early evening drink.
Le Petit Fer à Cheval (4th) 30 Rue Vieille du Temple, Tel. 01 42 72 47 47. Across the street from and same owners as La Belle Hortense, this tiny, traditional bar also has seating for full meals in the back.
Le Lizard Lounge (4th), 18, rue du Bourg-Tibourg, Tel. 01 42 72 81 34. Relatively calm place in the Marais for drinks and they also have food (pub fare).
5th arrondissement 
[**Les Pipos (5th) at the corner of the Rue de la Montagne Sainte Geneviève and rue de L'Ecole Polytechnique, in front of the Place de l'Ecole Polytechnique. Great for wine & latin quarter ambience (though serves food as well).][Closed… hopefully temporarily!]
6th arrondissement 
**Ralph Lauren (6th) 173 Boulevard St Germain, Tel. 01 44 77 76 00.  The setting for food or just drinks is unbeatable, both inside and out.  Sit back and relax on the large terrace or try the wood-paneled bar inside.  If you're lucky, they will give you some homemade caramel popcorn with your drinks.  The only caveat–you need to arrive during non-meal times if you are just looking to order drinks.
**La Cremerie (6th) 9 rue des Quatre Vents, Tel. 01 43 54 99 30. Great place to grab a glass of wine not during meal hours but can you really go there and not get the burrata?
**L'Hôtel (6th) 13 rue des Beaux-Arts. Tel.: 01 44 41 99 00. A quiet, relaxing atmosphere to grab a drink and sit and stay a while, beautiful décor, though pricey. They have started to host live music events on some Mondays.
Café les Editeurs (6th), 4, carrefour de l'Odéon, Tel.: 01 43 26 67 76. Has food as well but especially nice for an afternoon/evening drink.
Le Procope (6th) 13 rue de l'Ancienne Comédie, Tel.: 01 40 46 79 00. Great for wine, tea, escargot. Opened in 1686 and was supposedly the first restaurant to serve coffee.
Au Père Louis (6th), 38 Rue Monsieur le Prince. Good mix of people—not pretentious, old building with character, wine is not too expensive. They have a restaurant too but it's usually pretty crowded.
Le Bar du Marché (6th), 75 rue de Seine, Tel. 01 43 26 55 15. An excellent spot for a terrace and for people watching.
La Palette (6th), 43 Rue de Seine. French brasserie atmosphere, good for low key sit-down drinks and the large terrace.
Bouillon Racine (6th) 3, rue Racine, Tel. 01 44 32 15 60. Great décor/ambiance. Really a restaurant but it has a neat little bar that's great for just grabbing one drink with a friend.
Rue des Canettes (6th, by St. Sulpice)—plenty of options for wine bars, pubs, etc., though it's a pretty young crowd: The Frog 'N Princess (9 rue Princesse), Little Temple Bar (12 rue Princesse), Chez George (11 rue des Canettes: wine bar upstairs and dancing downstairs), Café Six (19 rue des Canettes, corner or Guisarde).
Le Prescription Cocktail Club (6th) 23, rue Mazarine, Tel. 01 45 08 88 09. The crowd is a bit overly trendy for me but it's a neat space so I like to go before the rush.
7th arrondissement 
Au Sauvignon (7th), corner of rue des Saints-Pères and Rue des Sèvres. Well-known but not pretentious wine bar. Looks like a little brasserie but good selection of wines, brasserie-type food. Not open late but good for a late afternoon, early evening glass of wine.
8th arrondissement 
**Apicius (8th), 20, Rue d'Artois, Tel. 01 43 80 19 66. A restaurant/tea room/bar in an old château (though modern décor inside). Great for a drink on the terrace on a summer evening. Closed weekends (open Mon-Fri Noon-3:30pm, 6:45pm-1am).
Bugsy's (8th), 15 rue Montalivet, Tel. 01 42 68 18 44. Irish pub and possibly the best burgers in Paris after Ferdi's (although cheaper than Ferdi's).
Buddha Bar (8th), 8 Rue Boissy d'Anglais (Metro: Concorde), Tel. 01 53 05 90 00. Very chic and a bit pretentious, a bit pricey, but worth a trip for the décor.
Showcase (8th), under the Pont Alexandre III (rive droite). One of the only clubs on this list; worth a visit for the setting.
9th arrondissement 
**Le Café Carmen (9th) 22 rue de Douai, Tel: 0145 26 50 00. It's a former private home turned brothel turned private home again, and now an historic monument; it's where Georges Bizet wrote Carmen, hence the name. A bit expensive but they have innovative cocktails and the décor is well worth the visit. Best mid-week as it gets crowded on weekends.
Le Déli-cieux (9th) 64 Boulevard Haussmann, Tel. 01 42 82 62 76. This roof top terrace above Le Printemps department store has basic cafeteria food and drink options but the view of Paris from way up there is spectacular. Don't forget your camera!
10th arrondissement 
**CopperBay (10th) 5 Rue Bouchardon, Open 6PM – 2AM Tuesday – Sunday. My favorite cocktail bar! See my full post here and 52 Martini's post on the secret menu.
Hôtel du Nord (10th) 102 quai de Jemmapes (along the Canal St. Martin) Tel.: 01 40 40 78 78. Trendy, attractive restaurant with good food. There's a bar and a terrace along the canal in the summer.
11th arrondissement 
Alimentation Générale (11th) 64 Rue Jean-Pierre Timbaud, Tel. 01 43 55 42 50. Live music Wednesday through Sunday nights, casual atmosphere. Food served as well.
Cafe Charbon (11th) 109 rue Oberkampf. Decent food, good for drinks early in the evening and dancing later in the evening.
Mojita & Bob (11th) 3 rue Oberkampf, Tel.: 01 58 30 88 59. A lively spot for drinks where you can also snack on delicious Spanish-style tapas. Open Tues-Fri 12h-15h and 18h-2h, Sat 18h-2h, Sun 16h-midnight.
12th arrondissement 
Barrio Latino (12th), 46 rue Faubourg Saint-Antoine, Tel: 01 55 78 84 75. Huge, impressive building with a mix of latin and other pop music. €20 euros cover includes one drink—best strategy is probably to go for dinner then stay to dance. Open 11am-2am daily.
16th arrondissement 
Hôtel Raphael (16th), 17 avenue Kléber. Very expensive but the rooftop restaurant/bar is a great experience on a warm day/evening.
La Gare (16th), 19 chaussee Muette, Tel 01 42 15 15 31. Restaurant and bar, nice modern décor, great terrace out back.
18th arrondissement 
Bar Au Rêve (18th) 89 rue Caulaincourt (Metro Lamarck-Caulaincourt (line 12)), Tel. 01 46 06 20 87 (Open noon-2 am. Closed Sunday, and Monday till 6 pm). Very small, old school, unpretentious and cheap. Not a lot of selection but worth a visit if you are in the neighborhood. Don't drink too much—squat toilet only!
19th arrondissement 
Rosa Bonheur (19th) 2, allée de la Cascade in Buttes Chaumont Park, nearest Bozartis metro (access through gates opposite 74 rue de Botzaris), Tel. 01 42 00 00 45, info@rosabonheur.fr.  Open Wed to Sun, 12 noon to midnight. Bar, dancing, tapas, though a more formal restaurant in the winter—changes based on the season. Great for summer evening drinks & tapas but get there early (6:00pm) to avoid the long line to get in!
Café Parisien (19th) 2 place Rhin et Danube, Tel. 01 42 06 02 75. A pleasant stop for a drink or a bite to eat when you are in the 19th, by Buttes Chaumont or Mouzaïa. The interior is cozy and there is a fair bit of seating outside in nicer weather.