Paris is an expensive city.  Certainly American tourists are balking at prices these days, coming from the dollar zone.  But it is expensive even to those of us paid in euros.  Here are the few deals I have found.  They may not make up for high rents, exorbitant restaurant meal and even grocery costs and shocking gas prices, but take advantage and you may save a few eurocent just the same!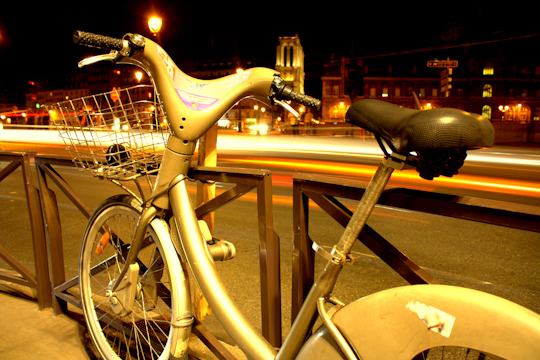 One of the Now-Famous Velib' Bikes
1.         Public Pools
Paris houses 38 public pools.  For all but 5 of the pools, the entrance fee is only €3, €24 for 10 entries or €37 for a 3-month pass.  A number of the pools are open at night (at least certain days) and some are outdoors.
The pools offer group classes, but they also offer very affordable lessons.  It is just €13 for a 30-minute lesson, or €56 for 6 lessons.  The only drawback is that you are not guaranteed the same instructor each time.  I look the 6 lessons a couple of years ago in an attempt to improve my crawl stroke and found that some time was always wasted in getting the instructor up to speed on my weaknesses, but that overall it was useful to work with 2 to 3 different instructors over the course of the lessons to learn a variety of different techniques.
Visit the official Paris pools site for further information (in French) on locations, opening hours and pricing for the pools, classes and lessons.  Or visit Nageurs.com to see how busy each pool is at different times of the day.
2.         Movie Passes
Paris has more movie theaters per capita than any other city in the world.*  According to About.com, over 300 films per week play somewhere in the city.  And while each individual scéance is not cheap, you can make movie-going cheap by using and abusing the unlimited pass.  The Carte UGC Illimité is currently €19.80 per month or €35 for a pass for two people (seeing the same movie).  Gaumont's Le Pass is now at €20.50 per month.  Essentially if you see two movies per month you break even and with three movies per month you save money.
The UGC and Gaumont networks each offer their own pass. I chose the UGC Illimité pass because there are more UGC theaters near me and near my office. UGC claims that its pass covers 610 movie screens. My friends who live in the 9th, 17th and 18th often find that Gaumont is more accessible.  The UGC network also includes MK2 theaters and both networks cover many of the independent movie theaters, which means that these movie houses stay in business, you still have access to more artsy and independent films, and you can still go to the movies once in a while with friends with the "other" pass.
To find out more or apply online visit the UGC site or the Gaumont site.
I have had the UGC pass for almost four years now.  To be honest, I am not sure I get my money's worth as I rarely go to the movies these days (I spend all my free time editing photos and writing blog posts).  But the feeling of walking into the theater for "free" is priceless.
---
* This statement has been verified through first-hand empirical research and not through any reliable source. 
Answers.com
 says Bombay has the most movie theaters per capita but I don't think I believe them—Bombay has a lot of people!
3.         Phone, Cable & Internet Packages
Through SFR (formerly Neuf, when I signed up), I pay just €30 per month (plus tax) for cable TV (I have no idea how many channels—I only watch two of them—but it's a lot), internet (DSL including wifi) and a landline (also through DSL, which allows me to call over 55 countries' landlines for free and U.S. and Canadian landlines and cell phone for free).  For a comparable cable and internet package in the U.S. (not including the phone service and free international calling) I pay over U.S.$120 per month!  Just about every service provider in France (SFR, Orange, Noos, Free, etc.) has similar rates, so shop around for the exact package that meets your needs.  Angloinfo.com has a useful post in English on finding an internet provider in France.  I don't know why this is such a good deal in France, but I am not complaining.
4.         Food Essentials (Wine, Bread & Cheese)
No, food in Paris is not cheap.  But the building blocks of any balanced Parisian diet (wine, bread and cheese) are not so pricey compared to these items of comparable quality elsewhere.  If you live here or if you are just visiting, buy some bread, wine and cheese (and perhaps some fruit, veggies or cold-cuts) from your local shop or market and have a picnic dinner.  You can have an excellent meal for €10 per person and if you pick the right spot for your picnic, the view will be better than any from a restaurant.  If you are staying in Paris more long term, consider visiting one of the Wine Fairs where you can taste your wine before purchasing and you pay the price you would pay at the vineyard.  I have purchased a number of excellent blancs, rosés and rouges from these fairs for between €4.50 and €6 per bottle and I've even convinced some of the vendors to deliver cases to my 6th-floor walk-up free of charge.
5.         Medicines
If you are on the French system and you have a Carte Vitale, prescription medicine is practically free.  But even for those of us not covered by French health insurance, prescription medicines are usually relatively cheap, certainly compared to the U.S., due to stricter government regulation of drug pricing in France.  On several occasions I have asked for a receipt to request reimbursement from my international health plan only to receive an invoice for not much more than the price of the international postage to mail my claim form.
6.         Velib' Bikes
If you live in Paris or you are just visiting, take advantage of the virtually free bike service, Velib'.  Now, even for short-term passes (1 day for €1.70 or 7-day for €8), you can purchase tickets online and avoid any hassles once you arrive.  They have also recently changed the system so that American Express credit cards (with no chip) will work in the Velib' kiosks at each station.  (Unfortunately other credit cards with no chip will not work.)  There are over 20,000 bikes available in and around Paris through the Velib' network and over 1,800 stations.  The best part: the first 30 minutes are free, after you purchase the initial pass.  If you would like to ride longer, just put your bike back at one of the stations, wait five minutes, then take another bike.  The clock will restart.  Click here to find out more about how Velib' works.
7.         Deal-of-the-Day Websites
If you are somewhat discriminating (or have a very flexible schedule), you can find some great deals on websites such as Groupon, Lookingo and Living Social.  Each site has its pros and cons.  While Groupon has by far the greatest number of deals, many of them are oversubscribed and I must say the four e-mails a day in my inbox has become a bit too much.   I now shy away from beauty or spa treatments through Groupon as it is often impossible to schedule appointments for evenings or weekends.  I do, however, still purchase restaurant vouchers fairly often and have had a generally good experience.  I appreciate the fact that on Lookingo, they offer a money-back guarantee on vouchers for hotel packages if the hotel's availability does not match yours.  Living Social offers just one deal a day, but that's actually a good thing for those who just want a taste of "group coupon" culture.