Thanksgiving is only one week away!  Are you spending Thanksgiving in Paris?  There are a few shops around town where you can find all the U.S. comfort food you will need for a proper Thanksgiving dinner: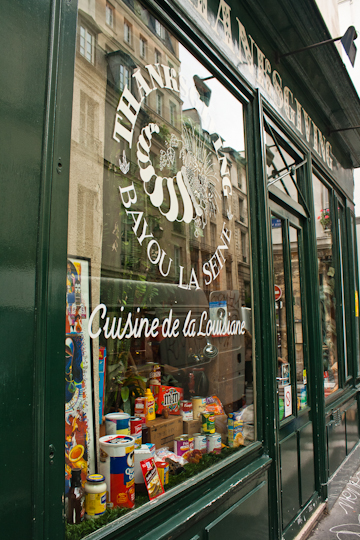 Thanksgiving: This small shop near metro Saint Paul in the Marais that opened on July 4, 1990 is called "Thanksgiving" for a reason, although they are open year-round (in fact, their name is inspired by an Amish saying, "For us, every meal is a thanksgiving.") Here you can find all your American (and some British) baking needs, American brands such as Kraft Mac N' Cheese, Oreo Cookies and Lipton Onion Soup that you cannot find in an ordinary French supermarket, Southern U.S./cajun products, and supplies for that important day, the fourth Thursday of November.  Until this year, you could even order a turkey, stuffed and cooked, for Thanksgiving day (convenient for people like me with only a microwave-convection oven in one), but starting this year, you can still order a raw turkey but you will need to cook it yourself.  Be sure to call well in advance; it may already be too late for this year.  Thanksgiving will also soon be opening an online store.  Visit the website for other useful information, such as how to cook a perfect turkey.
Thanksgiving
20, rue Saint Paul
75004 PARIS
Tel: 01 42 77 68 29
Tues-Sat 10:30am to 7:00pm
Sun 11:00am to 6:00pm
The Real McCoy: Another supplier of traditional American goodies such as Hershey's Kisses and Reese's Pieces, The Real McCoy also has a cafe serving up traditional American diner fare, The McCoy Café, located around the corner at 49 avenue Bosquet in the 7th (Tel: 01 45 56 00 00) that is open 7 days a week from 10:00am to 8:00pm.
The Real McCoy
194 rue de Grenelle
75007 Paris
Tel.: 01 45 56 98 82
Tues-Sat 10:00am to 7:00pm
La Grande Epicerie: This huge food market of the Bon Marché department store has food from all over the world, including a whole aisle of U.S. food products.  They do not always get it quite right (I don't think the buyers are actually American) but I always see something that reminds me of home!
La Grande Epicerie
38 rue de Sèvres
75007 Paris
Tel.: 01 44 39 81 00
Mon-Sat 8:30am to 9:00pm
Another option for a wider selection of international products is the Palais des Congrès at Porte Maillot in the 17th arrondissement.  And more and more the French supermarkets are carrying a broader offering of international brands.  Monoprix, for example, finally carries Philadelphia cream cheese!  There are only a few products I have not been able to find anywhere.  Half & half is one, though that can be constructed fairly easily at home.  But if anyone finds real American-style (non-alcoholic) apple cider, please let me know!