No, it's not really Restaurant Week in Paris. That falls September 17 – 23 this year. But I had my own personal restaurant week recently. It's not often that I go to three restaurants in a row that are absolutely top notch. So I decided that this unexpected phenomenon deserved a post of its own.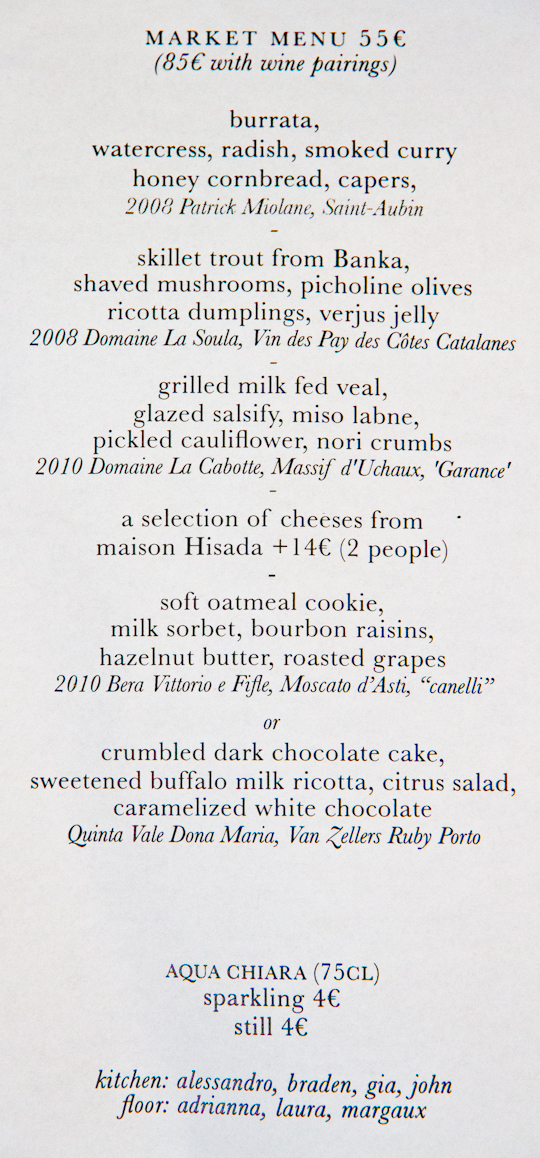 This new restaurant by the Jardin du Palais Royal has received a lot of hype, in particular from Paris's expat community. Naturally, I was skeptical. But I had also heard rave reviews of Hidden Kitchen, the precursor to Verjus, and I had been delighted on the several occasions I visited Verjus's cozy and inviting stone-vaulted wine bar off rue Montpensier. So when a francophile friend was visiting from New York, we thought it the perfect opportunity to head upstairs, to the Verjus restaurant.
You have two choices of menus at Verjus: the Chef's Menu at €70 or €110 with wine pairings or the Market Menu at €55 or €85 with wine pairings. I am sure the Chef's Menu is incredibly tasty, but after trying the Market Menu, I have no idea how you would fit all that in your stomach! I know it's a bit of a splurge, but it would be a shame to miss the wine pairings. The Verjus team does such an amazing job at picking the right wine for each course.
Each of our courses was elaborate and divine. The plating was artistic. The juxtaposition of different flavors and textures, coupled with the freshness of ingredients and the superior wines,  made for quite an amazing evening. We were constantly surprised and constantly amazed. If I had to choose, I'd say the burrata (especially the honey cornbread), the veal and the soft oatmeal cookie were my favorites, but the whole meal flowed so smoothly I would not have wanted to change a thing.
In addition to the heavenly food, our evening was made perfect by the simple yet inviting space with large windows overlooking the small street below and by the friendly and inviting atmosphere created by the staff. They took the time to explain every element of our dishes, and they were attentive without being intrusive.
If the price is beyond your budget, I highly recommend at least visiting the wine bar, where you can choose from a bar menu of smaller plates all under €10. But if you can afford one splurge while you are in Paris, book a table at Verjus and be sure to order the wine pairings with your menu. An evening at Verjus is not just a dinner, it is an experience.
(As an aside, "verjus" apparently is French for "verjuice", which is an acidic juice made from pressing unripe white grapes or certain other  sour fruits and used in medieval cooking, though word has it there may be a bit of a resurgence.)
I picked Au Tournebièvre for a dinner out with a group of friends and did not have any real expectations. I could not even remember where I had heard of this restaurant, but the location was convenient for our group and at €31 for a 3-course set menu, it is quite reasonably priced by Paris standards.
Au Tournebièvre is a small restaurant located on the quai in the 5th arrondissement, only a 5 minute walk from St. Michel. The service is very helpful and friendly and the space is comfortable for small or larger parties.
The fixed menu has a number of options for starters, main courses and desserts, including vegetarian options. You must pay extra for a few of the dishes, but I would say there are at least four or five options per course at the set €31 price. This is a great place to go with pickier eaters because I imagine there's something for almost everyone here. I started with a salad of roquette, poached egg and garlic croutons – one of the tastiest salads I have had in Paris, then had  a basil gnocchi for my main and the café gourmand (assortment of desserts) to finish it off. The assortment is supposed to include a number of bite-sized tastes, but my tiramisù (just one quarter of the offering) was almost the size of a full portion!
You can reserve through La Fourchette, and be sure to check if there are any special promotions. At the moment, they are offering diners who reserve a weekend lunch or an early weekday dinner through La Fourchette a free glass of champagne.
Au Tournebièvre has some outdoor seating. And added plus when you dine there: you will have a magnificent view of Notre Dame across the river when you leave.
Sassotondo
I unfortunately missed last month's social media panel, "What's Eating Paris?" but luckily was able to watch the recording on the web. The moderator started and ended by asking the panelists about their favorite restaurants in Paris. Lindsey of Lost in Cheeseland recommended a small Tuscan café near Oberkampf in the 11th arrondissement. I immediately decided it was going on my list of places to try, high up on the list.
I was not disappointed. Dinner at Sassotondo was a culinary experience far from the same old, same old you will find at many French and even many other Italian eating establishments.
The neighborhood near Oberkampf has an eclectic mix of clubs and edgy cafés and more recently, a growing number of smaller, more upscale and yet authentic cafés and bistros. Dining in the 11th was a refreshing change from dinners in the more touristy areas of the city. Not to mention that the walk from the 6th and back helped make room for the 4-course meal!
Sassotondo could be pricey, especially compared to other restaurants in the area, if you order à la carte. But the €34 four-course fixed menu was an exceptional value for hearty (but not heavy) and authentic Tuscan dishes: a soup to start, a fresh pasta dish, a meat and vegetable dish and a dessert. The ingredients were fresh, the dishes were full of flavor and despite the more modern, sleek decor of this small eatery, each bite evoked a vision of an Italian nonna cooking up her best dishes in the kitchen. The food was complemented by an assortment of fresh breads and quality olive oil and a bottle of Nero d'Avola rounded off our taste buds perfectly. And the waiters, real Italians of course, were
Sassotondo is not your typical Italian restaurant. While they do serve a select number of fresh pasta dishes, do not expect your typical pasta/pizza offerings. But you may just end up liking the real thing more.
***
Verjus
47 rue Montpensier (wine bar: Mon – Fri, 18h – 23h)
52, rue de Richelieu (restaurant: Mon – Fri, 19h – 22h)
75001 Paris
verjusparis@gmail.com
01 42 97 54 40
Au Tournebièvre
65 quai de la Tournelle
75005 Paris
letournebievre@orange.fr
01 44 07 27 34
Open Tuesday – Saturday for lunch & dinner, Sunday for lunch only
Sassotondo
40, rue Jean-Pierre Timbaud
75011 Paris
01 43 55 57 00
Open for dinner only, closed Tuesday & Wednesday
***
Have you tried any of these three restaurants? If so, what did you think? What is your favorite restaurant in Paris?