I recently met Janet Hulstrand at a soirée hosted by My French Life, and I knew instantly she was someone I wanted to get to know better. Through her writing, teaching and coaching, Janet has developed a unique perspective on France and Franco-American relations. What better way to learn more about her experiences and insights than through an interview for Paris Weekender? And you will learn below how you can work with Janet through her writing workshop in Champagne this October!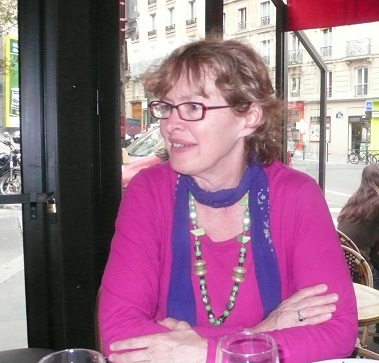 Janet, could you tell us a bit about your background?  How did you first fall in love with France?
I fell in love with the idea of France from such a young age I really don't even know when it first began. I was growing up in a place where there was very little talk about France. I think I must have somehow heard a bit of the language spoken, and that that is what attracted me at first, along with a vague notion about it being a place where there were castles. I didn't make it to France until I was 25 years old. And when I finally got here I was not disappointed. The first French word spoken to me was "Voila!"  as a bus driver handed me my change. I was thrilled!
Could you tell us about your career and your current projects?
I'm an independent writer, editor, and teacher, of writing and of literature. As a writer and editor I take on all kinds of projects, from some rather technical assignments for government agencies or other clients, to helping individual clients write their memoirs, novels, or other writing projects. I first started teaching about 15 years ago, when I created "Paris through the Eyes of Travelers." It's now called "Paris: A Literary Adventure," and it's offered by Queens College, CUNY, in Paris every summer. Over the years I've done more and more teaching, and though I love writing and editing, and don't mind solitary work, I really love being with people also, and sharing my love of writing and reading with them through teaching.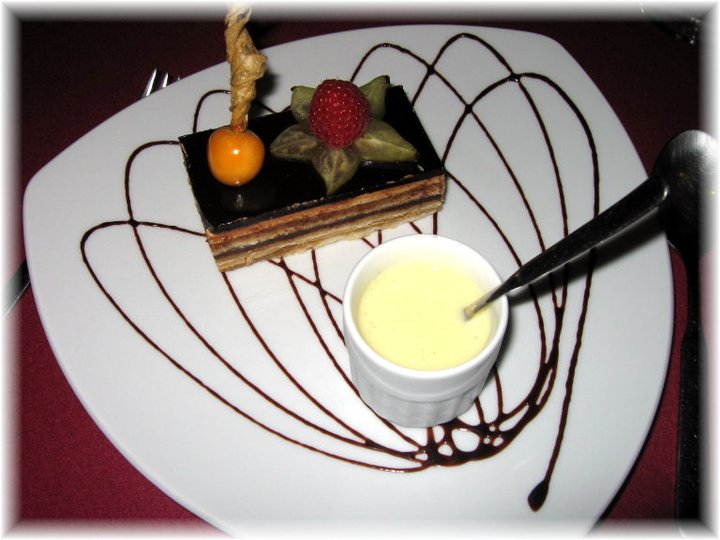 A typical dessert at Hotel des Canotiers (photo by Lee Isbell)
Please tell us about your writing course in Essoyes, Champagne, Writing from the Heart. Who should consider participating?
Anyone who has a strong desire to write, even if they also have a fairly strong fear of writing, or hesitation about plunging into it wholeheartedly, should consider participating in Writing from the Heart. I specifically designed my course so that it would attract anyone who wants to write whatever they most want to write, whether they have spent their professional lives writing (but not writing "from the heart") to someone who has perhaps always longed to try writing but never quite dared to do so. You might think this would make for an uneven group, and in some ways I it does, but it works very well.
What all these people tend to share is fear. Fear of allowing themselves to take that step, to call themselves writers (or "creative writers,") to give themselves the time to think about what they want to say, and then begin to say it. Writing from the Heart can also be a wonderful experience for people who don't necessarily have a fear of writing, who may just want to be inspired, or re-energized by working with a small, supportive and nonjudgmental group of fellow writers. Or for writers who are blocked and need help in getting unblocked.
Could you describe a typical day of the Writing from the Heart course?
The participants in Writing from the Heart stay in a wonderful, small, family-run hotel that is perched halfway up a hillside overlooking the village of Essoyes. They begin their day with petit déjeuner provided by the hotel, and then we begin class around 9. During class we discuss readings I've assigned (from Anne Lamott's Bird by Bird and Julia Cameron's Right to Write), designed around particular themes of each day (for example, "Getting Started," and "Staying the Course.") I give my students prompts to write from in class, and then usually some of the time is spent reading the work aloud, for those who wish to share their work with the group. (No one ever has to do that if they aren't ready to do so.)
Afternoons are free, spent in various ways. Some people choose to use that time to stay in their rooms and work on their writing. Others may choose to explore the village or the surrounding area. I usually host a lunch at my house one afternoon, and invite some of my friends from the village to join us. That's always a highlight of the experience, as is the inevitable trip to the maison de champagne where my friend Hervé sells his grapes. He loves to take us there and guide us through a dégustation.
Then, each evening my students enjoy a magnificent three-course meal in the hotel dining room, where a beautiful sunset is part of most days also. A couple of my students have written about their experiences in Writing from the Heart, and there are links to their blog posts at the bottom of this link.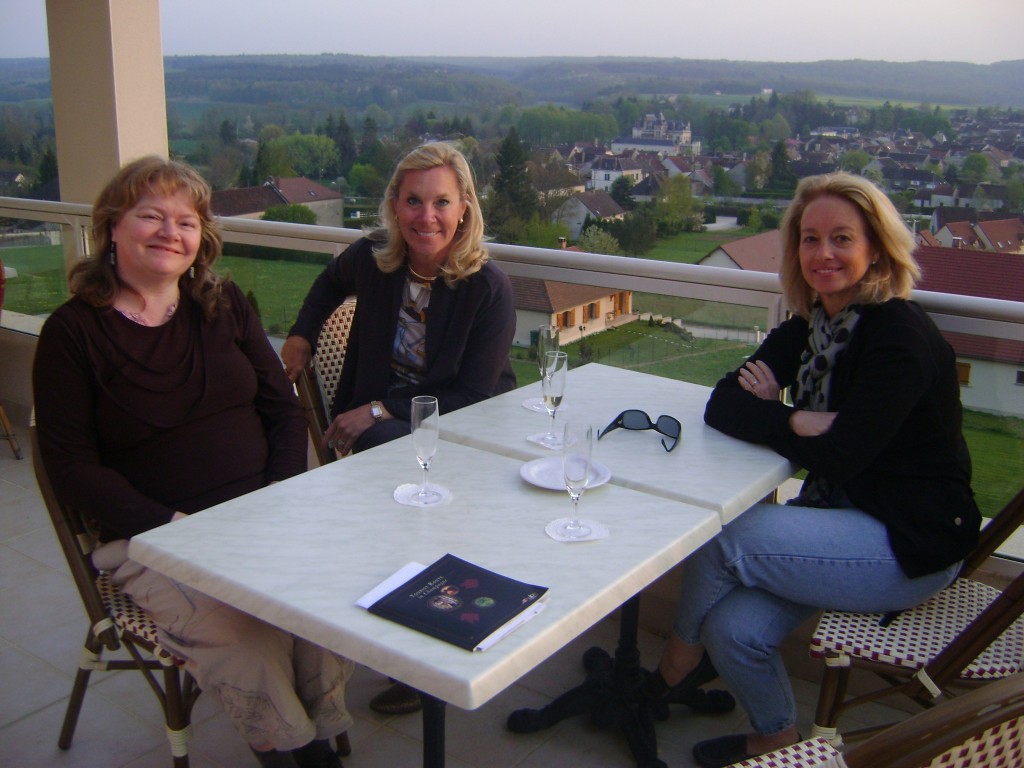 Students enjoying their welcome to Champagne (photo by Janet Hulstrand)
Are there still spots open for the October 23-29, 2012 session? What should people do if they are interested in signing up?
There are still spaces available for the October session. People can contact me directly to request an application form and more detailed information about the class, the hotel, and the village by sending an e-mail to janet.hulstrand@gmail.com.
You told me that you have been teaching a course for college students for the last 15 years, focusing on American literature, but specifically on Americans' perspectives of Paris. Do you have a recommended reading list for someone planning a visit to Paris?
Yes, I have a reading list of literary works about Paris, or stories that take place in Paris on my blog  and another reading list that's more about the fascinating differences between French and American culture and society here. What's missing from these lists, but of course is also a wonderful thing to read in preparation for a trip to France, is French literature! I have to do something about that.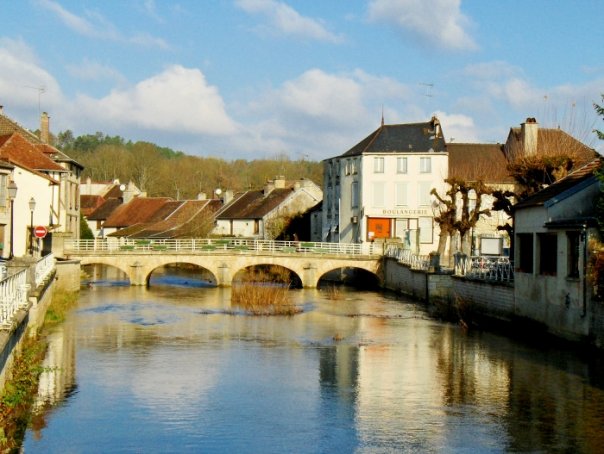 Essoyes en Champagne "A nice peaceful place with some good light…"
You spent significant time in France with your children when they were young, and more recently with them as teenagers. Do you have any suggestions for parents of younger kids or of teenagers to prepare their kids for a vacation to France, so the kids get the most out of the trip?
Well, I think anything parents can do to find ways that their children's own interests can be explored while they're in France is helpful. The problem with bringing American children to France is that it's usually the parents' idea, not the children's. So it's important to find ways to make it fun and interesting, and special to them on their own terms. That can lead to all kinds of interesting side explorations, things that most people might not do otherwise.
When my kids were little we spent a lot of time in the zoo in the Jardin des Plantes, for example, and also a favorite store to visit was Deyrolle, on the rue du Bac. (They had some amazing insect specimens there, and I had a four-year-old who happened to be fascinated with insects.)
Of course Paris really is a wonderful city for children, especially small children, to enjoy: from the wonderful playgrounds to the puppet shows, the carousels, the ponies in the parks, the circuses.  Not to mention the pain au chocolat and the wonderful ice creams and sorbets.
We tried not to push the cultural agenda too hard, because we didn't want it to backfire. In fact for quite a long time my sons thought that "the Louvre" was the amusement park along the Tuileries that is near the Louvre. They spent more time there than they did inside the Louvre, but they also thought, from an early age, that "the Louvre" was a really fun place to go.
Could you share with us a few of the top sites in or around Paris for those interested in the American literary history in France? Which of the sites speaks to you most and why?
Generally speaking, I find looking at the buildings that writers lived in, or even the cafés they spent time in, to be much less interesting than reading their work. But, having said that, there are a few places in Paris where a place has been written about in such a way that there is something very special about being able to see what the writer was writing about for yourself.
For me one of those places is the statue of Maréchal Ney that Hemingway wrote about in A Moveable Feast. It's the chapter in which he writes about how the term "the lost generation" came about. I won't spoil the story for those who haven't read it, but I will say that the end of that chapter, in which Hemingway describes sitting at the Closérie des Lilas and communing with the statue of "Mike Ney" is for me one of the most moving passages in the book. I never walk by that statue without stopping for a moment and remembering that passage, and feeling lucky that the statue is still there, and that I am in Paris seeing it.
Also, there are some wonderful walking tours in Paris with English-speaking guides who are both knowledgeable and good storytellers. For example Paris Walks does a really fine Hemingway tour and a lot of other wonderful tours also. I enjoy going on them whenever I can.
You have a series of tips and a reading list on your blog on "Demystifying the French". Could you share a few of your insights and reading list suggestions with us?
I feel a little sheepish about having a section on my blog called "Demystifying the French." (Especially explaining it to my French friends.) There's no doubt in my mind that the French are America's oldest and best friends, and have been from the time they helped us in our struggle for independence, right up until the more recent tension over our going to war in Iraq. Having said that, our relationship has at times been prickly.
The reason I wrote those posts, and the reason I created the class they were written for is that I think it's so sad that often Americans and French people get off on the wrong foot with each other. They hurt each other's feelings because they don't know some very basic things about what constitutes proper friendly behavior in each other's culture. Things start out bad and then they often very quickly get worse. So I wanted to create a class to destroy certain myths about the French: that they are "rude, arrogant, and hate Americans" first and foremost. That's just so not true.
What is it about France that keeps drawing you back here?
I love so many things about France–the language, the food, the visual beauty everywhere you turn. There is such an appreciation for everyday things, such care taken in all the details that make life lovely and enjoyable. I also love the way that when changes are made, modern things are introduced, there is a thoughtfulness and deliberateness about it, so that important traditions and values are not so easily lost in the mindless pursuit of "progress."
But I think what I love the most is the way people take the time to enjoy their lives hour by hour, day by day. When I walk home from the Jardin de Luxembourg on a summer evening after reading there for a few hours, surrounded by French people doing the same thing, and I hear the murmur of conversation, the clinking sounds of silverware, and smell the delicious aromas coming from the cafés along the way, I don't even have to be directly involved in the activity to enjoy it. To be in a place where life is generally speaking so well-balanced, where certain important things–time with family and friends, time to relax, enjoyment of a leisurely meal, which includes lively and intelligent conversation–to be in a place where such things are given priority, fills me with a deep contentment that is hard to find anywhere else I've been.
 ***
Thank you, Janet, for sharing your thoughts and tips with us!