Thanksgiving is only one week away!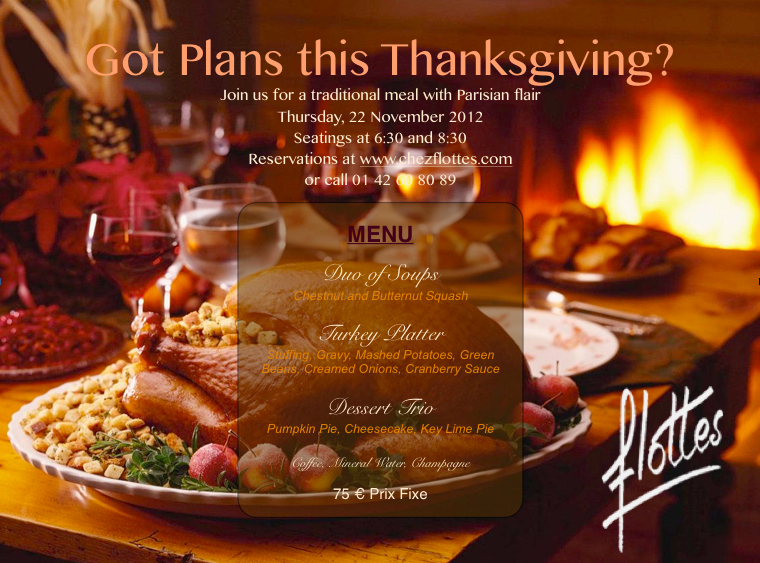 It's always a bit of a downer being in Paris for Thanksgiving. Work on Thanksgiving? Are you serious? In the past, I have hosted Thanksgiving at my apartment, but it tends to be easier to postpone the elaborate dinners until the weekend.
But you have to do something on the actual Thursday of Thanksgiving, right? If you still don't have plans, join us at Chez Flottes (2, rue Cambon in the 1st arrondissement, not far from Metro Concorde).
Here's why: because I am picky about food and I am especially picky about my Thanksgiving meal. I am, after all, from Massachusetts, home of the First Thanksgiving! And with my friend Daniel, the organizer, I personally taste tested the proposed dishes at Chez Flottes and gave them even the tiniest suggestions I had for improvements.
I can personally vouch that this is going to be an incredible meal! The stuffing in particular is out of this world. Oh, and the homemade cranberry sauce…
Click here to make your reservations now, before it fills up.
I hope to see you all there!
For those of you who are attempting your own holiday meal in the coming week or two, see my recipes from last year's Pumpkinfest and a list of places to find your American groceries.
Most importantly, wherever you may be, have a Happy Thanksgiving!
P.S. If you have not yet read the famous article in which Art Buchwald tries to explain the American tradition of Thanksgiving to the French, here it is.