I am in the home stretch of apartment renovations on my new Paris apartment. Last weekend, I had hoped to move in, but due to delays in the completion of the renovations, I found myself with a free weekend in Paris and not much desire to sit in my temporary studio wasting it away.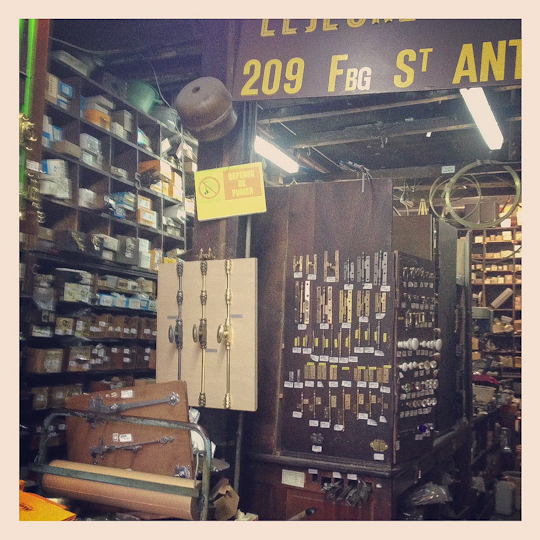 I thought I would make myself useful and offer to help my interior architect with any job she could give me to make less work for herself (and of course, speed up the process). She asked if I could pick up handles for my cabinets and sent me the specifications and quantities. She suggested I go to BHV (Bazaar de l'Hôtel de Ville), the everything shop. Great, no problem, I thought. This way I could be sure to see all the possibilities and find ones that I like.
So I went to BHV on a Friday evening (Is there any greater excitement?), and asked for poignées de style coquille. After the third time the very unhelpful man in the handles and doorknobs section responded "Over there," with a vague wag of his hand, I had to confess that I didn't really know what "shell style" meant and asked if he could please show me exactly where they were. He then pointed me to a few empty drawers of handles. "Desolé, Madamoiselle. We are out of stock until mid-November."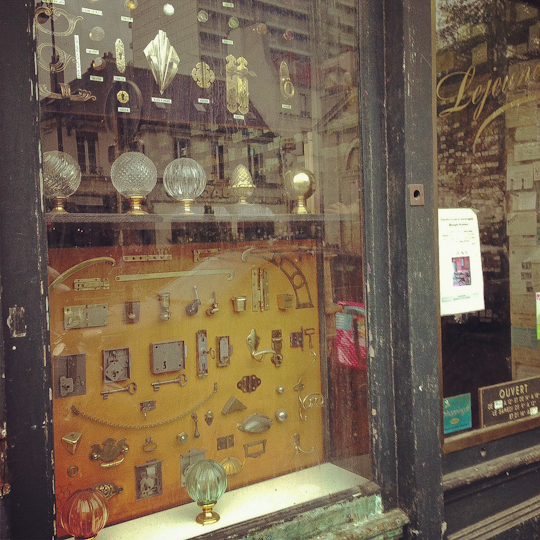 Still no problem, I thought. I will go to Leroy Merlin, an almost-everything bricolage (do-it-yourself hardware) store nearby. They had my PSCs, we'll call them for short, but only 16 of them. I needed 22 that were all the same.
I called my interior architect (actually for the fourth time that evening) and she recommended I visit a quincaillerie near Bastille the next morning.
Perhaps this is a good time to stop and answer your burning question: "What is a quincaillerie?" I'm still not exactly sure. The Robert & Collins dictionary gives several definitions, including "hardware store" and "ironmonger's shop". I think it's something inbetween. The classic ones look like one of those old-fashioned 5 and 10 hardware stores (you know, the ones with the free donuts on Saturday mornings), but all they sell is metal cabinet and door knobs, handles and hinges. They are sadly a dying breed, even in Paris. Which I quickly found out.
Saturday I made my way in the rain to rue du Faubourg Saint-Antoine, which straddles the 11th and 12th arrondissements just west of Bastille. My first stop was Au Progres, a traditional quincaillerie at 11 rue Faidherbe in the 11th. I discovered that it is unfortunately closed on Saturdays, all day Saturday. But an older gentleman manning his brocante (antiques) kiosk out in front told me this was the neighborhood of quincailleries, to just go back to Faubourg Saint-Antoine and I would see many. I walked east on Faubourg Saint-Antoine and saw none. I walked back, googling "quincaillerie 75011" and "quincaillerie 75012" as I walked. I then stopped for an emergency empanada at Clasico Agentino (217 rue du Faubourg Saint-Antoine, among other locations) and by the time I made it to the first of the quincailleries, it was closed for lunch. So was the second.
Frustrated, I headed to the Marais. I Googled "quincaillerie 75003" and "quincaillerie 75004" and came up with several possibilities. I mapped out a route. I walked. I stopped by 4 potential quincailleries and all were either closed or not real quincailleries after all.
I crossed the river and tried La Quincallerie at 3-4 Boulevard Saint-Germain. This more modern shop had outrageously expensive products, but luckily they had what I was looking for and it was the one product that seemed vastly underpriced. Unluckily, they did not have 22 in stock. I asked if I could call on Monday morning to order them if I could not find them elsewhere by the end of the day. No, I had to come in person and pay in advance to order. Apparently, the concept of taking a credit card over the phone was unthinkable.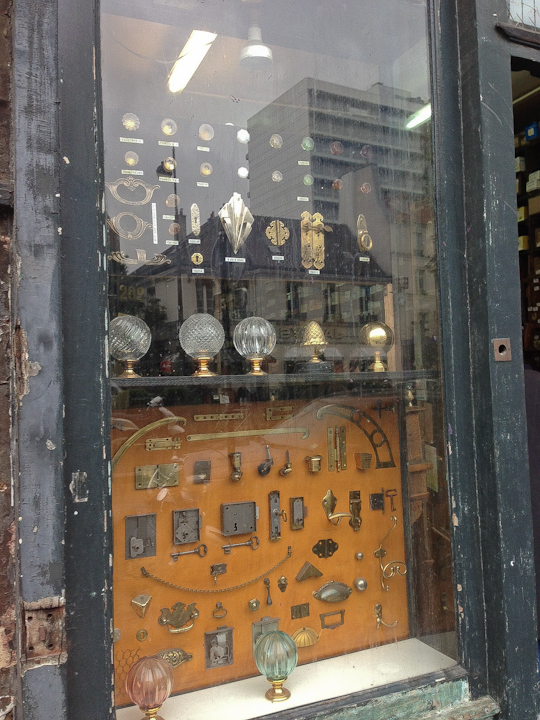 At this point, I was exhausted. It was 3:30pm and I had been walking in the rain since noon. (Oh, I should confess though that while in the Upper Marais, I did also sneak into Al Taglio (27, rue Saintonge in the 3rd) for a slice of pizza when the empanada fuel wore off.)
I was running out of steam, but I was not going to have kitchen cabinets without handles. So I had three more possible stops before I would call it quits for the day. I walked by a Google-labeled quincaillerie on Boulevard Henri IV, but it appeared to sell nothing remotely resembling my handles.
The last two stops were the two quincailleries I had passed immediately post-empanada on Faubourg Saint-Antoine that were apparently also out for empanadas at the time. I rushed to the first one, now realizing it could be closing soon.
Eureka! They had my PSCs! And easily 22 in stock! I was pulling out my carte bleue (credit card, sort of) when I saw the price tag: €22 euros each?! They ranged from €2.30 to €2.80 everywhere else! I was getting desperate, but not that desperate.
One last try: Lejeune Frères, dating back to 1890 (and 1941 under the current name). The smell of old, dusty basement hit me as soon as I entered. I was hopeful. Columns of small wooden drawers lined each side of the shop, reaching floor to ceiling. I was getting good at zoning in quickly on the PCSs. They had them. €8 apiece but they were of a more solid, quality brass than the ones I had seen before. Before I got my hopes up too much I asked as to quantity. The shopkeeper looked hesitant. He said he would have to check in the basement. I waited anxiously, but not really so anxiously, as I happily took advantage of his absence by snapping a few photos. When he returned he had a beautiful bag of 25 brass poignées de style coquille in his hand. I let out a sigh of relief.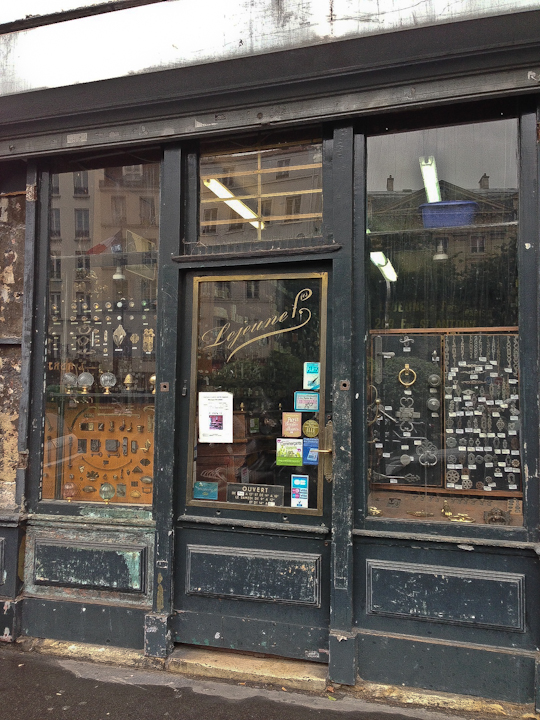 I was so excited to have finally completed my mission that I took a photo of the outside of the store as I was leaving. A little old man passing by stopped and told me this was a one-of-a-kind shop, not many left in Paris. "Oh, I know," I told him. "This place is wonderful." He had no idea how much of a fan I was. For all my future Parisian quincaillerie needs, I will always be loyal to Lejeune Frères.
Lejeune Frères
209, rue du Faubourg Saint-Antoine
75001 Paris
Tel. 01 43 72 99 26 / 09 51 71 01 35
Open Monday – Friday 9h – 12h and 14h – 18h, Saturday 9h – 12h and 14h – 17
E-mail: lejeunefreres@free.fr