We all complain about traffic jams and lack of parking in Paris. Everyone has their preferred method of transportation: metro, bus… my favorite Parisian mode of transport is my own two feet (despite the fact that I now have a French driver's license!!!)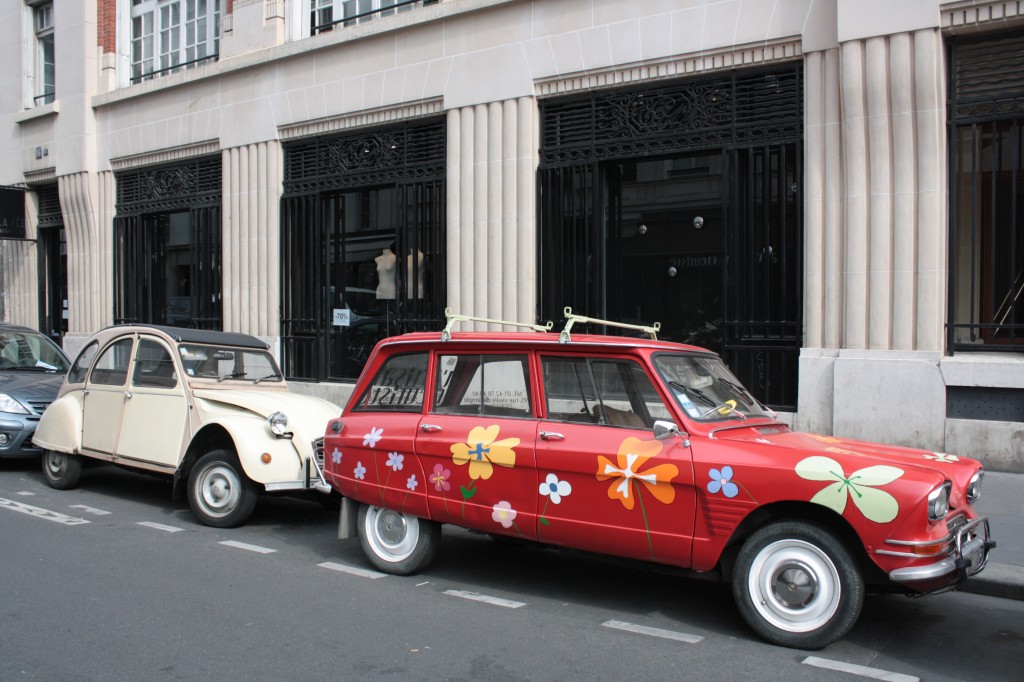 But sometimes you have to drive. Last month, when making some trips back and forth between Paris and Brittany, I discovered the fantastic yet little-known system of reserving parking spots in advance. The ticket gate at the parking garage recognizes your license plate and lets you come in and out as you please during the term of your parking pass. I realized there are a lot of tricks like this one out there, that you just don't know until someone tells you! So I spoke with  Guillaume Fénéon who works with Parkings de Paris, to get the inside scoop for those of you looking to visit Paris with a car.
We conducted the interview in French. I have translated it into English below, but I am also including the French version for those of you who prefer to read French.
***
What is the mission of ParkingsdeParis.com? What are the advantages to the customer of reserving a parking spot through ParkingsdeParis.com ?
ParkingsdeParis.com was created in order to better accommodate French and foreign tourists who come to Paris by car. So that tourists do not arrive at a parking garage marked "full", we offer them the chance to reserve in advance their parking spots in one of the garages that belongs to the "City Pass" network. They can also choose their parking spot according to location, price, different packages offered and the type of vehicle (motorcycles, cars, utility vehicles, trucks, camping vans). Since this summer, we also offer a new package designed for tourists: the "Pass Multipark." It allows you to park in 10 different parking garages during the term of the pass (24 hours, 2 days, 3 days, 7 days) with just one reservation.
If you reserve your spot through parkingsdeparis.com, you benefit from:
Reduced rates on parking packages for visits to cultural sites, shows, concerts, expos, hotels…
A reserved spot even if the parking garage says "full"
No reservation fees!
For tourists to Paris, would you recommend renting a car or taking public transportation? 
These are two different systems but not incompatible. To get around in Paris during the day, especially during rush hour,  public transportation is the better choice. Cars are more comfortable, give you greater mobility and allow you to feel safer when going out at night. That is why we have developed mixed transport solutions: we propose that drivers park their cars in a garage further from their ultimate destination, but at a lower price, then use public transportation to move around within Paris and avoid traffic jams.
What are the best tips you have for those who prefer to drive in Paris instead of taking public transportation?   
Driving:
Avoid rush hour: drive on Saturdays and Sundays and in the evenings. During the week, take the metro!
Parking:
Choose parking garages rather than street parking. Your car will be more secure and you will not return the bad surprise of a damaged car. But be careful of the exorbitant prices at certain garages: inform yourself in advance by consulting the rates on our site!
The best advice is to plan your trip in advance: reserve your parking spot in advance and save time and money.
Do you have advice for avoiding traffic jams?
Unfortunately, there is no miracle solution. Many Parisians commute using 2-wheel vehicles to avoid traffic jams. The best means for tourists to avoid traffic jams is to avoid driving during Paris rush hour (between 8:00am and 9:00am and between 6:00pm and 7:00pm).
If you arrive in Paris by car, take advantage of July and August: Parisians are on vacation, the roads are calm and you can drive without the stress of honking and traffic.
Can you reserve parking spots in advance?
Yes, this is possible via internet at ParkingsdeParis.com.
Thanks to this service, you benefit from reduced rates as well as a guaranteed parking spot even if the garage says "full".
How much does it cost to park in Paris garages?
The average hourly rate is €3.20. The neighborhoods of central Paris are more expensive.
Take the time to compare prices: for example, in the 19th arrondissement, you can park for €2 per hour, whereas in certain garages in the center of Paris you will pay €5 per hour!
Are there preferential rates for local residents?
Yes. In order to facilitate parking for residents, the Paris Mayor's office has put in place a residential parking system. You can park in the four zones around your home, as indicated by parking meters with a yellow disc. Parisians are authorized to leave their cars for a maximum of seven consecutive days, at the rate of €0.65 per day or €3.25 for the week.
You must have a residential parking card that is distributed for free by the Mayor's office (Mairie de Paris – Direction de la Voirie et des Déplacements – Subdivision des cartes de stationnement – 15, boulevard Carnot, 75012 Paris).
You must place the resident card and parking meter receipt in the windshield of the car.
Is the parking garage responsible if my car is stolen or damaged while parked there?
The answer is no. The company running the parking garage is not responsible for what may happen to your car. The parking garages are an extension of public street parking, which means that the rules of the public streets apply also in the parking garages.
This does not mean that parking garages are high-risk areas. On the contrary, most of them have security personnel and have set up video surveillance systems.
How many parking garages and parking spots are there in Paris?
Paris has about 785,000 parking spots. 475,000 of these spots are reserved for residential parking (private parking). 153,000 are street parking spots. 157,000 spots are in covered or underground public parking garages.
What are the options for handicapped parking?
In Paris, street parking is free for persons with European handicapped parking cards.
By law, private parking lots and garages must assure handicapped-accessible parking spots (1 out of every 50 spots), located near the reception, entrance and exits. But these spots are paying spots just like the others.
Can I find free parking spots in Paris?
Non, there is no free parking in Paris during the week. However, there are several good options:
Certain delivery zones (those with a dotted line on street-side of the spot) are free Monday through Saturday from 8:00pm to 7:00am, as well as all day Sunday and holidays.
A yellow disc on the parking meter tells you that you can park for free all day on Saturdays, Sundays and holidays.
In August, parking spots with a parking meter marked with a yellow disc are free all day every day.
Is it cheaper to pay a parking ticket than to pay for parking?
On August 1, 2011, the price of a parking ticket went up from €11 to €17 in order to encourage drivers to pay for parking.
At €3.60 per hour, after 5 hours, it is cheaper to pay the ticket. But street parking is limited to 2 hours, so theoretically you could receive a €17 ticket every 2 hours. [Note from Abby the translator: it was not so theoretical for me this past summer!]
My car was towed. How can I get it back? How much is this going to cost me?
If you car was impounded within Paris proper, go directly to the Paris police department site (Préfecture de Police de Paris) and look up your vehicle by typing in the license plate number. You can also find the addresses of the 6 "pre-impound" lots (préfourrières) and 3 impound lots (fourrières) on that site.
To get your car back, you must go to the impound lot within 3 days and present your driver's license as well as the registration (carte grise) of the vehicle. You must also pay €126 in towing fees, the parking ticket and €10 per day that your car was impounded.
If I am not a French resident, do I still run the risk of receiving parking tickets?
In theory, yes. In 2011, the European Union adopted the "Schengen Area for Parking Tickets" project, allowing the police from all the EU countries to coordinate. The project should be implemented in 2013, which still leaves a bit of respite for those drivers committing infractions who wish to slip through the net.
***
Quelle est la mission de ParkingsdeParis.com ? Quels sont les avantages pour le client de réserver sur ParkingsdeParis.com ?
ParkingsdeParis.com a été créé afin d'accueillir au mieux les touristes français et étrangers venant avec leur voiture à Paris. Afin que les touristes ne se retrouvent pas devant un parking qui affiche complet, nous leur proposons de réserver leur place dans l'un des parkings membres du réseau City Pass. Ils peuvent ainsi choisir leur parking selon sa localisation, son prix, les différents forfaits proposés, les véhicules acceptés (motos, voitures, utilitaires, camions, camping-car). Nous proposons également depuis cet été, un nouveau forfait conçu pour les touristes : le Pass Multipark. Il vous permet de stationner avec une seule réservation, dans 10 parkings différents pendant la durée de validité de votre forfait (24h ; 2j ; 3j ; 7j).
Si vous réservez votre place sur parkingsdeparis.com vous bénéficierez de :
–          Forfaits de stationnement à tarifs réduits pour les visites de lieux culturels, spectacles, concerts, salons, hôtels…
–          Votre place réservée même si le parking affiche complet
–          Aucun frais de réservation !
Pour les touristes à Paris, vous conseilleriez de louer une voiture plutôt que de prendre les transports en commun ?
Ce sont 2 programmes différents mais pas incompatible. Pour se déplacer en journée dans Paris, surtout pendant les heures de pointes, les transports en commun sont les plus adaptés. La voiture offre plus de confort, de mobilité et permet de se sentir en sécurité si l'on souhaite sortir le soir. C'est pourquoi nous avons développé l'intermodalité :nous proposons aux automobilistes de garer leur voiture dans un parking plus éloigné de leur lieu de destination mais à des tarifs moins chers, puis d'utiliser les transports en commun pour se déplacer afin d'éviter les embouteillages.
Quels sont vos conseils les plus importants pour ceux qui préfèrent conduire à Paris au lieu de prendre les transports en commun ?
Conduite :
Circulez en dehors des périodes de pointe : de préférence le samedi, le dimanche et en soirée. En semaine, prenez le métro !
Stationnement :
Préférez les parkings couverts plutôt que les places sur la voirie. Votre voiture sera en sécurité et vous n'aurez pas la mauvaise surprise de la retrouver abimée. Attention quand même aux prix exorbitants pratiqués par certains parkings : renseignez vous avant, en consultant les tarifs sur notre site !
Le meilleur conseil c'est de programmer son voyage : réservez votre parking en avance, faites des économies d'argent et de temps.
Avez-vous des conseils pour éviter les embouteillages ?
Malheureusement il n'y a pas de solution miracle. Beaucoup de parisiens utilisent des 2 roues pour éviter les embouteillages afin de se rendre à leur travail. Le meilleur moyen pour les touristes d'éviter les embouteillages, est de circuler en dehors des heures d'arrivées et de sorties de travail des parisiens (le matin entre 8h et 9h et le soir entre 18h et 19h).
Si vous venez à Paris en voiture, privilégiez les mois de Juillet et d'Août : les parisiens sont en vacances, les rues de Paris sont calmes, vous pourrez conduire sans le stress des klaxons et des embouteillages.
Peut-on réserver sa place de parking à l'avance ?
Oui, cela est désormais possible via internet sur quelques sites, dont ParkingsdeParis.com
Grâce à ce service vous bénéficiez de tarifs réduits ainsi que d'un emplacement garanti même si le parking affiche complet.
Quels sont les tarifs des parkings parisiens ?
Le tarif horaire moyen est de 3,20€. Les quartiers les plus chers sont ceux du centre de Paris.
Prenez le temps de comparer : dans le 19eme par exemple vous pourrez stationner pour 2€ de l'heure alors que dans le centre de Paris, certains parcs affichent 5€ de l'heure !
Existe-t-il des tarifs préférentiels pour les riverains ?
Oui. Afin de faciliter le stationnement des riverains la Mairie de Paris a mis en place un système de stationnement résidentiel. Vous pouvez stationner dans 4 zones autour de votre domicile indiquées par les horodateurs munis d'une pastille jaune. Les Parisiens sont autorisés à laisser leur véhicule durant 7 jours consécutifs maximum, au tarif de 0,65€ par jour ou 3,25€ la semaine.
Vous devez disposer d'une carte de stationnement résidentiel qui est délivrée gratuitement par la Mairie de Paris (Direction de la Voirie et des Déplacements – Subdivision des cartes de stationnement – 15, boulevard Carnot Paris 12e).
La carte résidentielle et le ticket de stationnement sont à apposer derrière le pare-brise du véhicule.
Le parking est il responsable si ma voiture à été volée ou abimée?
La réponse est non. La société exploitant le parking n'est pas responsable de ce qui arrive à votre véhicule. Le parking est un prolongement de la voie publique, ce qui signifie que les règles de la voie publique s'appliquent au parking.
Cela ne signifie pas que les parkings sont des endroits à risque. Bien au contraire, la plus part d'entre eux ont mis en place des systèmes de vidéo surveillance et de gardiennage.
Combien y a-t-il de parkings couverts et de places de parking sur Paris ?
Paris compte environ 785 000 places de stationnement.
475 000 places sont des emplacements résidentiels réservés aux riverains (parkings privés).
153 000 sont des places de stationnement en voirie.
157 000 sont des places dans les parkings publics couverts ou souterrains.
Quelles sont les solutions de stationnement disponibles pour les personnes handicapées ?
A Paris, le stationnement est gratuit sur la voirie pour les personnes handicapées détentrices d'une carte européenne de stationnement.
La loi oblige les parkings privés à mettre en place des emplacements pour personnes handicapées (1 place sur 50) situés près de l'accueil, des entrées et sorties. Mais ces places sont payantes comme les autres places.
Puis-je trouver des emplacements de parking gratuits à Paris ?
Non, il n'existe pas d'emplacement gratuit à Paris en semaine. En revanche il existe quelques bons plans :
– Certaines zones de livraisons (bandes en pointillées du côté de la chaussée) sont gratuites du lundi au samedi de 20h à 7h ainsi que toute la journée le dimanche et les jours fériés.
– Une pastille jaune sur les horodateurs vous indique que vous pouvez stationner gratuitement les samedis, dimanches et jours fériés toute la journée.
– Durant le mois d'août, les places de stationnement qui dépendent d'un horodateur signalé par une pastille jaune, deviennent entièrement gratuites tous les jours.
Est-il moins cher de payer un PV plutôt que de payer le stationnement ?
Depuis le 1er aout 2011, le prix du PV est passé de 11€ à 17€ avec pour objectif d'inciter les automobilistes à payer le stationnement.
A 3,60€/h et à partir de 5h de stationnement, recevoir un PV coûte moins cher.
La durée de stationnement étant limitée à 2h en voirie, théoriquement vous pouvez recevoir un PV de stationnement de 17€ toute les 2h.
Ma voiture a été emmenée à la fourrière. Comment faire pour la récupérer ? Et combien cela va- t- il me coûter ?
Si votre véhicule a été enlevé dans Paris intra muros, rendez vous directement sur le site de la Préfecture de Police de Paris et recherchez votre véhicule en entrant son numéro d'immatriculation.  Vous pourrez également trouver les coordonnées des 6 préfourrières et 3 fourrières.
Afin de récupérer votre véhicule, vous devrez vous rendre dans les 3 jours qui suivent à la fourrière et présenter votre permis de conduire ainsi que le certificat d'immatriculation du véhicule. A cela s'ajoute la somme de 126€ de frais de remorquage, le règlement de la contravention ainsi que 10€ par jour de garde.
Si je ne suis pas résident français, ai-je des risques de recevoir mes contraventions de stationnement ?
En théorie oui. Depuis 2011 l'Union Européenne a adopté un projet « d'Espace Schengen des PV » permettant une coopération entre les polices des pays de l'Union Européenne. Le projet devrait être mis en place en 2013 laissant encore un peu de répit aux automobilistes en infraction qui espèrent passer à travers les mailles du filet.
***
Merci, Guillaume, for sharing your insight and tips with us!