This blog post, "Ten Seconds of Courage," could also be aptly named "Be Nice to People You Meet in Airports – Part 2". After reading my post from last month, Greg, my co-protagonist, insisted on writing his version of the story and informed me that I would be required to publish it. I told him he had a deal. Luckily, Greg (photographed below while hiking in Patagonia) and I both agree on the moral of the story. Thank you, Greg, for sharing this with us!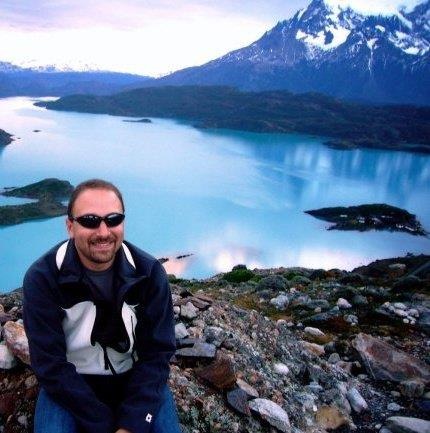 After reading Abby's post about being kind to people in airports (and being one of the subjects), I felt it was only natural to respond and say I relate with everything she said.  I also felt it was worth telling my version of events to complete the story.
It was summer of 1997. I was 19 years old.  A great-great-fill-in-the-blank relative of mine whom I never knew about or met passed away and somehow after her estate was distributed down the chain, my two brothers and I each inherited $1,500.  I was rich!  I had to do something immediately to spend this money.  To avoid any guilt of blowing it on certain things (i.e., alcohol), my older brother and I decided we would go to Europe. We had never travelled outside the US. He invited his girlfriend at the time so I suddenly became a fifth wheel.  No problem though, I thought, and I asked a girl I recently met in college if she wanted to come with us…. just as friends, of course.  I knew that she could fly for free because her father worked for an airline and that she didn't even need to commit to a firm schedule.  She could come for all two weeks or just a few days.  Unfortunately, since we lived almost next door to each other, one night I saw her go out on a date holding a guy's hand.  I had thought she was single, and even if we were going as friends, that would just be weird.  I never followed up with her about the Europe trip and decided to go alone.
I also decided that this would be the trip where I would come out of my shell.  I spent my first 18 years being an introverted observer, not a talker.  I would use the experience as an undercover social experiment and talk to anyone and everyone that would talk back.  I ditched my brother and his girlfriend and went to any place I could strike up conversations. It was liberating.  For every two or three people that gave me that "go-away" look, one talked to me.  I learned about places I should visit and those that I should avoid.  I ended up staying in hostels and would go around from group to group meeting interesting and occasionally crazy people from all over the world.  Plain and simple — I was a changed person.  I learned that there is a far greater risk in avoiding people than there is in talking to them. As long as it is situationally appropriate, of course.
Now to the part of the story that readers of Abby's blog probably care about.  My brother, who was an ancient 23 years old at the time, was in charge of booking my flights.  He was staying in Europe for several months and my two weeks were up, so I was returning home alone.  My brother decided it was a fantastic idea to arrange my flight from Paris to Dallas at 7am on a Sunday morning.   Even then with less security you had to arrive two hours early to travel internationally.  The Paris metro didn't run that early and my $1500 was gone.  A cab ride wasn't an option so I was dropped off at Charles de Gaulle at about 8pm with a quick fist pump and the typical "have a safe flight."  I carried my bag to a bench and laid down only to be interrupted by the (same) janitor who recommended I go to the 24-hour cafe to be safe.  OK, I thought.  Wasn't going to argue with that.  To the best of my memory, I went and sat down near Abby about midnight.  There was no wi-fi, no iPad or computer, no entertainment.  If I read a book, I'd fall asleep then who know what would happen to my stuff.  I went over to Abby and asked to join her with what I thought was about an 80% chance of being turned away.  She said sure and we just started talking…and talking…and talking.  I can't remember specifics, but I know we talked about her crazy travel schedule, our schools, friends, etc.  She was clearly smart and independent — but most importantly for our time together — friendly. I was impressed with her courage to be a female traveling alone.  The sun came up about 6am, we exchanged email addresses, which I had just begun using that year in college, and went on our way.   For me, the time flew by and I had a new friend.  All for 10 seconds of courage to strike up a conversation.
I kept in touch regularly with Abby for about four years or so.  She was always responsive and we shared what was going on in life and any travel experiences.  I was now working and spending every dollar on travelling all over the world.  Abby went to law school then moved abroad.  I moved to Seattle for a dot com whirlwind followed by law school in Miami.  But I've always been inspired by Abby's independence and interest in travel and living abroad.  She also has a personality trait that I wish everyone shared, which is a warm friendly vibe…even to strangers.  I think that's something you only get when you are a well-rounded, well-travelled and confident person.
Then social media was introduced into our lives…and I started connecting with people that I hadn't talked to in a long time including Abby.  I learned she would be in New York in February.  On a twenty-four hour business trip out to New York, I had the (very, very last minute) thought of meeting up.  We hadn't seen each other since Paris in 1997.  I didn't arrive until about 8pm, so we met for a drink.  It was like time had stopped — a flashback back to 16 years ago.  I enjoyed every minute of it and came away reassured we'll be lifelong friends.  Even if six months or a year goes by without talking — and I hope it doesn't — we are always connected.  And I am very thankful for that.
As a side note, three years after this first trip to Europe, I randomly ran into that girl that I never followed up with to join me on the trip.  Being my new social self, I built up the courage to approach and invite her to have drinks with my friends and me.  We seemed to get along years earlier and were about to graduate college — probably never to cross paths again.  She agreed and we had a great time.  While we were out, she told me she was disappointed that I never followed up with her to join me on my European vacation.  I responded that she had a boyfriend (now single) and I didn't want to get in the way of that.  I got an unexpected response — if you had asked me, I would have dumped him and joined you… We started dating the next week (August 2000), got married (May 2006), and welcomed our children into the world in 2010 and 2012.  We are insanely happy and are enjoying every bit of life.
Today, at 35, it still takes a good amount of courage for me to strike up a conversation.  Sit next to a stranger.  Meet new friends.  But so many great things have happened to me over the years for doing so; I recommend everyone talk to (friendly) strangers.  You never know whom you will meet….