Last night, having missed the opportunity when I was about 30 years younger, my aunt and uncle took me to my very first circus.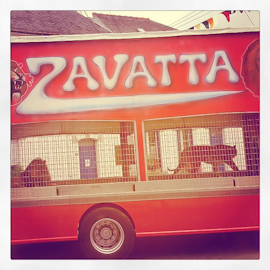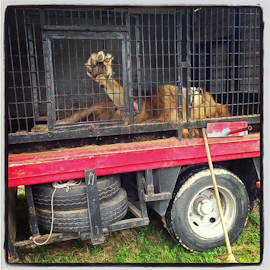 View out my living room window (left) / Lion sleeping (right)
My interest in going to the circus started last month, when the circus first came to town. I was sitting at my dining room table sipping tea in this quaint little village in Southern Brittany, when guess who drove by? A lion and a tiger!
I had never been to the circus before. I was always told not to support them as they are cruel to the animals. But I had been curious all these years and thought I should see one just once, just as I went to a bullfight once. I am glad I went to the bullfight, but I don't need to go back.
Several times each summer the town gets plastered with flyers for the circus. It's quite an industry here in France. There are several circus companies and they canvas the area, setting up for a couple of evenings in just about every town. Last night in fact, the same circus company was in our town and the town just next door, 5 minutes down the road!
The circus came to town earlier in July and I missed it. And I sort of regretted missing it — missing the circus and missing a small town French circus experience. So when the posters came back again this week, my aunt said to my uncle, "Don't you think you should take your niece to the circus?" She had never been either, and he had not been to a circus since 1957, so we were all very curious. And given that it was only a 5-minute walk down the street from my house, we could not pass up the chance.
It was a cool and damp evening, so that in part may have accounted for the low attendance, but we still had a hard time understanding how this circus could possibly make money at €10, €15 or €20 per ticket. While I am sure they have it down to a science, the set-up and break down every two days requires a large team of circus employees. And there are performers, animal trainers, (hopefully) a vet, and truck drivers and ticket salespersons…. I imagine most employees serve in more than one role.
The show began with the lions. They jumped through hoops (literally) and over one another and growled on command. It's true, it was a bit sad to watch them. I can't imagine they were happy performing stunts every evening. But I would hope that France has strict standards they impose on the treatment of performing animals. (Some quick research showed that the EU does not currently have any legislation on the welfare of animals in circuses.)
Much of the circus involved performing humans and not animals: a juggler juggling fire, a performer who amazingly did handstands on wobbly stacked chairs, acrobats who twisted themselves around ropes and rings several stories high with no safety net, and of course the requisite clown.
In the end I think we all agreed: we were bothered by the use of the animals, but amazed by the beauty of these creatures and grateful to have the chance to see them up close. I can finally now say that I have been to the circus. And that last night in this little village in Brittany, I slept no more than 300 meters from where six lions and one tiger were sleeping.
Comments
comments