I've signed up for BookBub, a service that sends you a daily e-mail with deals on Kindle or e-books, delivered to you in any format you like (via Apple, Amazon, Google, etc.)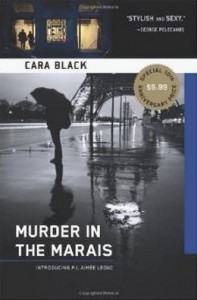 It's actually quite dangerous: the e-books are all $0.99, $1.99, $2.99 or sometimes even free. But it adds up when you start buying a book a day!
Today, BookBub announced a deal on Cara Black's Murder in the Marais, on sale for $1.99 through April 3, 2015. (You may have to create your own BoobBub account to successfully follow the link to the book.) I didn't buy the e-book only because I've already read it! A hard copy lives in my Marais apartment, so if you're visiting anytime soon, you won't need to purchase it either.
For the rest of you, I highly recommend splurging the $1.99 for this historical fiction mystery featuring the protagonist investigator Aimée Leduc.
With all the literature that has been written by authors based in the Marais and about life in Paris and the history of the city, there is not much out there specifically focusing on or set in the Marais. But Cara Black allows you to accompany Aimée Leduc as she tries to solve the mystery of a slain elderly Jewish woman, a woman who survived the injustices of the Nazi occupation during World War II only to be murdered decades later in an apparent attack of anti- Semitism. This fast-paced mystery novel will transport you to the cobblestoned streets and narrow passageways of the Marais and to the center for the Jewish community in Paris.
Here is the publisher's description:
Aimée Leduc, a Parisian private investigator, has always sworn she would stick to tech investigation — no criminal cases for her. Especially since her father, the late police detective, was killed in the line of duty. But when an old Jewish man approaches Aimée with a top-secret decoding job on behalf of a woman in his synagogue, Aimée unwittingly takes on more than she was expecting. When she goes to drop off her findings at her client's house in the Marais, Paris's historic Jewish quarter, she finds the old woman strangled, a swastika carved on her forehead. With the help of her partner, René, Aimée sets out to solve this horrendous crime, but finds herself in an increasingly dangerous web of ancient secrets and buried war crimes.
You can read more about the author here and about the other books in her Aimée Leduc mystery series (all set in various Parisian neighborhoods) here.
Let me know what you think once you've read it!