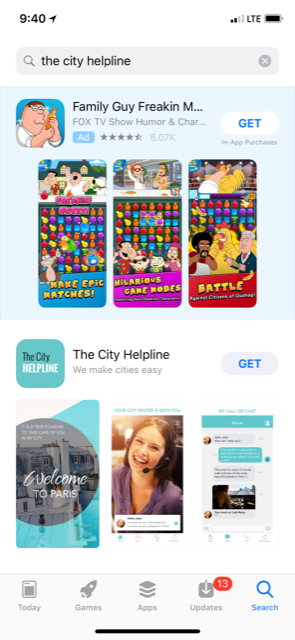 There is a new tech service available in Paris, designed to give tourists real-time assistance, on-the-go. The service, via an app, connects a traveler with a "City Helper". This real person will–by phone or chat through the app–answer questions, give recommendations an travel tips, assist with translations and reservations…. They can also assist in the event of an emergency (with the caveat that the service is not 24/7; it's open Mondays to Saturdays, from 10 am to 7 pm.)
In their own words:
The City Helpline offers a way for every traveler to craft their own unique experience of the city. If it's their first time in Paris and they want to tour the highlights, that's fine. Our City Helper will tell them the best time of day to avoid the crowds at the Louvre and the Eiffel Tower, explain them how to skip the queue and tell them about the photo opportunities they shouldn't miss. If that's not their thing and would rather discover the city far from the tourists' clichés, their City Helper can suggest things to do based on their tastes : a stroll in a less-known neighborhood, a street art tour or a cooking class for example.
Our City Helpers offer advice and make recommendations based on who our users are, why they've come to Paris and where they are right now, what they want to do, what they like and dislike, what they're interested in, what their travel habits and budget are.
The service is free until the end of February, and starting March 1, 2018, it will be 5 EUR/day. However, The City Helpline has offered the first 100 Paris Weekender readers each a chance to try out the app for one day free-of-charge. Just enter promo code WEEKENDER18.
To access this new app, just search for The City Helpline in the App Store or the Google Play Store. In case it's not obvious, it's the bottom one in the photo to the left!
Please do take advantage of these free days of The City Helpline, and let me know what you think!!