This year I held the first (to be determined if also the last) Pumpkinfest, otherwise known as "Why your guests will never want to see another pumpkin as long as they live." It was my alternative to a Thanksgiving dinner with friends as I was back in the U.S. for the actual turkey day this year. You'll have to ask my guests, but I think it was a success.
Below are a few of the recipes from the all-pumpkin dinner. One benefit to choosing a one-food theme is that for all these dishes, my shopping list was surprisingly short.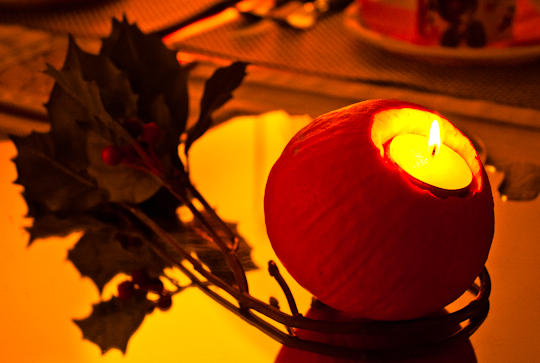 Pumpkin Spice Cashew Cheese Dip
This recipe came from the Healthy Happy Life Blog, and can be made a day ahead or the morning of your event. I followed the recipe below exactly, except that I skipped the cashews and additional pumpkin seeds (laziness). I added a fair bit of cayenne pepper, which gave the dip a great kick. I served it with an assortment of top quality (Monoprix) crackers.
Vegan, makes 4 cups
1 can 15oz. pumpkin (unsweetened, purée)
2 cups raw cashews (soaked and drained)
1/2 cup water (use soaked nut salted water)
1/4 cup maple syrup (sweeten to taste)
2-3 Tbsp grapeseed oil (you can use olive or pumpkin seed oil as well)
1/2 tsp sea salt (salt to taste)
1/4 cup lemon juice (or orange/tangerine juice for a warmer, less zesty flavor)
1 tsp cinnamon
1 tsp nutmeg
1/2 tsp cayenne (add more for extra spicy pumpkin dip)
optional: blend in additional soaked pumpkin seeds to add another layer of texture/flavor
1. Soak the raw cashews overnight in salted water. Drain, but reserve the water for use in the dip.
2. Preheat oven to 250 degrees.
3. Add the drained cashews, pumpkin, maple syrup, lemon juice, oil, salt and spices to a food processor or high speed blender.
4. Add the water in a few splashes at a time. (If you are infusing the water with saffron, as I mentioned in my Hot Dip Tip, be sure to add in that step) Add more if needed. You want to process the cheese into a thick texture – a bit thicker than hummus. Process until the desired texture is reached (at least 2 minutes on high).
5. Do a taste test. Add in more spices/salt/sweetener/lemon juice as you see fit. You can also add in additional flavor changers like harissa for a smoky/spicy taste. Or crushed sage for a warm herbed flavor. Or extra black pepper for a peppery flavor. As i said above, you can also substitute the lemon juice with orange juice for a mellower, warmer flavor. I used lemon and loved it though.
6. When your flavor is perfect, pour your cheese into your baking serving dish. Sprinkle a few modest spices on top. You can also top with a few pumpkin seeds as a nice garnish. The seeds will toast up nicely in the oven. Shallow dishes will result in a firmer/drier end product. Deep dishes will keep your smooth creamy texture.
7. For a shallow dish, bake at 250 for 50+ minutes. For the deep dish where you only want to warm the center and crisp the top you only need to bake at 250 for 20-30 minutes. The cheese dip will dry out the longer you bake it. The more you bake cashew cheese the more familiar you will get with your baking preferences.
8. Plating. Serve warm. You can also chill and firm up in the fridge if you'd like a cold pumpkin cheese dip. I enjoy both options. Serve with veggies, crackers, bread cubes. You can also add a drizzle of oil and/or maple syrup over top the final serving cheese if you'd like.
Crock Pot Pumpkin Butter
This recipe is from Tablespoon and is easy as can be. The "butter", which actually contains no butter, can be made well in advance. I wish everything could be made in the crock pot!
1 15-ounce can pumpkin
1/2 cup apple juice
3/4 cup granulated sugar
1 tsp ground cinnamon
1/4 tsp ground ginger
1/4 tsp ground nutmeg
1/8 tsp cloves
1. Set your crock pot on the "low" setting (mine has an 8-hour and 10-hour setting, I used the 8-hour setting).
2. In the bottom of the crock pot, thoroughly combine all of your ingredients. Cover and let cook for about 5 hours, stirring occasionally, until pumpkin butter is thick enough to stick to a spoon turned upside down.
3. Spoon pumpkin butter into a jar and let cool completely in the refrigerator before using. It keeps in the refrigerator for up to one week or the freezer for up to 6 months.
Pumpkin Coconut & Chili Soup
This recipe is from Sweet Sensation, which adapted it from Sweet Corner. I used Picard chopped onion and garlic and it turned out just fine. I saved the pumpkin seeds but sautéed them with just butter and garlic until golden brown. I served them as a pre-dinner snack and also sprinkled them on a mesclun salad, though they got a put soggy when I added vinaigrette. Best to keep them as a separate snack. It is best to make the soup shortly before eating, though you could make it in advance and warm it up again on the stove.
Serves 2
500g pumpkin, peeled and deseeded (save the seeds)
2 tablespoons olive oil
4 garlic cloves
1 onion, chopped
1 chili pepper, finely chopped
4 thyme springs
250ml vegetable stock
200ml coconut milk
salt and ground pepper
1. Preheat the oven to 220°C. Line a roasting tin with parchment paper.
2. Put the pumkin seeds in a colander, wash with cold water and dry on a paper towel. Add a little olive oil and sprinkle with some salt, pepper and ground chili or smoked paprika. Toast in the oven for 10-15 minutes or until slightly browned and crispy. Remove from oven and allow the to cool. Serve them alongside soup or as individual snack.
3. Chop the pumpkin into rough chunks and transfer to a roasting tin. Sprinkle with a tablespoon of olive oil and season with salt and pepper. Add two thyme springs and whole garlic cloves. Roast for 40-45 minutes or unril the pumpin is tender and the edges are a bit charred. Discard the thyme springs and peel the garlic.
4. In a medium pot heat a tablespoon of olive oil and fry the onions and chili until soft. Add the pumpkin, garlic and the rest of the thyme leaves. Add the vegetable stock and coconut milk. Cook on high heat until it starts to boil. Remove from heat and whizz using a hand blender until smooth. Return to heat and add some more stock if the soup is too thick, Season with salt and pepper and cook for a minute or two.
5. Serve with toasted pumpkin seeds and Pumpkin parmesan bread rolls.
Pumpkin Risotto
This is Wolfgang Puck's recipe. Years ago I had a wonderful pumpkin risotto recipe but I do not remember where it was from and cannot find it now! The recipe below is good, but if you have a favorite pumpkin risotto recipe, please share! I followed the directions below, except that in tripling the recipe I also decided to use a mix of real pumpkin (and not butternut as indicated below) and pumpkin purée.
1/2 cup extra-virgin olive oil
1 cup finely chopped onion
1 tablespoon chopped garlic
2 cups arborio rice
1 cup dry white wine
About 6 cups of hot chicken stock or vegetable stock
1 butternut squash, one half baked in the oven and then pureed; the other half, peeled, cut into small dice, and Sauteed in a little oil and butter until tender
1/2 cup grated Parmesan
4 tablespoons unsalted butter, cut into small pieces
1. In a medium-size heavy saucepan, heat the olive oil over medium-high heat. Add the onion and garlic and saute, stirring continuously, just until softened, 3 to 4 minutes. Add the rice and continue to stir, using a wooden spoon, to coat the rice with the oil.
2. Add the white wine and continue cooking, stirring often, until it has been absorbed by the rice. Pour in enough chicken stock to cover the rice completely, about 3 cups, and continue to cook, stirring often, until all the liquid is absorbed.
3. Pour in 1 cup more of the remaining stock and stir and cook until it has been absorbed. Repeat with 1 more cup. Add the remaining cup and cook, stirring, until the rice is al dente, tender but still very chewy, and most of the liquid has been absorbed.
4. Stir in the pumpkin puree and the diced pumpkin and reduce the heat to very low so that the risotto doesn't simmer anymore. Stir in the Parmesan and butter to give the risotto a nice, creamy finish. Spoon it immediately into heated shallow serving bowls.
Chicken breasts stuffed with apple, cranberry & pumpkin
This is my own recipe, entirely experimental. I give the quantities for 6 servings, although I made 16 servings and it all still fit in the crock pot! With the crock pot you can do all the work before your guests arrive. Start preparing this dish about 7 hours before you plan to eat it.
6 chicken breasts, pounded flat
2 apples in small cubes (no need to peel)
2 cups of pumpkin in small cubes
1/3 a can of whole berry cranberry sauce
1 piece of moist whole wheat bread cut into small squares
cinnamon to taste
nutmeg to taste
1/4 bottle dry white wine
6 cups pumpkin soup (homemade or store-bought)
cooking string
1. In a mixing bowl, combine apples, pumpkin, cranberry sauce and bread (which helps the mixture stick together) and add cinnamon and nutmeg to taste (a few shakes each should do it).
2. Place about 1/3 cup of the mixture on each chicken breast, roll the chicken breast shut and tie with one strong at each end.
3. Place stuffed chicken in crock pot.
4. Pour wine over chicken breasts and let stand for 10 – 15 minutes.
5. Pour soup in crock pot to cover chicken completely.
6. Cook on low for 5 – 6 hours.
7. Save the liquid from the crock pot and serve as sauce for the chicken.
Sweet & Sour Pumpkin with Mint
This recipe is from Mario's Batali's Molto Italiano cookbook and was posted on the Food Network's website. Although it could serve as a side dish, I served it on top of the leftover stuffing I prepared for the chicken breasts, as a vegetarian main course. I used Jerez (sherry) vinegar instead of a standard red wine vinegar and maple syrup instead of honey. I also used a regular pumpkin and not acorn squash.
Makes 4 servings
1/4 cup extra-virgin olive oil
1 pound sugar pumpkin or acorn squash, peeled, seeded and cut into 1-inch cubes
4 cloves garlic, thinly sliced
1 teaspoon hot red pepper flakes
3 tablespoons red wine vinegar
3 tablespoons honey
3 tablespoons roughly chopped fresh mint
1. In a 10- to 12-inch sautee pan, heat the olive oil over medium-high heat until smoking. Add the pumpkin and garlic and cook until the pumpkin is light golden brown, 4 to 5 minutes. Add the red pepper flakes, vinegar, and honey and bring to a boil. Reduce the heat and simmer until the liquid is reduced to a syrupy glaze and the pumpkin is tender, 10 to 12 minutes.
2. Remove from the heat, add the mint, and serve.
Pumpkin Cheesecake with Caramel Brandy Sauce
I have been making this Bon Apétit/Epicurious.com recipe for years and it is always a bit hit. It is a bit time consuming but not particularly difficult to make. Prepare a day in advance as it needs to refrigerate overnight. You'll need a food processor and a spring-form pan.
Crust
1 1/2 cups pecans, toasted, cooled
3 tablespoons golden brown sugar
3 tablespoons unsalted butter, melted
1/4 teaspoon ground cinnamon
Filling
3 8-ounce packages cream cheese
1 1/4 cups sugar
1 teaspoon finely grated lemon peel
4 large eggs
1 15-ounce can pure pumpkin
1/2 cup plain whole-milk yogurt
2 tablespoons all purpose flour
1 teaspoon vanilla extract
1 teaspoon ground cinnamon
3/4 teaspoon ground ginger
1/4 teaspoon ground nutmeg
1/4 teaspoon ground cloves
Large pinch of salt
Sauce
1 cup (packed) dark brown sugar
1/2 cup whipping cream
6 tablespoons (3/4 stick) unsalted butter
1/4 cup light corn syrup
1/2 teaspoon salt
3 to 4 tablespoons bourbon
1 1/2 cups pecans, toasted, cooled
Crust
Preheat oven to 350°F. Butter 9-inch springform pan with 2 3/4-inch-high sides. Grind first 4 ingredients in processor until nut mixture sticks together. Press evenly onto bottom of pan. Bake crust until golden, about 15 minutes. Cool completely. Wrap outside of pan in triple layer of heavy-duty foil.
Filling
Using mixer, beat cream cheese, sugar, and lemon peel in large bowl until smooth. Beat in eggs 1 at a time, then pumpkin, yogurt, flour, vanilla, spices, and salt. Pour into pan. Set spring-form pan in roasting pan. Pour enough hot water into roasting pan to come halfway up sides of cheesecake. Place in oven. Bake until outer 3 inches puff slightly and center is softly set, about 1 hour 15 minutes. Cool in water bath 30 minutes. Remove from water. Cut around sides of cake to loosen. Refrigerate in pan until cold, about 4 hours. Cover and chill overnight.
Sauce
Bring sugar, cream, butter, corn syrup, and salt to boil in deep medium saucepan, whisking until sugar dissolves. Reduce heat to medium; boil 1 minute without stirring. Remove from heat. Stir in bourbon, then pecans. Cool, stirring occasionally. Remove foil. Cut around pan sides; remove sides. Cut cheesecake into wedges; spoon sauce over.
Cheesecake basics
To avoid overbeating the filling, make sure that all of the ingredients are at room temperature.
For best results, use Philadelphia-brand cream cheese.
To get the neatest slices, dip the blade of the knife into a glass of very hot water and wipe the warm blade dry before cutting each wedge of cake.
***
For additional pumpkin recipes, see my recent Best Links of the Month post.
Do you have suggestions to share for a theme dinner?
Comments
comments