After lots of talk and no action, I finally decided to make cupcakes this weekend. It was more of a science experiment than a proper baking exercise. In New York, I once tasted chocolate cupcakes with chocolate chip cookie dough centers, and I wanted to attempt to replicate this miracle.
The result: my friends gave them the thumbs up for taste (perhaps they were just being nice?) but they did not exactly hold their shape. In fact, they were best eaten with the spoon. The photos make my cupcakes look more solid than they really were.
If you want to try this at home, my advice is to freeze small balls (slightly smaller than a ping pong ball) of cookie dough for a couple of hours first.  Fill your cupcake molds only about 2/3 full of batter then drop the frozen cookie dough balls into the center of the cupcake batter before baking as you normally would. For ingredients, see my post on American Groceries in Paris or visit the new Cake & Bake Accessories (5 Rue de Lancry, 75010 Paris, info@cakebake.eu), run by a fabulous young entrepreneur, for all your American/English baking needs.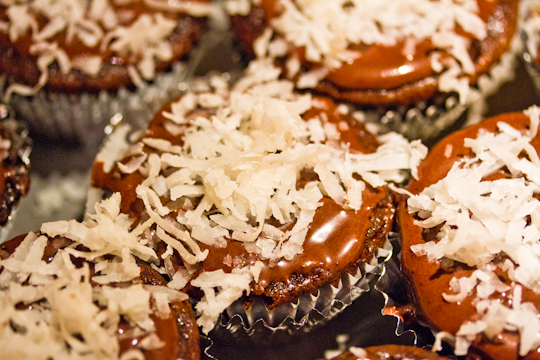 If, however, you are not as keen on experimentation, there are at last several places in Paris where you can find delicious cupcakes. Here are my personally-tested suggestions:
Next on my list? I must make trips (professional visit, of course) to Berko and Cupcakes & Co one day soon. So many cupcakes, so little time!
Have you tried any of these cupcake spots or do you have another favorite cupcake supplier in Paris? I want to hear your thoughts!