My fourth post in this series on Buying Property in Paris is about planning for renovations. I know, we haven't gotten to the closing yet! But I wanted to keep this in somewhat chronological order, and hopefully by talking about renovation planning before the closing I will drive home the point that you need to think about renovations before the closing! I will talk more about managing the renovations in a later post in this series.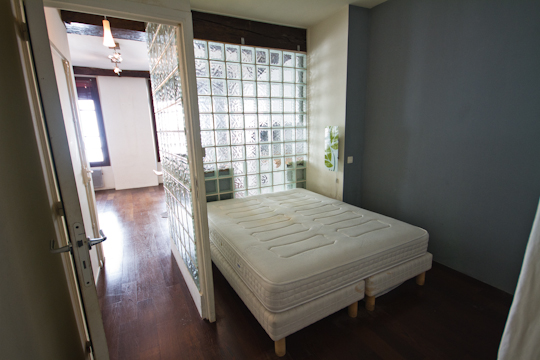 Before reading this, I invite you to read about my thoughts and experiences on pre-search preparations, the apartment search and signing the purchase agreement.
My hope is that by sharing some of my observations and tips, I will help you decide if buying and renovating is the right choice for you, and if so, help you prepare a bit for the process.
The AngloInfo France site also has some helpful tips and vocabulary words to assist you in your renovation project.
And I hope you enjoy my "before" photos of the apartment throughout this post! Stay tuned for the "after" photos in a few months!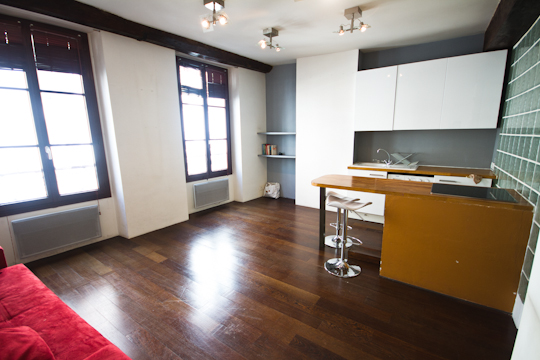 Lists
You probably know by now that I am a big fan of lists. I think the best thing you can do to plan for renovations is to start keeping track of your ideas as early as possible. Deciding on your style is not like writing a term paper. You can't just stay up really late the night before and cram it all in. Start now.
I made my "lists" through four different mediums:
An actual written list. I actually kept my list on Google docs so that I could access it to update it from work, home or anywhere with an internet connection and so that I could share it with my interior designer easily. If you have a smart phone, think about keeping a list on there so you can write down any ideas that come into your head. I started keeping this list about 9 months before any renovations got underway. Where does this list come from? Walk around your current apartment and go through your daily routine and ask yourself, "What annoys me?", "What would I change if I could?" and "What about this place could I not live without in the next place?" Are you annoyed at poor soundproofing in the bedroom? Do you wish the kitchen sink were bigger? Would you kill for more closet space? Write it all down!
Pinterest is a great new social media invention for the visually-inclined. Essentially you are creating mood boards, or bulletin boards of topics of your choosing. Pinterest is where the creative types meet the Type-As as it's easy to organize and reorganize your boards. You can "pin" images (linked back to their initial sources) from most outside websites, or you can "repin" other people's images from within Pinterest. You can also comment on the images so you can remember why you liked certain images. You can also e-mail the link to your board to your designer or other friends for their comment. You can choose to follow certain people – friends or professionals in a certain field – or you can look by category, such as Home Decor. Here is my board on Home Design to give you an idea of the collection of images you can put together.
Houzz Idea Book: Houzz.com is a great resource for home design ideas. I subscribe to Houzz's RSS feed and to be honest, I tend now to consolidate my findings in Pinterest, but I still sometimes prefer to add images to my "idea book" through Houzz. Idea books are free – you just need to sign up.
Magazine cut-outs. The old fashioned way is always useful too. Certainly if you see something you like, rip that page out, as you may not find it again.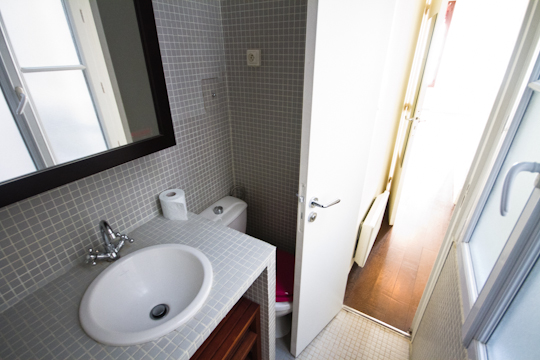 Interior Designers and Architects
The big question to decide before the closing is whether or not to hire an interior designer and/or an architect or if you are comfortable working directly with the individual contractors.
As with deciding whether or not to search via an apartment hunter, this is a personal decision based on your particular circumstances. But in my opinion, it boils down to five main considerations:
Complexity of the project. If you only have some uncomplicated straightforward renovations to undertake, you may not need an architect. But if you envision something not so cookie-cutter, it might be time to bring in the help. Don't be fooled into thinking that the professionals are not needed for a smaller apartment. Sometimes the expert advice is even more crucial when every centimeter counts.
Style & Purpose. Be honest – is your style tasteful? Do you know how to mix and match colors? Do you know when it's too much? Do you tend to mix different styles too much? If you are not 100% confident about your style, it may be best to hire an interior designer. On the other hand, sometimes having a defined style is more of a reason to hire an interior designer. When you are picky about what goes into your apartment, it's nice to have someone on board who knows where to find the right materials and pieces! Are you planning to rent your apartment furnished? If not, maybe it doesn't matter! As long as you like your style, that's all that counts. But if you are thinking of renting, an expert eye may be wise.
Time. Do you work full time? Do you live in the area? Will you be able to run back to the apartment frequently to supervise what is going on and check that everything is going as planned and on schedule? If you have a lot of flexibility in your schedule, your project is not complex and you are not thinking of renting, you may have less need for someone else to help manage the process.
Management Skills. Managing the renovations is not just a question of time, it's also a question of your confidence in directing the project, insisting that things keep on schedule and that part of the work be redone if it is not done perfectly in the first place. Personally, I am quite happy to have someone else between me and the workers to play bad cop! Also consider how confident you are in your ability to know when you are getting a deal and when you are getting ripped off. Would you rather someone else who knows the market negotiate with the contractors?
Money. Expert help never comes for free. It may just be beyond your budget to hire an interior designer or an architect. But find out how much it will cost before you assume you can't afford it. Generally, interior designers will charge about 10% of the total project cost. For architects, it really depends if they are just drawing up initial plans or if they are involved throughout the process. If you need an architect, your interior designer may be able to get you a discount, so consider the total cost, including any savings.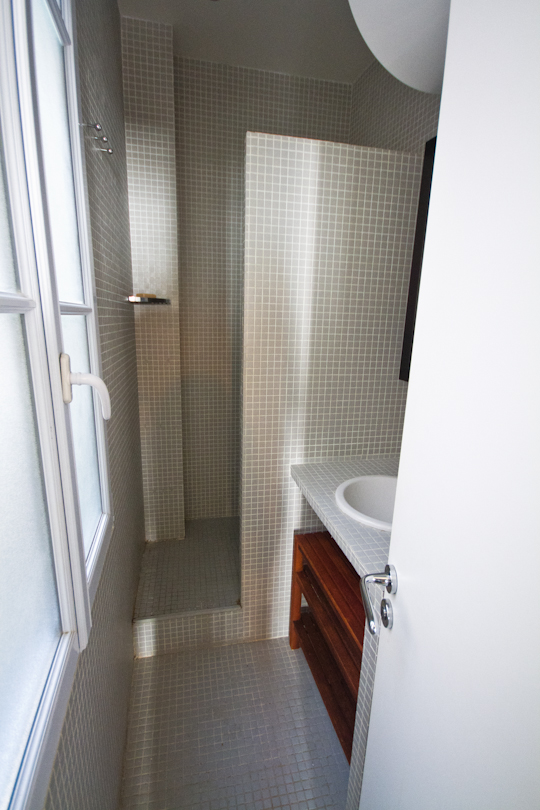 Do Everything You Can Do Before the Closing
Renovations always take longer than expected. Nonetheless, there are things you can do to speed up the process.
If you are doing renovations, you are probably looking at paying both rent and mortgage or two mortgages for a few months during the renovations. Don't make that double-pay period any longer than it has to be. Pick your interior designer, architect and/or contractor. Meet with him or her about your ideas. Visit the apartment with your interior designer, architect and/or contractor to take measurements, draw up plans and select and finalize the plans. Ask if there are any materials you should order in advance. And be sure to get an estimate and be firm about your budget.
Be sure to push for an exact date of completion of renovations, especially if you are moving in yourself and arranging everything accordingly. Remember that if you currently rent in Paris, you need to give three months' notice on your current apartment before ceasing rent payments.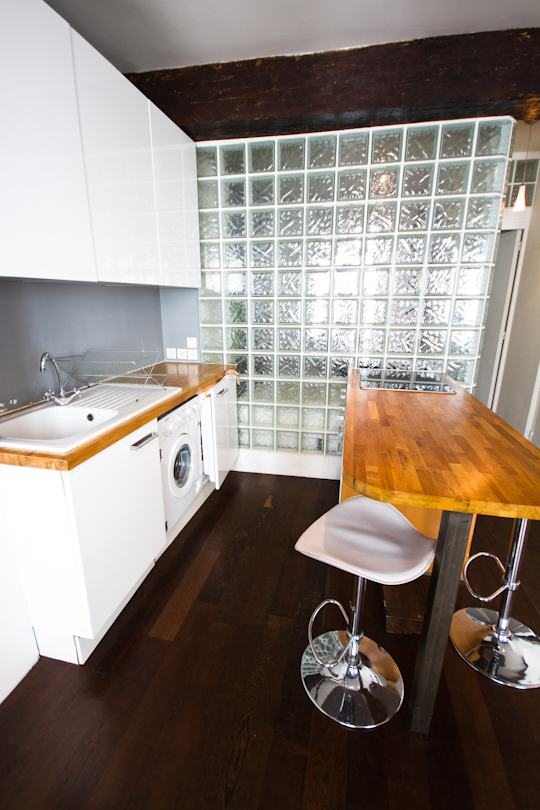 ***
Have you renovated an apartment in Paris? Did you get help or do it alone? Would you do it the same way a second time?