In April of this year, Tribeca became the proud home to a top-notch new French restaurant, Racines NY. Named after its Parisian counterpart, Racines NY stays true to the same tradition of picking only the freshest, local and seasonally appropriate ingredients. The menu changes weekly.
The food is nothing short of exceptional. Dishes embody a healthy mix of traditional and inventive. Ingredients are as fresh as can be and everything is cooked to perfection and not the slightest bit more. Each dish offered a mix of textures and flavors, and always something unexpected. We shared the Wild Oregon Salmon, Escargots and Peekytoe Crab appetizers, and the Halibut and Lobster with Squid Ink Capellini as our mains. For dessert (we had to force some room!) we were able to try a little of everything: Strawberries with Basil Infused Panna Cotta, a Pistachio Parfait with Poached Rhubarb and Raspberries, and a Chocolate & Caramel Tart.
Executive Chef, Frédéric Duca, is originally from Marseille, and worked for many years in Paris. In 2013, he earned both a Michelin Star while with L'Instant d'Or and the prestigious designation of "Best Chef of the Year" by Gilles Pudlowski of the Pudlo guide (the French version of Zagat's). Despite these achievements, he's not full of himself as one might expect.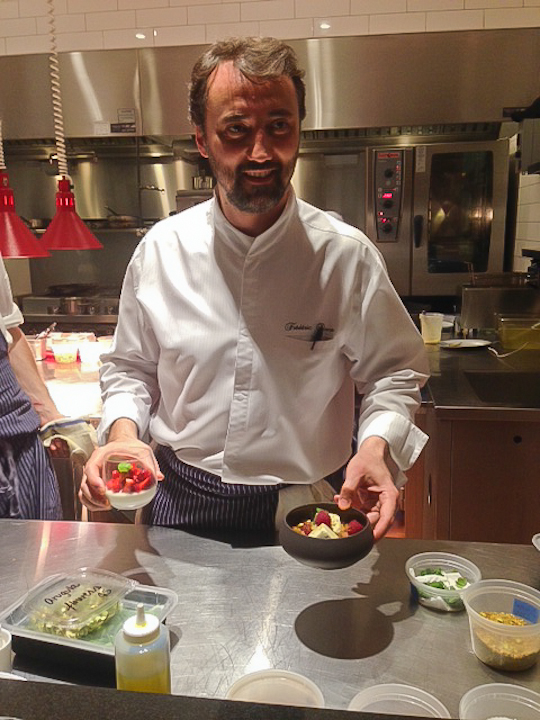 Frédéric serving up our Strawberries with Basil Infused Panna Cotta and Pistachio Parfait
My suggestion, if you can, is to snag one of the four barstools in the back, at the counter shared with the open kitchen. You'll see Frédéric working (and laughing) alongside his small team. I visited Racines with my dear friend, Sonia, who was in town from France. We sat at the counter and got an inside look at the workings of the kitchen. Frédéric told us that he prefers the atmosphere in the New York restaurant to his former Paris post in large part because of the open kitchen and his ability to interact with the clientele and to see first-hand their reactions to his creations.
Of course with such high quality food, you must have a wine list to complement. And Racines does have an extensive wine list and a wonderful sommelier who is also a co-owner of the restaurant. He chose for us an exquisite Sauvignon Blanc-Chardonnay blend that was wonderful to the taste buds, but also had perhaps the best smell of any wine I have tried.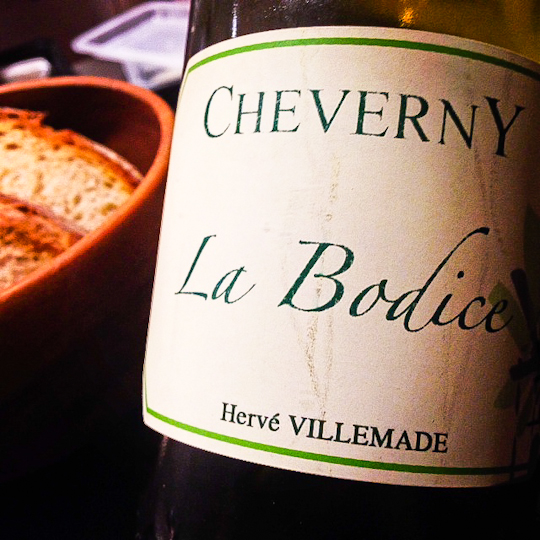 Our Sauvignon Blanc-Chardonnay blend 

The space is trendy industrial. The bar is the focal point of the room. More of a New York feeling than a Parisian feeling, the room is fairly spacious, with table seating for 60.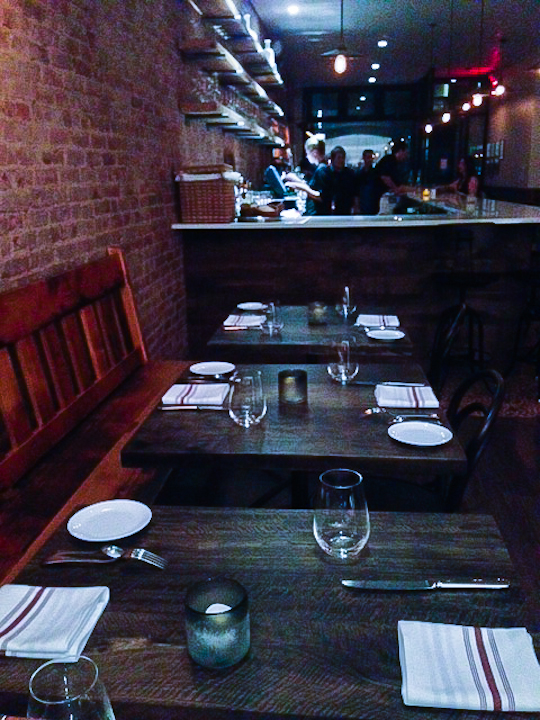 For now, Racines (which means "roots" in French) is only open for dinner, but that may change come the Fall.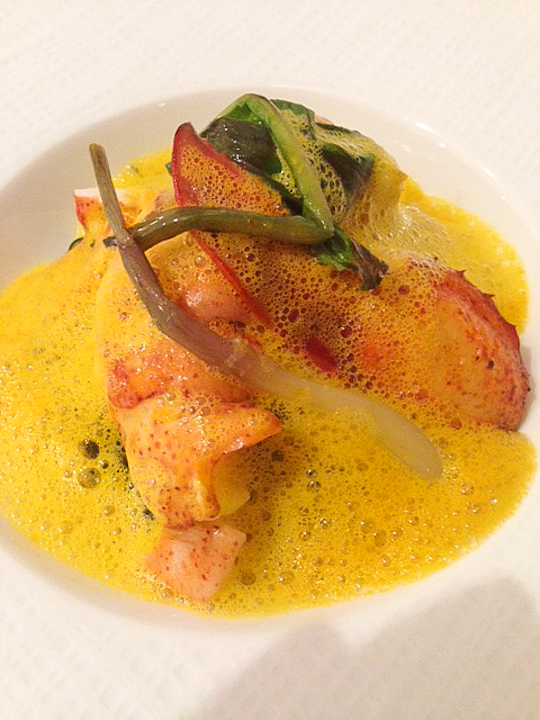 The Lobster with Squid Ink Capellini and Saffron

Racines NY
94 Chambers Street
New York, NY 10007
Monday – Saturday
Kitchen opens at 6PM; bar opens at 5:30PM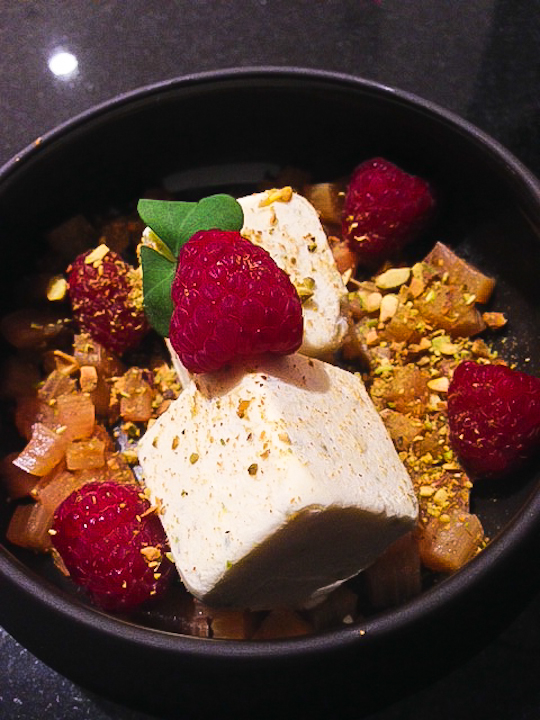 Pistachio Parfait with Poached Rhubarb and Raspberries
For two other must-try French restaurants in NYC, see my post on Café Triskell and Le Philosophe.