I tend to avoid French food when I'm in New York. It's generally very pricey and anticlimactic. I'm flying back to France on Sunday, so this was particularly odd timing for me to decide to hit up two French restaurants in one week. But I'm glad I did.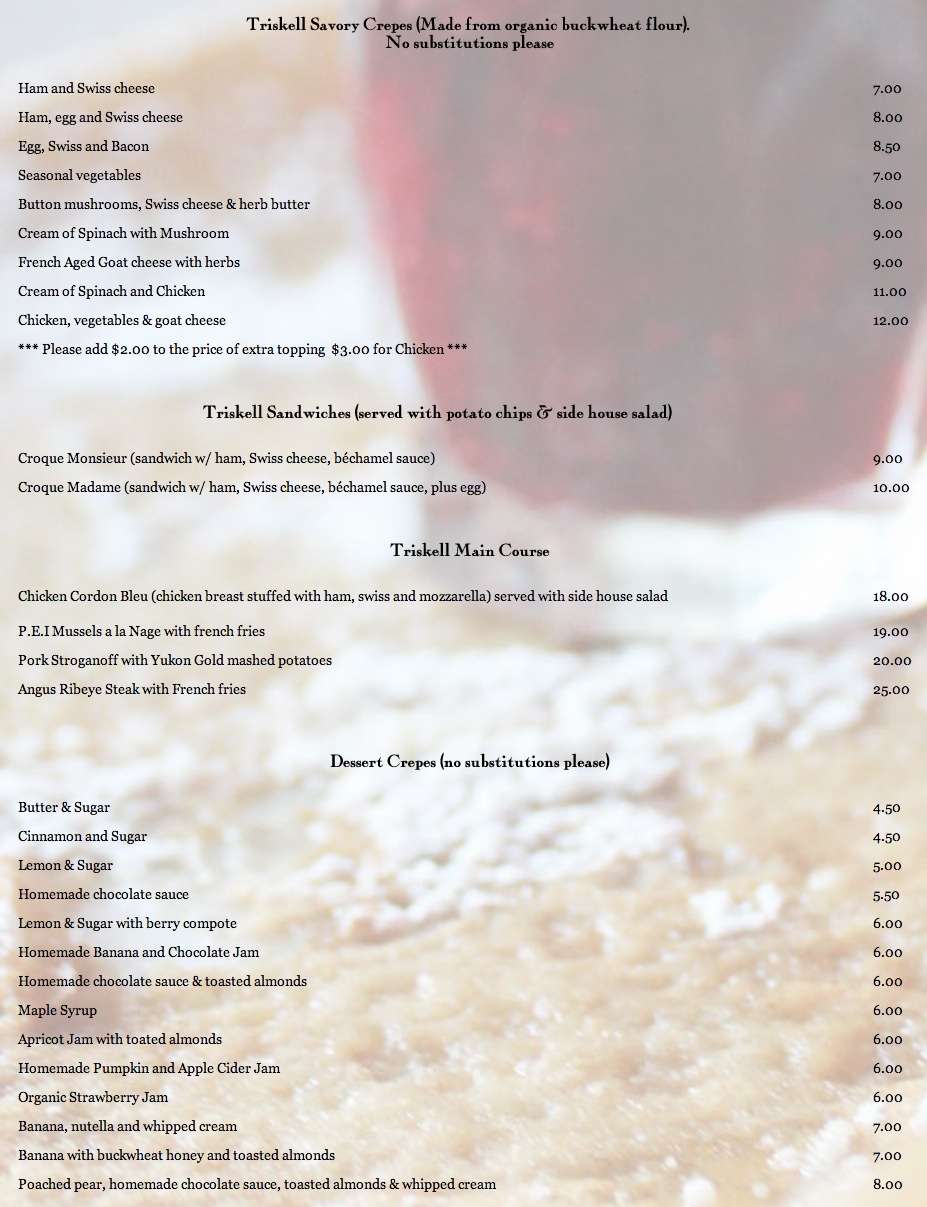 A sampling of the Cafe Triskell menu

Cafe Triskell in Astoria is a cozy little crêperie in Astoria. It's a hike from Manhattan, but more in the psychological sense than actual — it's not so far from the 36th Avenue stop on the N, Q trains. The chef and owner, Philippe Fallait is a true Breton, from Concarneau. I had a chat with him (he thought he was testing my French but I was really testing his) and I can confirm that he's the real deal.
Although the food is typically breton, he gives the offerings a touch of American flare; for example, our goat cheese salad with crushed pecans, tomato, red beets and red onion to start. I ordered chicken cordon bleu as a main and it was delicious — five small rolls of moist chicken, ham and cheese with a light but crunchy topping. I tasted the mussels as well — good enough to lap up the excess broth with a spoon. And we shared two crêpes for dessert: homemade pumpkin and apple cider jam and banana with buckwheat honey and toasted almonds. I wasn't planning to eat dessert, but once they arrived, I couldn't stop myself!
My only complaint: while the food was a bit more refined than you would find in a typical Brittany crêperie, so was the bill. Go expecting normal restaurant prices and not breton crêperie prices, and you'll find a visit to Cafe Triskell well worth the excursion out of Manhattan.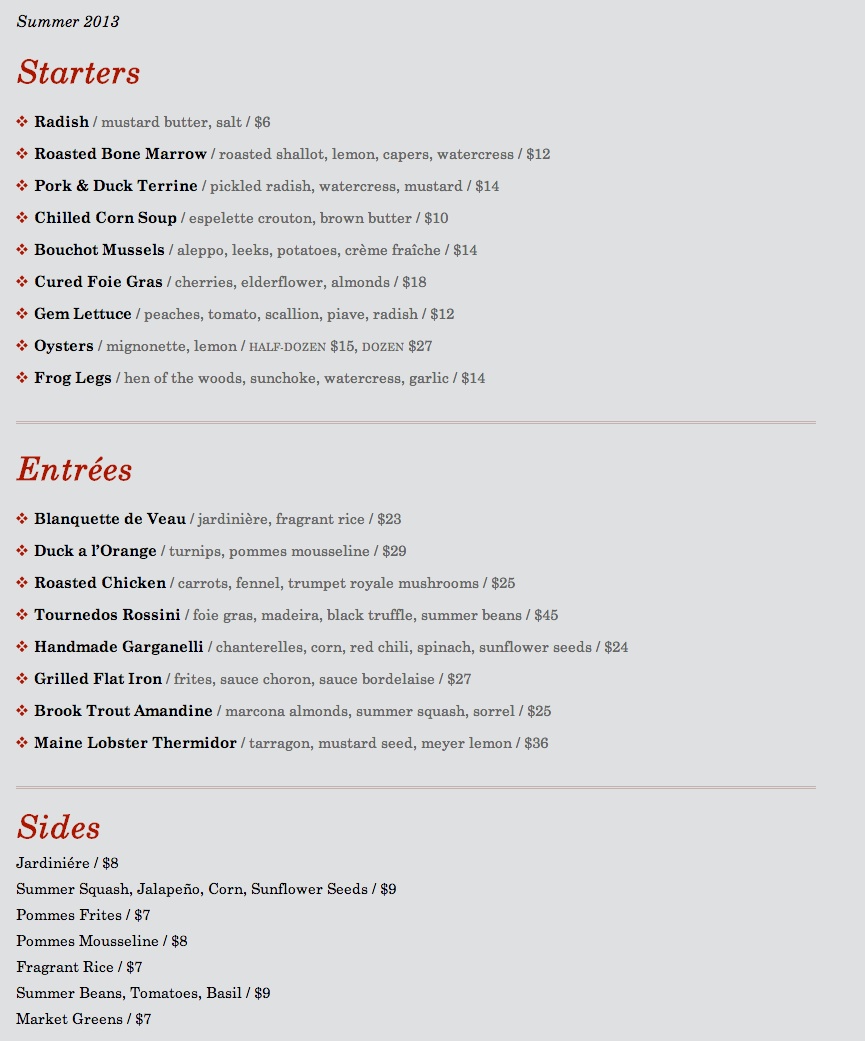 Le Philosophe dinner menu, Summer 2013
Le Philosophe was the venue for a mini reunion of former Paris colleagues. It was only appropriate that we pick a French restaurant for the occasion. We were lucky to be seated in the much quieter, cozier basement of the restaurant, surrounded on all sides by beautiful bottles of wine. Of course, if you choose to sit upstairs, surrounded by depictions of famous French philosophers through the ages, and you can name them all, you will get your meal for free. According to a recent NYT review, "no one, not even a visiting French philosopher, has succeeded."
We deliberated for quite some time over what to order, as if this meal prepared by chef Matthew Aita would be our last. I finally decided upon the appetizer-sized chestnut raviolis with duck liver and the lobster thermidor as my main. The ravioli struck the perfect mix of sweet and savory. The lobster had just the right amount of chewiness to it, with a tarragon, mustard seed and lemon butter sauce that was rich but not over-the-top given the veggie-only sides that accompanied the dish. Speaking of rich, I was oh-so-tempted to go all out for the Tournedos Rossini (filet mignon with foie gras, madeira and black truffle), but at $45, that will have to wait for another day. For the meat-lovers among you, the veal (blanquette de veau) and roasted bone marrow also got quite positive reviews from my co-diners. Sadly, squeezing dessert into our stomachs after this gluttonous dégustation was not an option.
Le Philosophe may be better saved for a special occasion, but should be high on your list when that occasion does come along.
***
Cafe Triskell
33-04 36th Avenue, Astoria, New York, 11105
tel: 718.472.0612
Open Wednesday through Friday from 5pm – 10pm
Saturday & Sunday from 11am – 10pm
Le Philosophe
55 Bond Street, NYC 10012
212-388-0038
info@LePhilosophe.us
SUNDAY — THURSDAY
Dinner 5:30pm — 11pm
FRIDAY + SATURDAY
Dinner 5:30pm — 12am
SATURDAY + SUNDAY
Brunch 11:30am — 3pm