Lost in Frenchlation April Events!
Lost in Frenchlation has several more events this month and they have kindly offered **two free tickets to the first of Paris Weekender's readers to email me at parisweekender@gmail.com** and request them. Please note which of the shows below you'd like to attend.
***
Lost in Frenchlation organizes screenings of French films with English subtitles in Paris with drinks before the film for the international community to meet!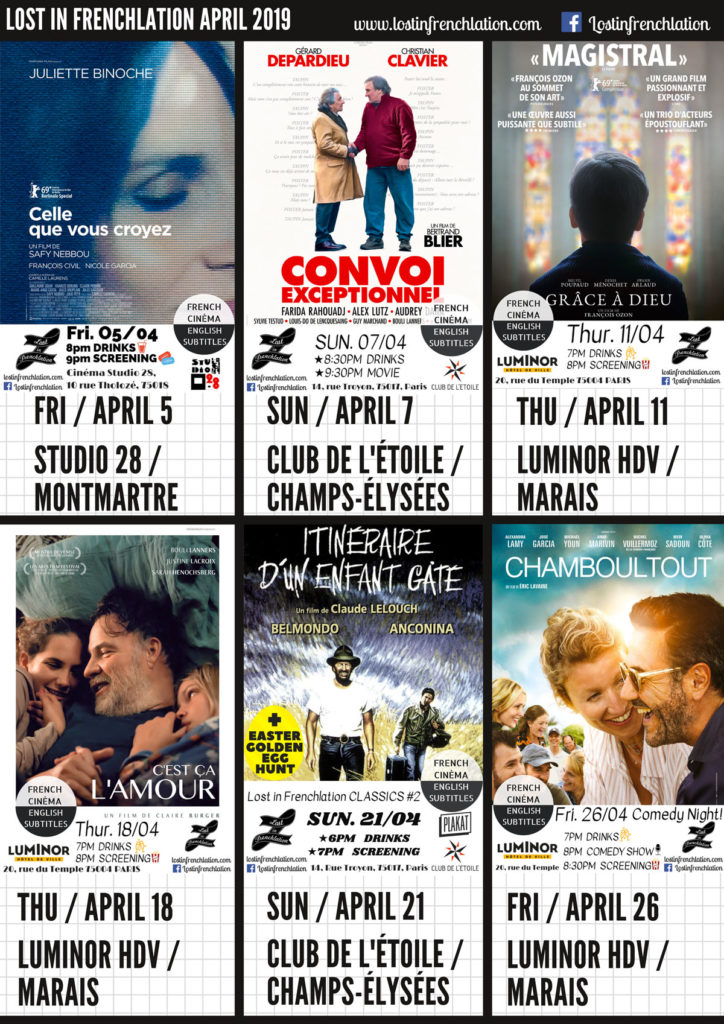 – Grâce à Dieu
☞ Thursday 11 April at Luminor Hôtel de Ville/Marais. Drinks from 7pm, screening at 8pm. €9.50 Full Price, €7.50 for students and other concessions.https://www.facebook.com/events/334859510490915/
– C'est Ça L'Amour☞ Thursday 18 April at Luminor Hôtel de Ville/Marais. Drinks from 7pm, screening at 8pm. €9.50 Full Price, €7.50 for students and other concessions.https://www.facebook.com/events/2439611786072540/
☆LOST IN FRENCHLATION CLASSICS #2☆
– Itinéraire d'un Enfant Gâté☞ Sunday 21 April at Club de L'Étoile/Champs-Élysées. Drinks from 6pm, screening at 7pm. €10 Full Price, €8 for students and other concessions. http://lostinfrenchlation.com/event/itineraire-dun-enfant-gate
☆COMEDY NIGHT☆
– Chamboultout
☞ Friday 26 April at Luminor Hôtel de Ville/Marais. Drinks from 7pm, stand-up comedy show at 8pm, screening at 8:30pm. €14.50 Full Price, €12.50 for students and other concessions.http://lostinfrenchlation.com/event/comedy-night-chamboultout
Comments
comments