This book has been my bible ever since I discovered it, shortly after my arrival in France.  This association has united 155 villages in France that have been named the most beautiful villages (i.e. max 2,000 people) in France (including 2 in Corsica and 1 in Réunion).  The association's website is worth bookmarking as it has all the information that the book offers, constantly updated, and also ideas (including promotions) for weekend getaways.  (The book is still worth purchasing if nothing more for the fantasic maps in the front that show you where each village is in relation to the others.)
How do you become one of these villages?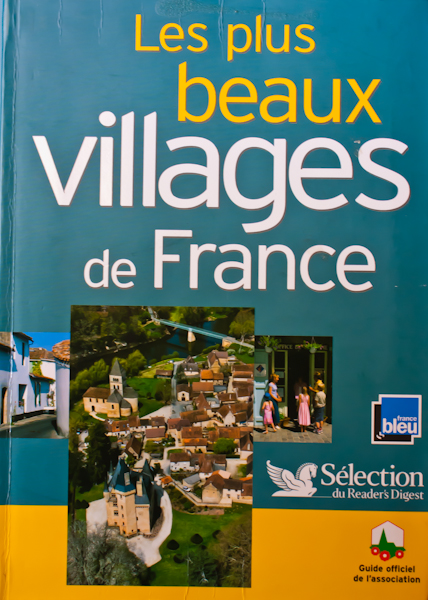 According to the website, a committee of representatives from current association member villages as well as experts, judge applicants based on "…27 objective criteria to measure the extent and value of the village heritage, its architectural, urban and environmental quality and also the suitability of municipal initiatives in terms of managing and showing off its area.…"  In addition to general picturesque-ness, the village must have at least 2 "protected sites or monuments" or what I call "something cultural".
How do I put this book to use?
Some of the villages warrant a special trip; some only hold my attention for about 20 minutes.  I don't generally plan trips solely to visit these villages, but once I pick the city or region I'd like to visit, I take a look at the maps in the front of the book, and I try my best to visit all the "PBVdFs" in the vicinity.  It's an easy way to be sure to see some of France's charming countryside even on a weekend that focuses on cities.  Unfortunately, most of these villages do require a car and preferably a GPS (or at least a lot of patience with public transport!)
My goal?
I would love to visit all 155 one day. Of course it doesn't help that I have already lost track of the ones I have visited so far!  I'd say I'm at almost 30 by now…including, I'm proud to say, both villages in Corsica.  Does anyone dare to guess how long it would take to ride a bike to all 153 villages in metropolitan France?