Recently, I spent an afternoon at Cook 'n with class, a cooking school on rue Custine in the 18th, on the back side of Montmartre.  The classes of up to seven students are taught in English and the focus ranges from bread making to cake decorating to molecular gastronomy.  The school specializes in French cuisine but they now offer classes in Thai and Italian cooking as well and you can even sign up for a private class and pick your own culinary adventure.  Class lengths and prices vary but count on about 4 hours and €125.
I took the baking class and learned to make fougasse (a dense French bread), mini croissants, a mini pain au chocolat, and a mini pain aux raisins.  The most important thing I learned was that no one in his or her right mind should ever make croissants from scratch.  We used dough that the instructors had prepared in advance, as it takes closer to 3 days than 3 hours to make croissant dough.  All this work when you can buy a perfectly good (and full-size) croissant at any boulangerie for about 89 eurocent!  But I very much enjoyed the class.  The instructors are welcoming and knowledgeable and make the whole process fun.  And my friends were impressed that I made my own croissants (I may not have fully explained how much help I had).  As a resident in Paris or a brief visitor, I would highly recommend a cooking class as a fantastic, out-of-the-ordinary way to spend an afternoon.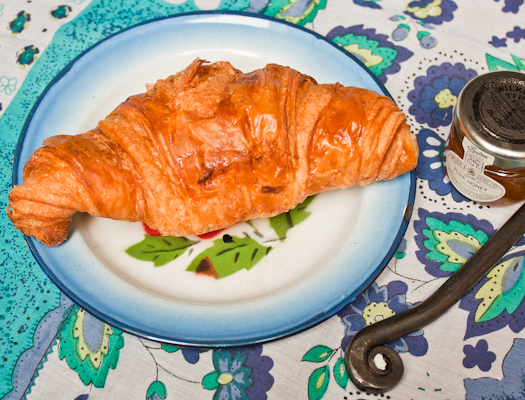 I confess, this is one of those 89 eurocent store-bought croissants.  I ate the home-made ones before I could photograph them!