Despite the new bike bus and taxi lanes around Paris and the convenience of the Velib' bike rental system, I am still a bit nervous to ride a bike in Paris.  I will cycle in Paris once in a while, but I had almost forgotten that the experience can be enjoyable and relaxing, until this weekend.
Thanks to a suggestion from my friend Amy, I discovered a bike path (yes, just bikes, rollerblades and a few pedestrians–no buses or taxis or cars opening their doors just as you are approaching) that makes a wonderful day trip (or weekend trip) from the city.  Stretching 47 kilometers from the town of Saint-Julien-les-Villas, this bike path or vélovoie leads you alongside a canal and through fields of wheat, sunflowers and poppies to a series of three lakes: Lac d'Orient, Lac du Temple and Lac Amance.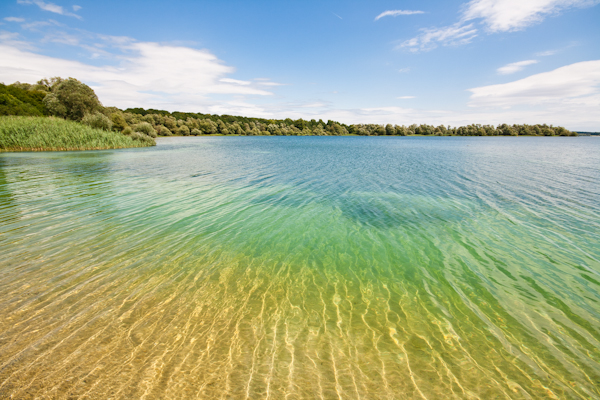 The Bike Path (Click here for a map of the route)
The bike path is extremely well marked—both with directional signs and with distances.  It is 17 kilometers from the start to the turquoise edge of Lac d'Orient then another 5 kilometers to the charming village of Géraudot where I believe the only job the residents have is as professional gardeners.  The bike path ends as you reach Géraudot but bear left and cycle through the town, and soon you'll once again see signs for the vélovoie.  Less than a kilometer past the town is a fairly large and tranquil beach with paddle boats and a couple of very reasonably priced restaurants.  Be sure to bring your bathing suit if the weather is cooperating!  And your sunglasses too, as the sun will be in your eyes cycling back to Saint-Julien-les-Villas in the afternoon.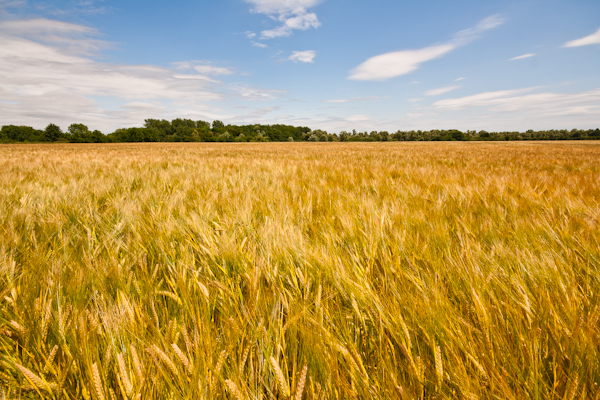 Getting to the Bike Path (a.k.a. the boring overly-detailed logistics section)
About 1½ hours southeast and €37 round-trip from in Paris is the town of Troyes, in the Department of Aube, in the Champagne-Ardenne region.  If you bring your own bike, you can make your way on city streets to the nearby village of Saint-Julien-les-Villas at the start of the bike path, although the route is a bit confusing.  I was quite happy to complete this part of the journey by motorized vehicle.  In the outskirts of Saint-Julien-les-Villas is a well-equipped bike rental shop:
City Bikes
4, rue Moulin Le Roi
Saint-Julien-Les-Villas
Tel.: 03 25 74 16 90
city.bikes@orange.fr
Hours: Tuesday – Friday 14h30 – 19h00, Saturday 9h00 – 12h00 and 14h30 – 19h00 (other times may be available by appointment)
If you are traveling with a big group, you may want to call and reserve bikes ahead.  Even if not, you may want to call ahead and have the very friendly owner reserve a taxi to pick you up at the Troyes train station, or call Taxis Troyens (03 25 78 30 30).  We looked for ages for a taxi to get us to City Bikes by noon (remember, they are closed for lunch 12h – 14h).  Finally I called City Bikes and explained our situation and the owner came to pick us up himself!  Be sure to reserve or ask City Bikes to reserve a taxi to pick you up for the way back as well.  (If for some reason Taxis Troyens is booked out, try Taxi Hugo at 06 76 93 79 67).
City Bikes' rentals are of good quality and not expensive—we paid under €9 per bike for the day, which included a cable lock, helmets (which we did use) and neon yellow reflective vests (which we may or may not have used depending on who is asking….)
At City Bikes, they will give you directions to the start of the bike path (about 5 kilometers away), but if memorization is not your strong point, here they are to print out and bring with you (for a small fee I'd be quite happy to spell out the reverse directions for you as well):
Take a left onto the road just outside City Bikes, or if you are following traffic patterns correctly, at the 1st rotary that is immediately outside, go all the way around about 300 degrees and take the road that is in front of the bike shop.
Go straight through the 2nd rotary.
Go left through the 3rd rotary.
Go straight through the 4th rotary.
Go left through the 5th rotary (it's a bit further to the 5th rotary; when you see the post office on the right you are about half-way there).
Continue straight across the Seine (yes, the same one that's in Paris).
Go straight at the next rotary.  Note a convenience store on your left.  It's a good idea to fill up on water (or Snickers bars, as the case may be) here if you have not already done so, as there is nowhere else to buy provisions for about the next 25 kilometers.
Go under the bridge and bear right.
Cross the Seine once again and then cross the canal just after.  The paved bike path is immediately after the canal on your left. If you cross the railroad tracks, you have gone too far.
It took us about 1½ hours from City Bikes to the beach at Géraudot, traveling at a fast but still comfortable pace, and including a couple of quick photo stops.  We took a 9h42 train from Gare de l'Est that arrived in Troyes at 11h12, and returned from Troyes at 18h12, arriving in Paris at 19h45.  We would have preferred a bit more time at the beach, but our schedule was still fairly relaxed.  If you take an earlier train to Troyes (7h11 was the only option on a Saturday) or a later train back to Paris (there are several), or if you stay the night in one of the chambres d'hotes or gites in Géraudot, you could allow yourself more beach time or you could explore more of the 47-kilometer trail alongside the other two lakes and also the Forêt d'Orient (forest).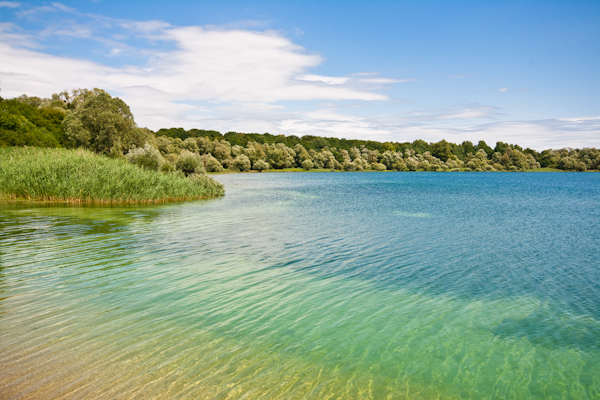 Enjoy!