Six days before my 3Xth birthday, my trusted hiking buddy and I completed what may have been my greatest physical challenge yet (edging out the 2002 Boston Marathon only by the narrowest margin): the 90 or so mountainous kilometers of the southern GR 20 (long distance trail), almost 37 hours of hiking in the span of 57 hours.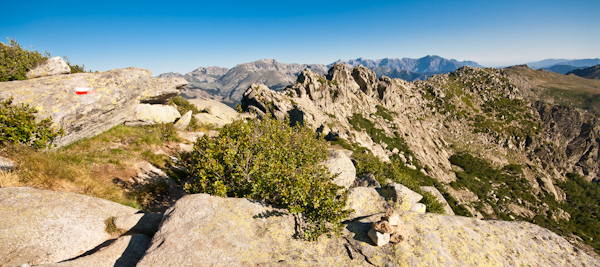 Following the white and red trail markers along the narrow ridges of the GR20
Corsica is about as good as it gets for hikers.  The mountain scenery is breathtaking but the altitudes are low and it is usually sunny in the summer so there is no need to acclimate or carry cold-weather clothing.  There is a well-organized network of refuges (mountain huts) so if you book in advance, you do not need to carry tents, cooking supplies or water purification devices.  And best of all, the beach awaits you at the end of the trail, in just about any direction you choose.  (According to Wikipedia, Corsica is "183 kilometres (114 miles) long at longest, 83 kilometres (52 miles) wide at widest, has 1,000 kilometres (620 miles) of coastline, more than 200 beaches….")
Generally, it is recommended that hikers take six days to complete the southern part of the GR20. Four or five days would have been challenging but sane.  We did it in three.  It was not easy, but it was well worth it both to prove to ourselves that we could do it and (equally important) to enjoy the final day of our trip by the pool at our hotel in the charming fortress town of Bonifacio on the southern tip of the island.
Bonifacio's Old Town and the pool at the Hotel Genovese
I have posted the detailed itinerary under Longer Trip Itineraries, along with the itinerary for the northern part of the GR20.  You may also want to read my earlier post on the GR20.