The Auvergne is right smack in the middle of France, a rural region of the country with vibrant green hills, fields of sunflowers and farms with the fattest cows I have ever seen, scattered among the mountains, craters and extinct volcanoes of the Massif Central.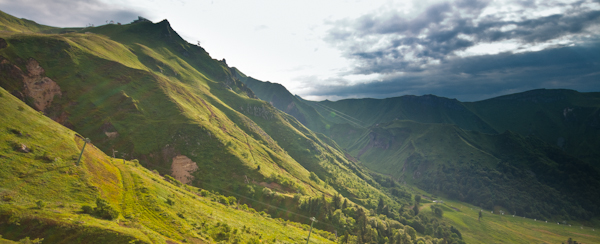 Le Puy de Sancy
Clermont Ferrand is the capital of the region and is unfortunately best (or sometimes only) known for the Michelin factory and the Michelin Man (who does appear quite frequently on roadside signs).  Before I moved to France, I had never heard of the Auvergne.  Few foreign tourists and even very few of my Parisian friends ever think to venture to the Auvergne and yet it is only about 3h20 on the train from Gare de Lyon to Clermont Ferrand and just a few kilometers more before you enter the Parc Naturel Régional des Volcans d'Auvergne (Park of the Volcanoes of the Auvergne).
The cuisine of the Auvergne is hearty, very meat-based and famous for three types of cheese in particular: the bleu d'Auvergne (blue cheese), Saint Nectaire (a soft cheese) and Cantal (a harder cheese).  There is no short supply of these cheeses (recall, they have a lot of fat cows in the Auvergne).
A few more fun facts about the Auvergne:
Volvic water comes from the Auvergne.
The Dore and the Dogne rivers originate and come together in the Auvergne, forming the Dordogne River (that eventually flows to the department of Dordogne, another region of France you should visit).
Part of Clermont Ferrand was actually constructed on the edge of a crater created by volcanic activity approximately 156,000 years ago.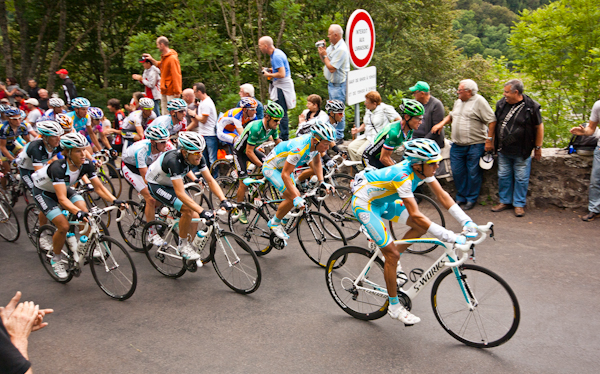 The Tour de France just after cycling through Le Mont Dore
We were especially fortunate to visit the Auvergne this weekend as we saw the Tour de France pass through Le Mont Dore on Saturday afternoon.  Watching the Tour de France in the countryside is a much different experience than seeing the finish in Paris.  A caravan of floats, press and police precedes the cyclists and spectators stake out their spots to view the spectacle hours ahead of time.  The excitement in town is palpable as the cyclists come closer and closer; having been quite disappointed with the Parisians' version of "cheering" for the road races I have participated in, I was relieved to see that at least one region of France is capable of giving these athletes some sincere encouragement from the sidelines.
Please look under Weekend Itineraries for a detailed description of our weekend in the Auvergne, including hiking tips, train and rental car information, costs and information on food and lodging.