Euro Disney (or "Disneyland Paris" as the French call it) is not just for kids.  Europe's only Disney park, first opened in 1992, offers a number of entertainment options for kids-at-heart of all ages and a general atmosphere of good cheer—if you can handle the crowds.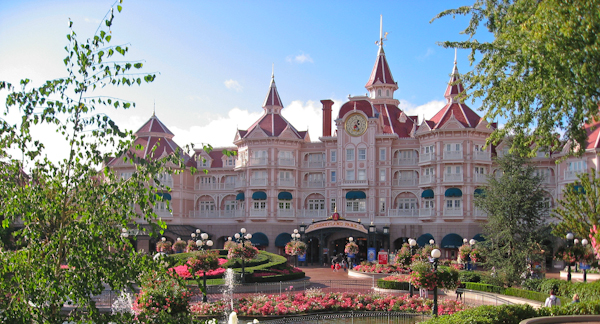 Here are a few tips for making your trip as seamless as possible:
Disneyland is only about 32 kilometers from central Paris and is easily accessible by public transportation.  If you are starting from central Paris, I would highly recommend the public transportation option.  Just jump on the RER A and head east to the end of the line (to Marne-la-Vallée Chessy).  Trains come numerous times per hours.  Check here for exact train times on your day of travel.  It's just 41 minutes from Châtelet-Les Halles to the Marne-la-Vallée Chessy and it will cost you €7 each way.  (Don't forget that you can use your ticket from your metro or RER station of origin or to your final destination within Paris; there is no need to buy a separate metro ticket.)  When you arrive at Marne-la-Vallée Chessy, you are only meters from the park entrance.
Purchase tickets online in advance to save time upon arrival.  If you purchase 5 days in advance, you save money and you can use the ticket any day from 5 days out to a year from purchase, so if it's pouring rain, you're not obligated to go on a specific day just because you bought the ticket in advance.  Children under 3 are free and for ages 3 – 11, tickets are discounted.
If you do not mind a bit more walking around the park, you can pick up "Fastpass" tickets for entrance via the "Fast Track" line at almost every ride for a specific time slot later in the day and in doing so avoid the longer lines.  A screen at each ride will tell you the approximate wait time and also the time frame (usually a 30 minute window) for the Fastpass tickets being distributed at that moment.  There is still a short wait even with Fastpass (in our experience, about 10 minutes), but that wait is for the most part indoors or in a covered area so you are protected from the rain and cold.
Given the covered waiting areas, we actually found that visiting the park on a drizzly day was not so bad.  A downpour would be rather depressing, but light rain keeps a lot of the visitors away.  I'm not sure I would want to visit on a beautiful, sunny weekend day!  Of course if you are able, it would be best to visit mid-week and not during Parisian school vacations.
If you are visiting from out of town, you could consider a night at the Disneyland Hotel, right at the park entrance.  Each guest receives an all-day (although not valid 1pm – 4pm) Fastpass ticket that allows you to use the Fast Track lines without obtaining a Fastpass ticket for each individual ride in advance.  There are several other hotels by the park as well and a number of them also have Fastpass offers, at least for certain categories of rooms.
Be sure to leave some extra time to visit the Walt Disney Studios Park as well as the Disneyland Park.  The Studios Park is just next door and has a number of rides, a short studio tour by tram, and a number of shops and other activities.
Of course, there is not much that's "French" about visiting this Disney playground.  But it is truly a gathering place for people of all nationalities, and for the Americans in Paris, a stroll down Main Street, U.S.A. (and a piece of the sweet shop's delicious fudge) might be just the trick to soothe some homesick blues!