If you are looking to escape the city but you do not want to go too far, a half-day or full-day trip to L'Île des Impressionistes and the surrounding towns might be just the answer.  It's a no-hassle excursion: just take the RER A from central Paris to the Chatou Croissy station (RER A1 towards Saint-Germain-en-Laye, zone 4, €3.95 each way.)  It takes 20 minutes on the RER from Les Halles to Chatou Croissy and trains run about every 10 minutes on weekends.
Parc de la Jonchère (left) & Croissy-sur-Seine (right)
Upon arrival in Chatou, take the underpass under the tracks and turn right into the square (with a market on Saturday mornings) and continue to Rue du Général Colin, which leads to the Pont de Chatou (bridge).  You can make a nice circular walk by turning right onto L'Île des Impressionistes from the bridge and following this long, thin tree-lined island in the Seine south/southwest about 3 kilometers to the Pont du Maréchal-de-Lattre-de-Tassigny (the bridge that traverses the Seine between Croissy-sur-Seine and Bougival).  If you have extra time, I recommend a stroll up the main road (rue du Général Leclerc) and then take the road that curves around the back of the church up to the Parc de la Jonchère.  After exploring the park, wind your way back down to the bridge (Pont du Maréchal-de-Lattre-de-Tassigny) and cross the Seine over to Croissy-sur-Seine.  Take a right along the bank of the river and follow the riverside road (Ber de la Prairie) back to the Chatou Croissy RER station.  Traffic is limited on this road—you will see mostly pedestrians and bikes—so it makes for a relaxing walk, between beautifully landscaped mansions on your left and the Seine on your right.  There are plenty of benches, so you will have plenty of picnic opportunities along the way.  The full loop will take you about 2 hours, though it would be best to leave extra time for the Bougival detour and stops along the way.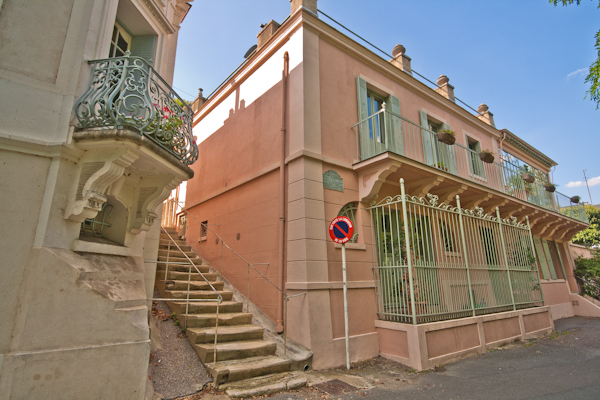 Chatou