As a good (aspiring) Parisian, I took three full weeks' vacation this August.  My destination: Norway.  I have posted the full (and I mean FULL) annotated itinerary under Longer Trip Itineraries.  I have included a handful of photos below, but please visit the Norway gallery on my Smugmug site to view additional photos.
Some personal observations and impressions about Norway and the Norwegians that may have no real basis in reality:
Norway is notorious for strict traffic cops.  The Lonely Planet says that fines can run up to 10,000 NOK (about US$2000!)  The Norwegians themselves seem to drive fast though—if you're driving the speed limit, you will be passed!  However, at least in the north, parking is a different matter.  You can apparently park anywhere you like.  Very convenient for photo stops and hiking.
Speaking of photo (un)convenience, if anyone from the Norwegian National Tourist Board is reading this, I just have one real criticism of your otherwise breathtaking landscape: why do you have to throw in SO many telephone and electrical poles and wires into every potential photo?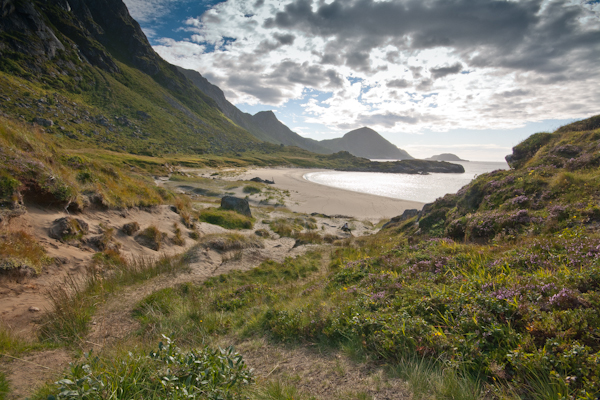 If you like waterfalls, this is the country for you.  They are everywhere.
Norway is insanely expensive.
You'd think with all the oil they have, the price of gas in Norway, at least at the state-run gas stations, would be cheaper.  Can't they subsidize gas in their own country?  But no, it cost me about $100 to fill up a tank on a compact car.
It seems that you can pitch a tent and make a campfire just about anywhere you like, as long as you are not too close to someone's house.  If you are a fan of camping, Norway could actually be a very cheap vacation.
Although they do seem to be in favor of shower doors (unlike one culture I've gotten to know fairly well over the last four years), they do not seem to believe in bath/shower mats.  I'm not sure why.
I didn't expect to like the architecture in Norway, as I am not always a fan of the modern Scandinavian style, but I found the architecture of the fishing villages and the old farms with their colorful homes and big red barns surprisingly beautiful.  In fact, the architecture is somewhat reminiscent of the older architecture from my native New England.  If you took the mountains of Vermont and made them a bit bigger, filled the valleys in with water and added some more waterfalls, it would look much like Norway!
A trip to Norway is your chance to try something new: reindeer sausages, whale meat pizza, fried cod tongues anyone?  (Note, I didn't say that I actually tried any of these.  No one's going to catch me eating Poor Rudolph.)
If you don't like trying new and exotic foods…. I like to think of myself as an international connoisseur of pizza.  Norwegians really need to add more tomato sauce to their pizzas—so be sure to ask for extra tomato sauce!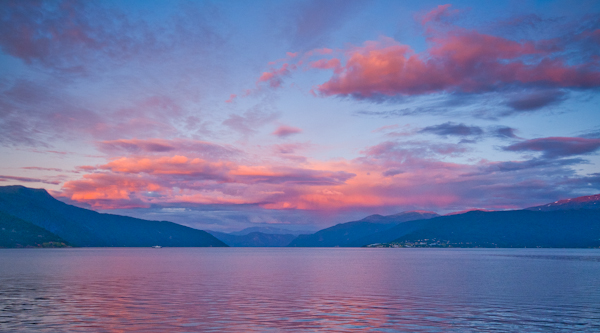 Norwegians love cabins.  They call them cabins (for tourists maybe), hytta (hytter is the plural), rorbuer, sjøhus…. But whatever the title, there are 1,000s of them and many are for rent.  I wonder if every person in Norway has his or her own little mountain cabin?
Norwegians also love tunnels.  I probably drove through 200 tunnels in 3 weeks, the longest being 24.5 km.  It's actually the longest in the world, 6 km longer than the Chinese runner-up.
A "pothole" is apparently something more exciting in Norway than where I come from.  Or maybe not, as the roads are beautifully maintained and blemishes are rare…. Several "potholes" are marked as tourist attractions on various hiking maps I saw and I even made a couple of detours to see them but I still cannot figure out what a "pothole" is.  If you know, please tell me!
While I would not have skipped over any part of the trip, a few experiences do stand out as highlights:
Hiking: The hiking in Norway is fantastic, trails are relatively well-marked and local tourist offices always have trail maps for local trails.  My favorite hikes were the Queen's Route from Stø in the Vesterålen Islands; the hike up Reinebringen in Reine, Lofoten Islands; the Aurlandsdalen Trail near Aurlandsfjord; and the Rallarvegen service road alongside the Flåm Railway.
Kayaking in the turquoise waters near Reine, Lofoten Islands.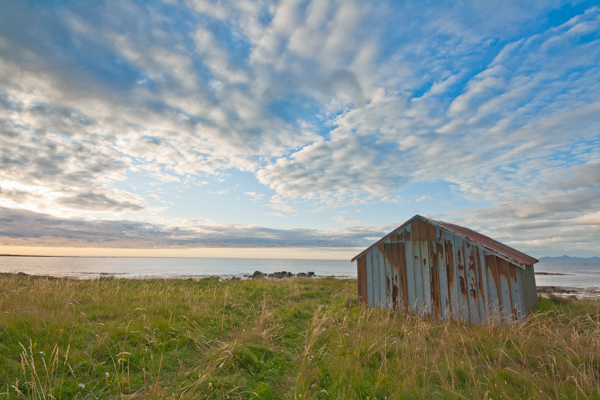 Driving tours: Norway has numerous the national tourist routes and other routes that should be national tourist routes.  Particularly spectacular is the scenery along the Kystriksveien coastal highway south of Bodø; the E6 between Mo i Rana and Bognes; the 85, 820 and 821 through Vesterålen Islands; the E10 through the Lofoten Islands, the 5 north of Balestrand and the 55 between Lom and Sogndal.
Admiring the classic architecture and getting a taste of traditional life: staying in the rorbua (fisherman's cabin) in Reine, Lofoten Islands and visiting the Otternes Farm overlooking the Aurlandsfjord.
And of course, meeting new friends: