Recently, a friend asked me for suggestions on fun things to do in Paris with a three-year old.  I asked my friends with tots and did a little internet research and started to wish I were three again!  A special thanks to Sabrina and Siobhan for giving me many of these tips!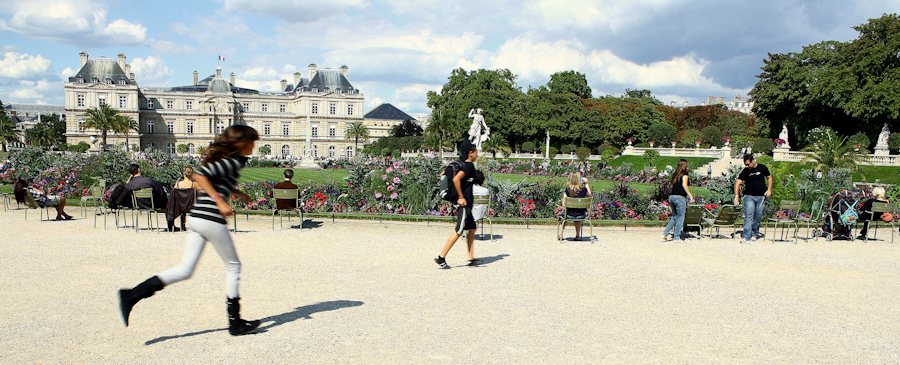 Jardin de Luxembourg
Of course if you are visiting Paris as a family, you can still visit the usual tourist sites.  Debbie of www.DeliciousBaby.com has posted a fabulous list of resources you may want to consider purchasing or checking out of the library before your visit that may help your kids better understand and appreciate Paris, its sites and its culture.
For more kid-specific fun and educational opportunities as well, below are some ideas.  I have included addresses for the English version of websites where possible but some of the websites are only available in French.
Note that some of the activities listed below may be much more practical or worthwhile if you child speaks some French.  In any case, you should visit the specific website or call ahead or to confirm opening hours and whether you need to reserve or buy tickets online in advance and to discuss language and age-appropriateness.
Paris Plage
Jardin d'Acclimatation (by the Bois de Boulogne between the 16th arrondissement and the suburb of Boulogne-Billancourt) is open every day.  It's practically a full-on amusement park and has workshops for kids (and adults too), a zoo, a train and a lot more.  The entrance is quite cheap, but you pay for rides individually and that adds up.  Be sure to have your kids bring their bathing suits if it is warm because there are sprinklers for kids to play in.  You can also rent rowboats to explore the Bois de Boulogne's lake.
Jardin de Luxembourg: Almost all Paris parks have some play area for kids, but the Luxembourg has a huge playground area, a sandlot for smaller children, spots to kick around a soccer ball or play some whiffle ball, as well as donkey rides.  Some say the quintessential Paris experience is to rent a small wooden sailboat at the fountain in front of the Senate building, which you guide with a long stick.  There is also the famous "guignol" or Punch & Judy-esque puppet show that would be entertaining even if the kids do not understand French.  Check for exact times as the show is only once or twice a day.
The Tuileries is a fun park for kids as, like the Jardin de Luxembourg, it also has a place to rent wooden push boats.  In the summer, the Tuileries houses a Carnival that is open until 11pm daily.  Even outside the summer months, La Grande Roue (Ferris Wheel) visits the Place de la Concorde from time to time, but it is not there as of the date of this post.
Most Paris museums have frequent kids' workshops (ateliers pour les enfants).  Check the website of the specific museum for details.  Here are some recommendations:

The Palais de Tokyo, one of the city's modern art museums
The Musée du Quai Branley, which focuses on indigenous art, cultures and civilizations from Africa, Asia, Oceania and the Americas
The Pompidou Center has a "Galerie des Enfants".  Currently, they have an exhibit on animals in art.  Check ahead to be sure there's a kids exhibit on that will interest your family as otherwise the Pompidou Center (aside from the great views on Paris from the top floors) may not be of much interest to the kids.

Le Poussette Café literally translates to "The Stroller Café", at 6 rue Pierre Sémard, 75009 Paris.  This is a café where you can grab something to eat or drink, meet other parents and there are a bunch of activities for kids as well.  Neat idea.  Other good kid-friendly food options are Le Pain Quotidien (there are five locations in Paris) and the Bonpoint shop on rue Tournon in the 6th arrondissement, which has kids' clothes, a café and a kids' play space.
Croisières Enfants: There are a number of boat trips (bâteaux mouches) on the Seine designed for kids of all ages.  You need to reserve in advance.  There's also the croisière enchantée but it may be better for French-speaking kids.
Hot Air Balloon in Parc André Citroën (15th arr.): It is tethered to the ground, so fine for little kids, not dangerous—could be something fun and different!  Though don't get your heart set on it as the voyage is cancelled any time the weather or wind acts up even slightly.  If it's a warm day, have your kids bring their bathing suits as they also have the sprinklers in this park.  There is also a hot air balloon for kids near Eurodisney.
Aquaboulevard (15th arr.) is a huge water park with a bunch of other activities for kids age three and up (and they need to bring proof of age).  Just be prepared for crowds!
Jardin des Plantes in the 5th arrondissement has a ménagerie (zoo) that's not enormous but a good size for little kids!  The Museum of Natural History also by the Jardin des Plantes has activities and exhibits for kids as well.
Agricultural Farm in Bois de Vincennes: the zoo at Vincennes is currently closed for renovations (until at least 2013) but there is a farm with free entrance and a lot more for kids at the park as well (for example, a puppet theater).
Cinéaqua near Trocadéro is sort of an aquarium "plus" with movie screens, shows and more.  They have workshops for kids age 3 and up (in French).  Be prepared for crowds though!  Save some time by purchasing the rather expensive tickets online.
La Cité des Enfants (Children's City) at the Cité des Sciences & de l'Industrie (Sciences & Industry City) at the Parc de la Villette (19th arrondissement) is an interactive science museum designed to help kids understand the world around them.  There is also a Planetarium and the Géode, a giant hemispherical IMAX screen.  Be sure to purchase your tickets online in advance.  My insiders tell me that while Cité des Enfants is a fantastic site, it can be exhausting and overwhelming for kids who do not have a relatively good attention span or interest in discovering new things.  Be sure to leave extra time on a sunny day for exploring the Parc de la Villette as well.
The Palais de la Découverte is another great spot for (French-speaking) kids with a passion for the sciences. They offer workshops, various shows, various exhibits, a planetarium and much more.
Parc de la Villette (19th arrondissement) also has workshops for kids of all ages that you can reserve online.
Euro Disney: Even for young kids not old (technically, not tall) enough for most of the rides, Disneyland can make for a fun day trip.  See my recent post for further details.
Paris Plage ("Paris Beach", roughly July 20 – August 20 each year).  For one month every summer, about 2 kilometers of the right bank's quais are closed to traffic and the once highway turns into a promenade of food stands, make-shift cafés, giant sandboxes with giant sandcastles, trampolines and other entertainment and relaxation aids.  There are a number of games for kids (though beware of long waits), sprinklers and lots of sand to play in.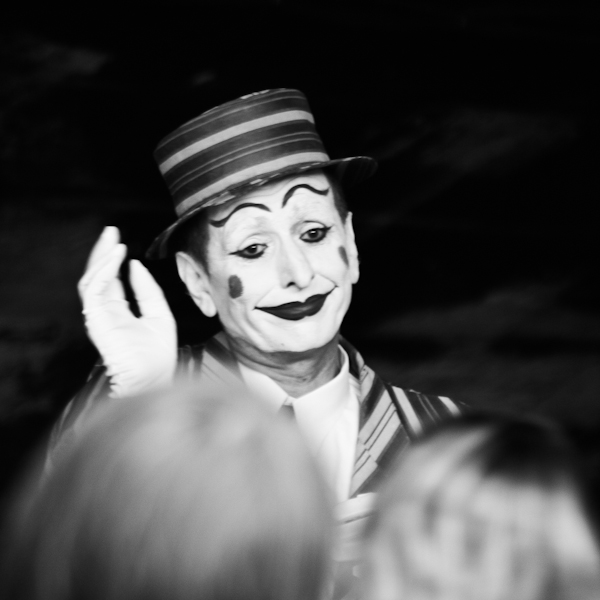 A Clown on the Quais at Paris Plage
Here are some additional resources I came across that may be of use: