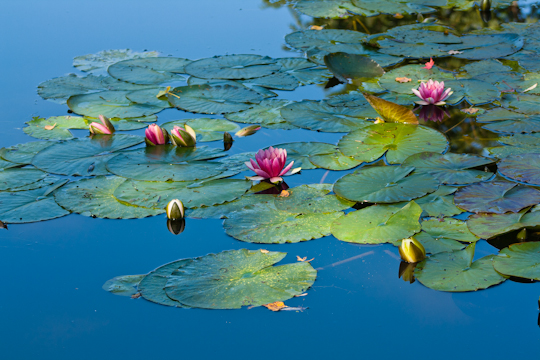 A visit to Claude Monet's house and gardens in Giverny is a wonderful escape from Paris, especially for admirers of this celebrated impressionist painter.  Be sure to pick a sunny day as the main draw is of course the gardens and the legendary water lilies.  On my latest visit to Giverny, it was almost too sunny for good photos, but with my telephoto lens, I was able to focus on up-close water lily and other flower shots.
To round off your Monet Day, consider a visit to the Orangerie in the Tuileries Gardens, back in Paris, where some of Monet's most famous works, including the room-sized water lilies paintings, are housed.
The Logistics
The house and gardens are open every day (no exceptions) from April 1 to November 1 from 9:30AM to 6:00PM (with the last admission at 5:30PM).  The price is €8 for adults, but it is worth paying an extra euro to purchase your tickets online in advance, or you could be facing a line of 100+ visitors.   With tickets purchased online, you can go straight in through the exit (sortie) lane.  These online tickets can be used on any date that year, so if it is raining on the day you planned to visit, you can postpone.
If you arrive by car, it is just over an hour from Paris and parking when you arrive is free.  However, Giverny is in the same direction as Normandy, so traffic can be horrendous on a Saturday morning (or on a Sunday afternoon if you are returning from Giverny).  If you do travel by car, consider stopping through Van Gogh's former home and final resting place of Auvers-sur-Oise and the Château de Méry on the way or way back.
The best option for public transportation to Giverny is the train: take the train from Gare St. Lazare to Vernon (ticket price €12.10, 45 minutes, click here for schedules), then take a bus or taxi to Giverny or for the sportier ones, rent bikes from the shop right outside the station in Vernon and make the 4-5 km scenic ride from Vernon to Giverny on two wheels.  If you have time to spare, there are also some nice trails along the Seine (which runs through Vernon).