Sometimes I need an excuse to just do nothing.  A visit to one of Paris's hamams* (also known as Turkish baths) is the perfect excuse.  I find it most rewarding when I go with a friend or group of friends and have several hours to relax and soak in the atmosphere (literally and figuratively).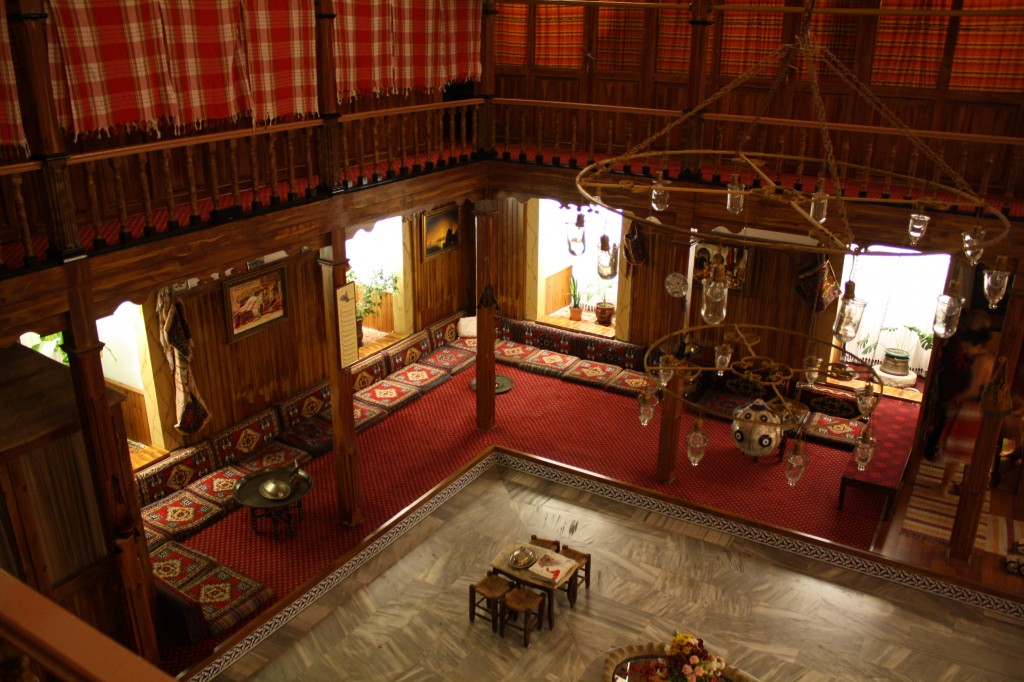 There are a number of Paris hamams worth a visit.  La Grande Mosquée de Paris in the 5th arrondissement is worth a visit in itself.  The Mosque has a restaurant and also large though sometimes crowded tea room with offering wonderful middle eastern pastries along with your mint tea. The hamam has different opening hours for men and women.  One entrance is only €15 and the hamam offers other various packages that include special treatments.  No appointment necessary.
The women-only Hammam Pacha opened more recently in the 6th arrondissement (there is also one in St. Denis) and is a bit pricey at €35 per entrance—to steam room, soaking pool, sauna, showers, relaxation room—with all treatments extra, but worth the money if you have a few hours to spend with friends or a book for the cozy relaxation room.  You can also have lunch or dinner there.  Thursdays and Fridays the hamam is open until 11pm.  No appointment necessary.
Also more recently opened is l'Echappée at 64, rue de la Folie Mericourt in the 11th, Tel. 01 58 30 12 50.  It is a bit more modern and upscale than the more traditional and arabesque Hammam Pacha, so it is a personal choice which hammam is preferable.  L'Echappée also allows men and women to use the facilities at the same time, except at certain times.  This "urban spa" is open until 9pm on Mondays, Tuesdays and Fridays and until 11pm on Wednesdays and Thursdays.  L'Echappée is a bit cheaper than Hammam Pacha—€45 includes a 10-15 min gommage (scrubbing) session.  L'Echappée has an intimate restaurant for lunch, light dinner and a Saturday/Sunday brunch as well.
Spa 28 is my latest discovery, an ultra-modern spa in the 6th arrondissement on rue Monsieur le Prince.  The staff is very pleasant and with cozy bathrobes and crocks to wander around in and a hot pot of tea, they certainly make you feel comfortable.  Spa 28 is small (be sure to reserve in advance) but not at all crowded (at least on the Saturday morning I visited).  There is a small pool, a relaxation area, a hamam, changing rooms and a number of rooms for treatments such as gommage (a scrub-down) and massage.  On the negative side, the prices are high.  Also, be sure you know the deal before you start your spa experience—we never had the chance to use the hamam as we told politely after our massages that our spa day was now complete.
If you are looking for spa treatments without the hamam experience, there are too many places to list. See Gayot's list for a few (expensive) ideas.
_____________
* Is it "hamam" or "hammam"?  It seems that "hamman" with two "m"s is derived from the Arabic version of the word, whereas "hamam" with one "m" is the Turkish word.  There seems to be general disagreement on the internet as to which is correct.  I think that means they are both correct.  Nonetheless, my sources tell me that in most of the Middle East,(depending on the dialect), the Arabic word pronounced "hammam" can mean "spa" but it also more commonly means "toilet".  This is a long-winded explanation for why I have chosen the Turkish spelling for this post, lest someone mistakenly think that I happily pay €45+ to spend the whole afternoon on the toilet.
** A little confession: This photo, the only hamam photo I have, is actually of the Suleymaniye Hamam in Istanbul and not of a Parisian hamam!  Warning: do not open the link to the Suleymaniye Hamam unless you want to hear loud music!