This past weekend I enjoyed a wonderful escape from Paris, to the charming small city of Pau in the Béarn (just east of the Basque Country), the surrounding vineyard-covered hills of the Jurançon and the mountains of the Pyrenées.  Four of us stayed with a friend's parents and were spoiled with home cooking and southern hospitality (not to mention puppy love from Gulliver, a 2-month old Beauvier Bernois or Bernese Mountain Dog). 
Merci de votre gentillesse!  The only downside to our deluxe private room and board is that I do not have hotel or restaurant recommendations to share this time, but I encourage you, especially you vinophiles and hikers, to consider a trip to this region.
Pau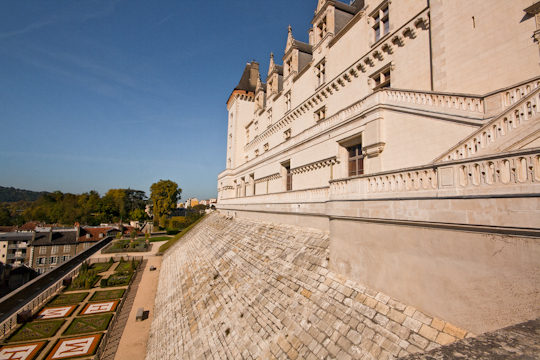 The center of Pau seemed much livelier than many small French cities I have visited where you cannot help but wonder "Do people actually live here?"  A long promenade confers a seaside feeling but in fact the promenade overlooks the hills, vineyards and châteaux of the Jurançon and not the sea.  Pau's impressive château is open to visitors 7 days a week (€6 entrance fee).
Wine tasting in the Jurançon
Just a few minutes' drive from the center of Pau are numerous family-run vineyards that sell wine and offer tastings as well. Jurançon was in fact the very first wine to be granted the "appellation contrôlée" or A.O.C. designation—back in the 14th century! We visited Clos Lapeyre and after an hour-long walk through the vineyards (marked with green arrows), ducked inside for a six-wine tasting of some fantastic dry and sweets whites and an explanation of this particular vignoble's wine production techniques. Gather some friends together, order 60 bottles or more and they will ship to Paris for free! Click here to find out more about wine tastings in the area and the history of Jurançon wine.
Hiking in the Pyrenées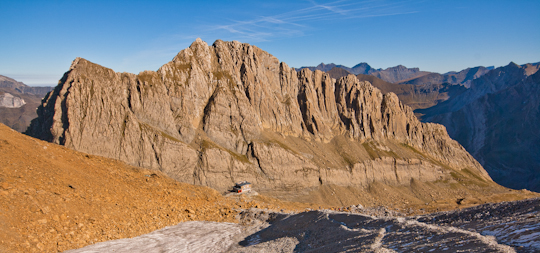 Sunday was our day to attack the Pyrenées.  We drive about 1 ½ hours to the village of Gavarnie, which along with the Cirque de Gavarnie and its other surrounding natural wonders was designated a UNESCO World Heritage Site in 1997.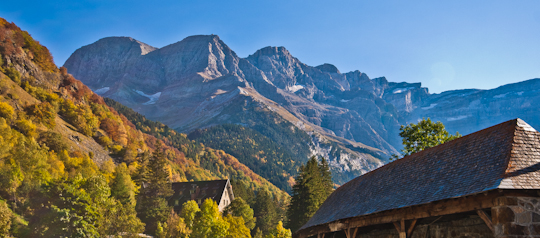 About 15 more minutes' drive up into the mountains from Gavarnie, the road ends and you can park and make the rest of the journey to the Spanish border by foot.  We hiked past the Refuge des Sarradets (mountain shelter) to the Brèche de Roland (2804 m), a gap in the rock face (40 meters wide and 100 meters high) that helps form the border between France and Spain.  According to the legend, Count Roland (a nephew of Charlemagne and best known for being the star of La Chanson de Roland or The Song of Roland) created the brèche or gap with his sword when he tried to destroy the sword after a defeat in battle.
After the Brèche de Roland, we continued along the ridge to the rock formation called the "finger" or Doigt de la Fausse Brèche (2944 m), where we enjoyed a picnic in the warm Spanish sun.  The round-trip hike, including stops for water and photos and a lengthier stop for lunch took us 5 ½ hours.  If you have extra time and do not mind wading through the collateral tourist trap, you could consider a stop in Lourdes, where Saint Bernadette was said to have seen the Virgin Mary appear, on the way from or back to Pau.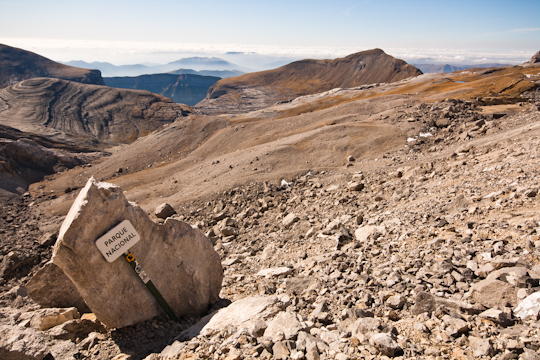 Getting to Pau
Pau is accessible by train but it will be about a 6-hour journey until 2019 when the TGV line is projected to link Paris and Pau in just 3 hours.  We flew Air France from Orly to Pau, just a 1-hour flight, leaving at 20h45 and arriving just before 22h00.  Flights back to Paris leave as late as 19h30 Sunday night or as early as 6h30 Monday morning.  Our round trip flights cost about €200 per person.