It's almost time for those New Year's Resolutions!  I'm not talking about the usual: losing weight, going to the gym more often, being nicer to your neighbors…. I'm talking about your Paris New Year's Resolutions!  What restaurants or bars have you been talking about for ages and still have not tried?  Which museums have you still not visited?  Which neighborhoods are you still hoping to explore?  What are the top day trips and weekend trips you hope to do in 2012?  Maybe a longer trip?  If you do not live in Paris and are not planning a trip here anytime soon, make the list of New Year's Resolutions for your own location!
Here is my (partial) list of 2012 Paris New Year's Resolutions (just click on the image below for a larger version):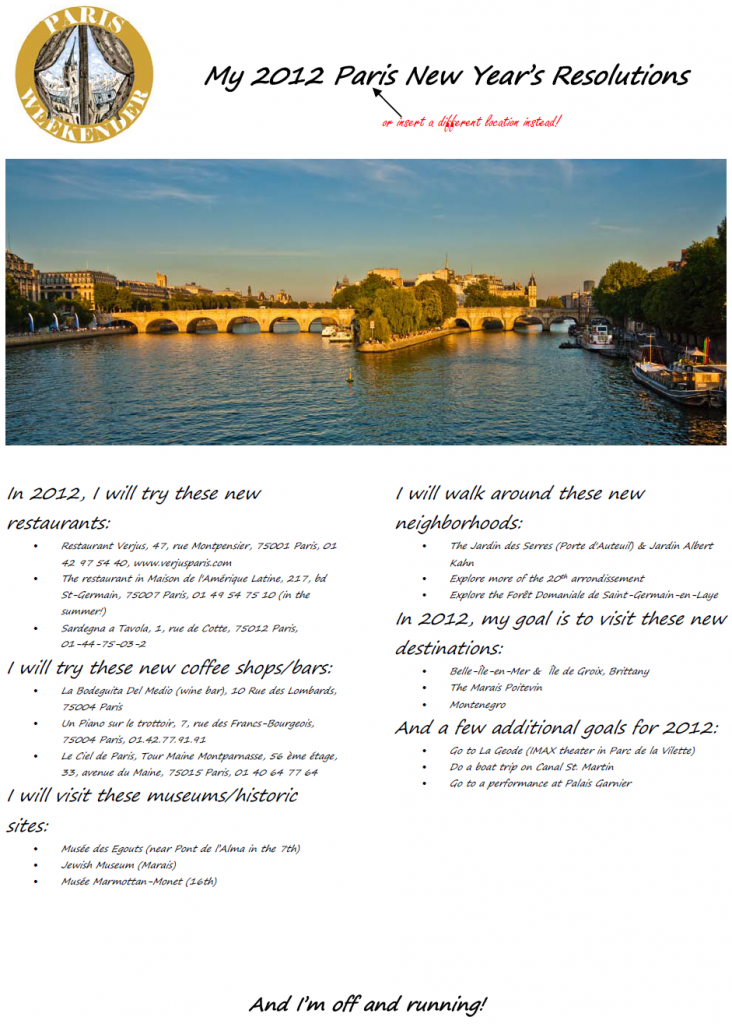 Now share your own list!  Post it in the comments, and if you want to remind yourself daily of your resolutions, fill out my New Year's Resolutions Poster, print it out and post it on your fridge, bathroom mirror, suitcase, monitor at work or wherever you are most likely to view it regularly!  And if you're a dork like me, you can also copy your list into your blackberry or phone so you always have it with you….
I'm looking forward to seeing your list!