Recently, I sat down with Isabelle Southgate of Discover Paris with the Kids to learn more about the tours she offers and her vision for her new company.
The Background
After years as a graphic designer specializing in children's books and games, Isabelle started Discover Paris with the Kids, through which she has developed and now leads thematic tours of Paris. Her hope is to make a living by doing more of what she really loves: walking around Paris, cycling the city, exploring new corners of Paris, helping others discover the city and working with children. The daughter of an English father and French mother, she has been working independently for 13 years now and living in France for 20 years.  She has always delighted in organizing tours of Paris for family and friends visiting.  Expanding these tours outside her circle was the logical next step in her career.
I met Isabelle at La Belle Hortense in the Marais (31 Rue Vieille du Temple, 75004 Paris, Tel. 01 48 04 71 60), a cozy "literary café" that serves as a traditional wine bar and also hosts book signings, lectures and other book-lovers' events. I had wanted to try this bar for a long time, so when Isabelle suggested we meet there I immediately suspected that we would get along well.
Isabelle's Tours
Isabelle's tours combine her love of working with children with her love of Paris. But they are not only for the kids. Her belief is that a family vacation should be a time for the whole family to enjoy experiences together. Her tours are incorporate activities that are interesting to kids and also to adults.
Tours are private; Isabelle does not conduct group tours. Each tour is custom-made, based on the ages of the children, the walking abilities of the participants, the weather and what the family wants to see and do in terms of neighborhoods and themes. Her favorite tours to lead have an artistic angle such as drawing or photography. But if the family prefers shopping tips or a focus on the history of the area, for example, she will do that too! Isabelle's itineraries are fully flexible.
"I'm not doing this for money," clarifies Isabelle. Despite her many dreams to grow the company's offerings, Isabelle wants to keep the tours small and personal. She is not looking to outsource the work or hire a team of guides. People will incorporate Discover Paris with the Kids into their vacation plans because they hear good things about her and her tours. It's about developing personal relationships. She plans to remain the company's one and only guide.
Future Projects
Isabelle is an enthusiastic and charismatic entrepreneur. She has a multitude of ideas for new projects and is eager to reach out to others who do similar or complementary work: tour companies, guides, bloggers and anyone else with whom she might have a productive exchange. She gave me a list of just some of the projects she is currently developing:
Tour for Teens: These tours would also be for the whole family, but with a focus on teens instead of small children.
Workshops: In the near future, Isabelle hopes to rent a studio to conduct workshops for kids including ones on drawing and book design and construction.
Writing a Book: She is also creating her own children's book to facilitate the little ones' exploration of Paris and use of imagination.
Partnerships: with various other organizations in Paris focusing primarily on tourism or the arts.  She is already working with some schools in Paris.  For example, she has visited schools to teach kids how a book is made.
New Tour Itineraries: Isabelle is constantly developing new tour itineraries, such as a tour designed for kids learning French and a "lazy" tour that makes use of some of the better public bus routes.
Dinners: Isabelle would love to organize dinners so visitors could experience being invited into a real French home and dining with locals and perhaps a mix of locals, expats and other visitors.
Challenges
Isabelle's biggest challenge in pursuing her new project has been the difficulty of being self-employed in France. "I cannot recommend to others that they start a business in France," Isabelle admits. The amount of paperwork is astounding and in addition to the administrative burdens, the tax burdens seem disproportionate on the self-employed. "You are going to need a good solicitor."
Isabelle's Paris
Get Isabelle talking about her favorite sites and hidden corners of Paris and she could go on for hours! She loves to bring families to a small park near Place Dalida on the back side of Montmartre that houses a playground for the kids and a pétanque court for those of all ages. The Marché des Enfants Rouges in the Upper Marais is another favorite stop. Kids often enjoy the Musée de la poupée (Doll Museum), the Musée de la magie (Museum of Magic) and the Musée de la Chasse et de la Nature (Museum of Hunting and Nature), in particular the top floor with its installation that tests kids' knowledge of animal sounds!  Isabelle also loves bringing families to neighborhoods that are not part of the usual tourist route: for example, to the small streets and alleyways of the 19th and 20th arrondissements.
"And when you are off duty?" I ask her, "When you are not leading a tour?" "The Palais Royal," she quickly responds.  Isabelle loves to read and there is no better spot than by the fountain in the Jardin du Palais Royal.  In the summer, the city hall sometimes organizes concerts in the garden as well.  Isabelle also loves to read in Père Lachaise cemetery, grab a drink or a coffee at Le Pick Clops (16, Rue Vieille du Temple, 75004 Paris, Tel.: 01 40 29 02 18) or explore the streets and galleries of the Upper Marais.
Advice for Families Visiting Paris
I asked Isabelle what advice she has for families traveling to Paris with children, and especially for those on a budget. She reminded me that tap water is good and free in France and many tourists do not realize this. There is no need to ever pay for water in a restaurant. The ubiquitous Daily Monop' is also a convenient and inexpensive stop for snack and lunch food. And any boulangerie (bakery) will make sandwiches. Food does not always have to be expensive in Paris. "And take public transportation," Isabelle adds. One more suggestion: visit the official Paris website (English version) before you arrive. It is full of useful practical information.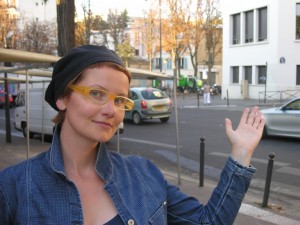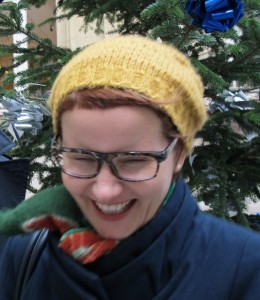 Some photos Isabelle shared with me of herself "in the field" 
***
"The best part of your job?" I ask. "Seeing surprise on someone's face, when someone—a kid or an adult—discovers something new," she answers, "that look of 'This is the real Paris.'" Isabelle loves meeting new families, she loves witnessing kids' imaginations at work, and she is contented when she can provide a safe environment for kids and parents alike to relax and truly enjoy the city.
Isabelle's passion for her work certainly made me want to be a kid again. If you want to be a kid again or if you are traveling to Paris with your children and you would like to reserve one of Isabelle's tours, be sure to mention that you read this interview on Paris Weekender and Isabelle will be happy to give you a 10% discount.
Thanks to Isabelle for taking the time to talk with Paris Weekender!