The Jardin du Palais Royal (Garden of the Royal Palace) is located in the heart of Paris, in the 1st arrondissement just north of the Louvre, and yet it is hidden from passer-byes unaware that this little oasis of greenery and flowers, fountains and quietude, is tucked behind the narrow streets that enclose it.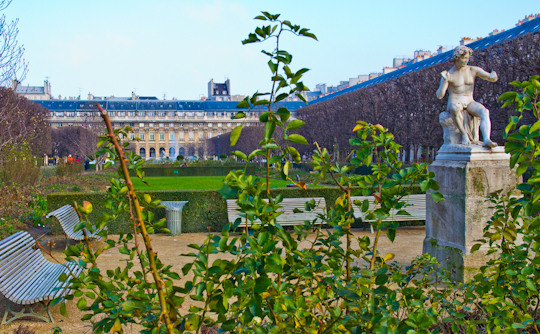 The palace and its garden were built in the 1620s by Cardinal Richelieu, who is credited as being the world's first modern-day prime minister, a patron of the arts and inventor of the table knife. The property was bequeathed to the royal family upon the death of the Cardinal in 1642. Throughout the course of its long history, the palace has been home to members of the French royal family, members of the exiled British royal family (in 1649 during England's civil war) and members of the Bonaparte family, among others. During the French Revolution, the garden was a gathering place for philosophers and activists alike.
Today the Constitutional Council (Conseil d'État) and the Ministry of Culture inhabit the palace. See Paris-Walking-Tours.com's site for a more detailed history of the palace and garden.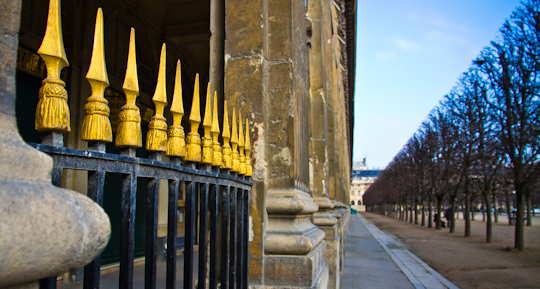 Shops and restaurants line the inner colonnade of the garden, including the historic Le Grand Vefour, a symbol of Parisian decadence dating from before the French Revolution, At €96 for a 3-course lunch or €282 for a 4-course tasting menu, a visit to Le Grand Vefour arguably is still a display of unfiltered decadence.
The Jardin du Palais Royal is a wonderful spot to sit and enjoy the spring sunshine or delight in the shade of the trees in summer. Bring a picnic or a book and leave the rest of the world behind. When you are ready to leave, be sure to exit on the northern side of the garden, by Le Grand Vefour, as you will be just two blocks from another of my favorite places in Paris, Galerie Vivienne.