The Pont des Arts, the pedestrian bridge over the Seine connecting the Louvre with the Institut de France (housing the Academie Française that decides which words make it into the official French dictionary), is a gathering point for artists, musicians and picnickers… and recently also for romantics.


View of the Ile de la Cité from the Pont des Arts at sunset
I also find the bridge to be one of the best spots in the city for photography: for capturing the sunset, for the view of Ile de la Cité and for people shots.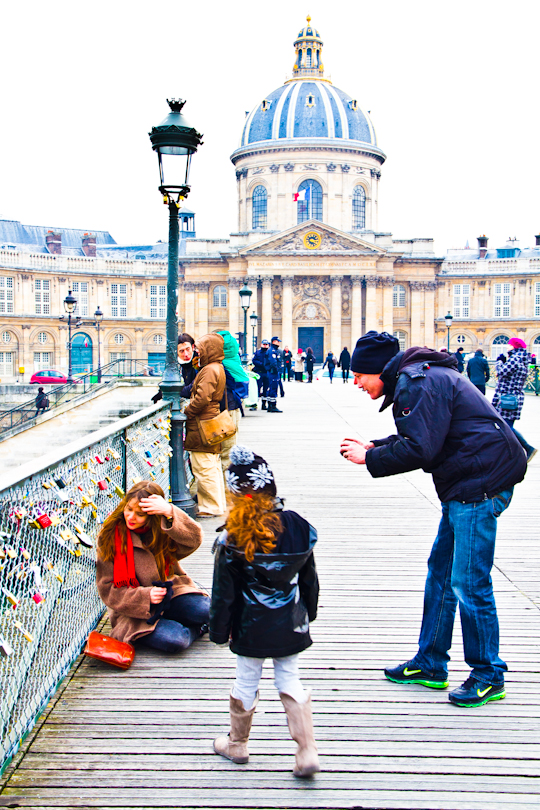 Photography on the Pont des Arts 
The original iron bridge, the city's first metal bridge, was built under Napoleon's direction between 1802 and 1804. Click here for some old photos of the earlier bridge. The current bridge, replicating the original, dates from 1984.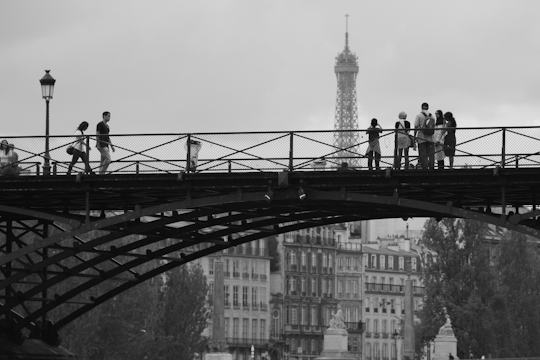 View of the Pont des Arts from the quais below 
On a warm spring or summer evening, the bridge is almost impassable, packed from end to end with passionate picnickers. If you choose to join the crowds, just beware that the police are starting to crack down on public consumption of alcohol on the bridge.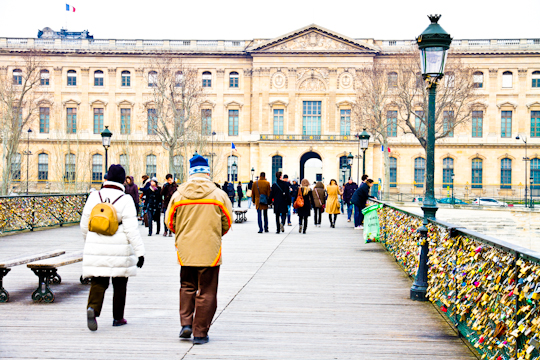 The Pont des Arts and the Louvre 
In the early 2000s, couples starting fixing padlocks to the links of the metal railings of the bridge and throwing the keys into the river below…presumably as a gesture of love, though some people will take any opportunity to deface a public landmark…. In 2010, the government spoke out against the growing colony of padlocks and overnight one night, they all disappeared. The government did not take responsibility, but…
See Lost in Cheeseland's recent post on the Love Locks for a cute Valentine's anecdote.
So what do you think? Are the locks romantic or are they a visual nuisance?