Last weekend, I took my second trip of the month to Brittany. This time, we were all the way out in Finistère, getting spoiled by welcoming friends, copious and delicious food and wine, and crisp fresh air.
Finistère is at the same time a wild place, with its wind-battered terrain and severe cliffs dropping to the sea, and a comforting place, with its picturesque villages of stone houses with colorful shutters. We spent our time this past weekend in and around Crozon, the smallest and the middle of the three main peninsulas that make up Finistère. We visited the colorful towns of Crozon, Camaret-sur-Mer and Morgat. We ate crêpes and drank cider at Bar du Veryac'h  (Pointe de Pen Hir, 29570 Camaret-sur-Mer, Tel. 02 98 73 37 50), which easily offers the most spectacular view of any crêperie I have known. We helped a friend celebrate the purchase of a new home in Morgat, then took a spin with him in his boat along the coast near Morgat towards the Cap de la Chèvre.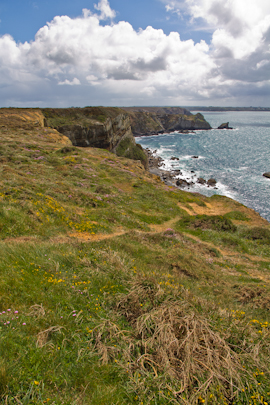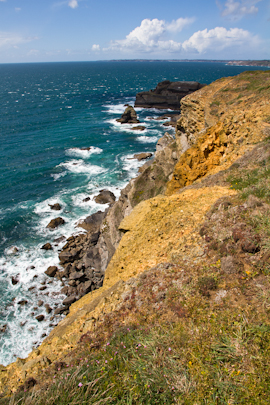 The coast near the Îlot des Capucins

One of the highlights of our weekend was a short walk along the Sentier des Douaniers ("Path of Customs Officers"), also marked as the GR34, and down to the Îlot des Capucins, a tiny island that houses the remains of a fort built in the mid-1800s. The path is not easy to find from the road if you are not hiking the GR34 all along that stretch. But if you are handy with a GPS, you can plug in these coordinates: 48° 19′ 09″ N 4° 34′ 59″ W, or follow these Google map directions. The view of the fort from the cliffs above is quite incredible. If you visit, be sure to spend some time exploring the island and observing the various architectural styles that make up this structure that was created over a period spanning a number of decades. And do not miss going down into the bunker below.
From Paris, Finistère is about 6 1/2 hours by car, or about 4 1/2 to 5 hours by train to Brest or Quimper. I chose to fly Easyjet from Paris-CDG to Brest. There is a convenient weekend getaway flight that leaves Paris at 7:10pm on Friday and returns from Brest at 8:55am on Monday. Airports always add a bit of hassle, but the flight time is under an hour. I would highly recommend renting a car upon arrival if you take the train or fly. As I was staying with friends this time, I have not posted a full itinerary. However, my Morlaix and Surroundings itinerary under Weekend Itineraries does include a day on the Crozon Peninsula, ending with an oyster dinner in Locronan, a beautiful stone village that I highly recommend visiting as well.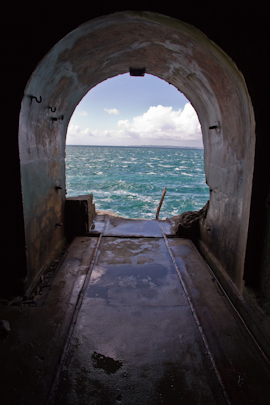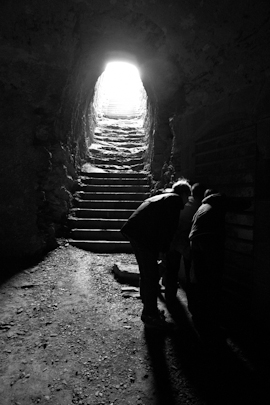 Tunnels of the Îlot des Capucins
My heartfelt thanks to François for showing us the Îlot des Capucins, to Olivier for the festive housewarming party and the boat ride, and to all of my new friends in Brittany… but especially to Sonia, Jean Roland and Arnaud for their incredible hospitality and kindness!
Merci!!
***
I am always looking for more suggestions for new corners of Brittany to discover. Have you visited Brittany? What are some of your favorite spots out there?