About 32 kilometers northwest of Paris, along the Oise River, lies the small town of L'Isle Adam, an idyllic spot to spend a Sunday afternoon.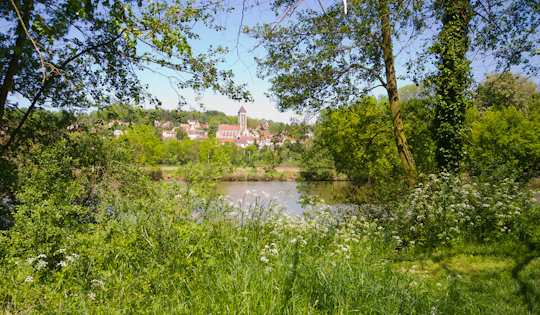 View from the river path just northwest of L'Isle Adam

L'Isle Adam has a little bit for everyone: the river and trails alongside it in both directions, a forest with numerous trails, farms and fields and parks for just relaxing. One such park is by the Etang des Trois Sources, where you will find picnickers, people fishing, swans and ducks and an easy path around the water.
On the southern side of town, there is a pedestrian bridge that connects a pleasant park with a paved path that stretches for a few hundred yards along the river. To our surprise, we spotted a rather tame mother and baby river otter enjoying pieces of bread they had been offered!
The small town is not only picturesque but surprisingly lively on a Sunday. We had no problem finding a café at which to grab a coffee and a boulangerie for stocking up on picnic goods. The impressive Château de Conti is unfortunately only open for private receptions, but can still be admired from the outside.
L'Isle Adam can be easily accessed by RER from Gare du Nord by direct train (55 minutes). The town is just over the bridge when you arrive at the train station, so there is no need for a car. On Sundays, trains run from Paris at 56 past each hour (arriving at 51 past the hour) and return at 22 past the hours (arriving at 17 past the hour). Trains may be more frequent during the rest of the week. It is best to check the schedules before departing, in case they have changed. You cannot buy tickets online; instead purchase them at Gare du Nord.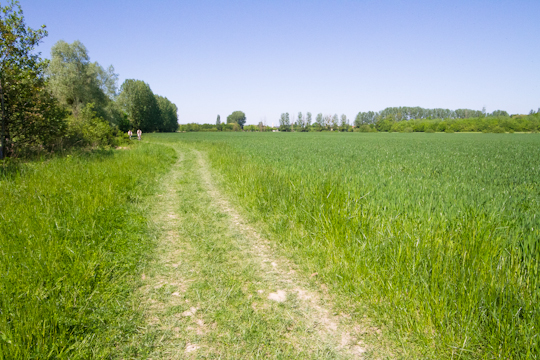 Fields just southwest of L'Isle Adam
There is plenty to do in and around L'Isle Adam if you enjoy walking or just want to hang out in the sun for an afternoon. But a L'Isle Adam can also easily be combined with a visit to nearby Auvers-sur-Oise (of Van Gogh fame) and/or Méry-sur-Oise with its beautiful château and grounds.
***
Which is your favorite spot for a day trip to Paris? This might be my new favorite!