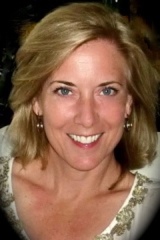 Recently, I spoke with Donna Morris, the enthusiastic "not your average tour guide" and creator of Best Friend in Paris about herself, her work and the city she knows so well. All of the photos below were donated by Donna. 
***
Donna, could you describe for us your company, Best Friend in Paris, and the services you offer?
Best Friend in Paris provides tours of Paris that help people experience Paris – like a tourist of course, but with a real friend to show you around.  My new friends learn to navigate Paris like a pro using the bus and subway system and within a couple of hours of being with me, will have seen a significant amount of the city!  I'm also quite passionate about wine and I love to take people to wine shops on my wine tasting tour.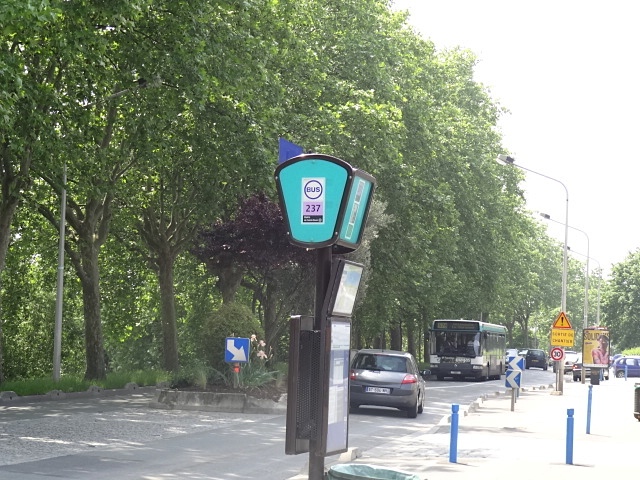 A bus stop
Could you tell us a bit about your background?  How did you end up in Paris?
I was born in Texas and grew up in North Carolina.  My Daddy was a real Texan and my Mom a true Carolina girl.  In the end, she won the battle of the States and we moved to North Carolina when I was about eight.  I studied piano at the School of the Arts in Winston Salem when I was in high school and then went to Queens College in Charlotte.  After college, I drove my VW down to Miami to meet up with a girlfriend who was working for Carnival Cruises and stayed for a couple years working mostly as a special events coordinator for Burdines Department Stores.  I also met my future husband (we've since divorced) in Miami and as a result of that marriage, I have a Swiss passport!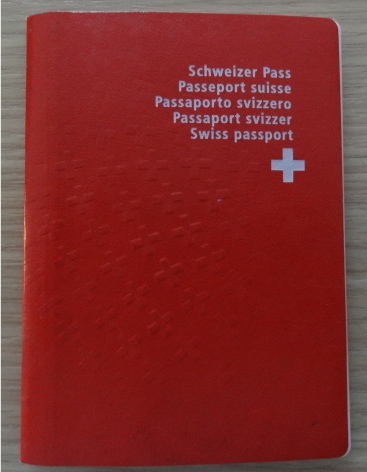 Which segways into how I ended up in Paris.   I've always had the legal right to live and work in France and after living in Asheville for a couple of years (and many other cities prior to that) decided that where I really wanted to live, or at least experience, was Paris.  So I packed it in and moved here in October of 2006 imagining that I'd stay for a year and well, here I am (still).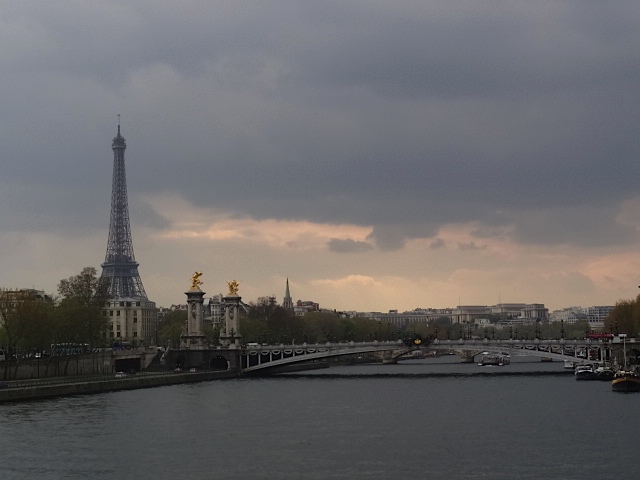 The Eiffel Tower, the Seine and the Pont Alexandre III
What is it about Paris that keeps you here?
Taking the 92 bus over to the 7th and seeing the Arc de Triomphe and the Eiffel Tower along the way.  Riding my bike around the city and looking with awe at its beauty (and never seeing the same thing twice it seems).  Having picnics by the Seine or in one of the gazillion parks.  Drinking wine with friends.  Discovering new restaurants. Meeting the most amazing people who have hired me or I've met at parties or through friends.  Going to Roland Garros (the French Open) every year.  Speaking French and imagining that my brain will be less soft as a result.  I'm sure I could sit here all day and never finish with my list of reasons!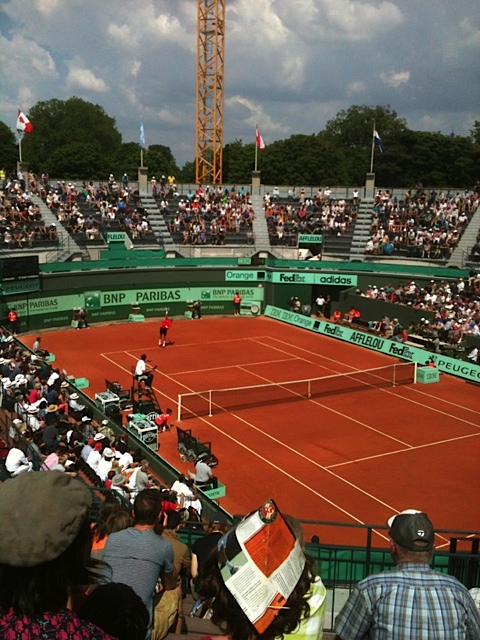 Roland Garros (the "French Open")
How did you decide to start your own business?
First, the truth be known, I really don't like going to an office every day.  When I moved here, I didn't know a soul and my French wasn't all that great and I had no idea how I was going to make living.  I tried real estate (which I was very good at but didn't enjoy) and piddled around with working in the business of wine and then finally one day, a friend jokingly made a comment about how easy it is for me to meet people and that they all become my best friend and I spend lots of time helping them out, so why not get paid for it.  And voila, a business is born.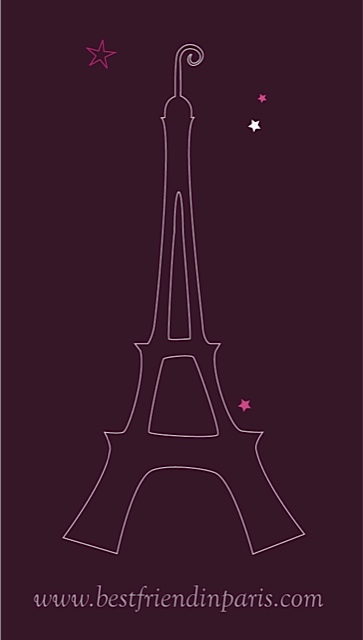 Donna's business card
Once the light bulb went off, I realized there really was a need for someone to help people NOT have a bad experience in Paris.  So many people come here who don't speak the language and are intimidated by what they've heard about rude French people and mean waiters.  I'm not saying there aren't a few but I rarely run across one.  Plus I figured as long as I'm living here, I'm probably supposed to be sharing my good fortune and I really do care about making sure everyone is happy!
Did you encounter any difficulties in starting your own business in France?
A few.  I'm living in a foreign country, with foreign rules and all the documents are in French and the people I'm dealing with are speaking French (usually rapid-fire) and oh – it's also a socialist country.  I had a lot to learn (and accept) about "solidarity" and working not just for myself but all the other people who live here.  It's gotten a lot easier since I started and as long as I turn in my payments on time and try not to make things too complicated, I'm fine.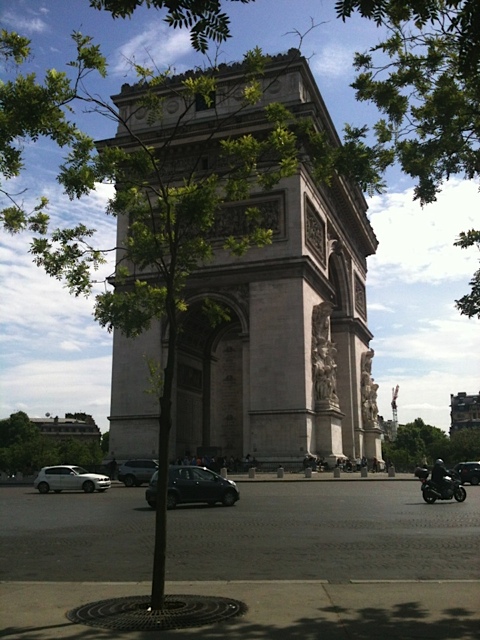 The Arc de Triomphe
What do you enjoy most about your work?
The part where I get to be outside all day – rain or shine – showing people around my Paris and sharing food and wine with them!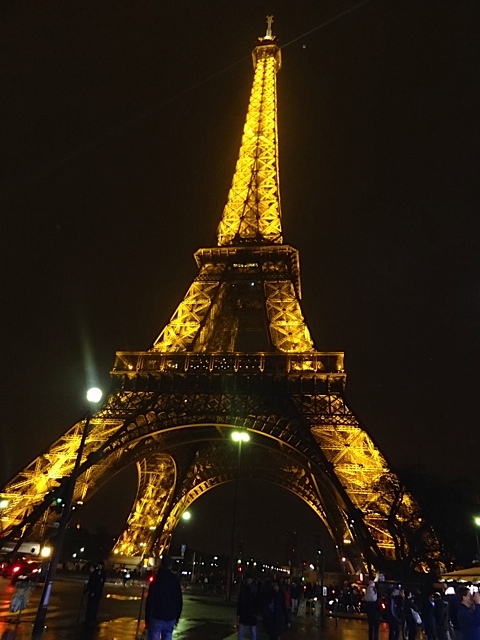 The Eiffel Tower at night
What are your goals for future projects for your business?
To stay in business and keep it as simple as possible, focusing on what matters most to me – staying healthy, having fun and being with people I like!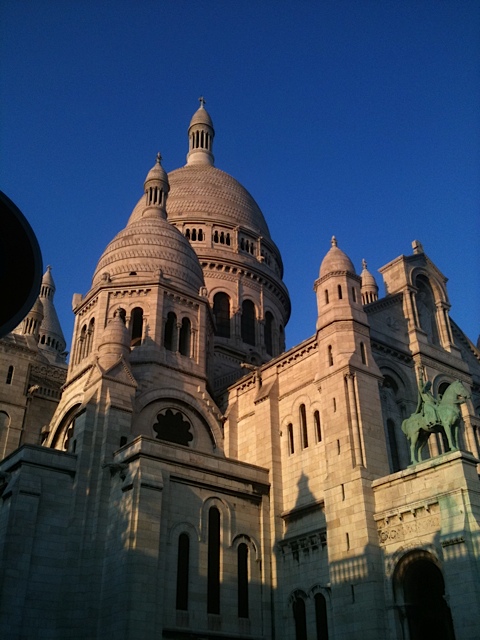 Sacré-Coeur
Could you tell us a bit about the July 2012 tour you are organizing?
My long time friend Sheila Campbell and I have put together a week in Paris where we have divided our days so that you either come with me or go with her on a designated activity.  We've left the days open enough so that everyone can pack in as little or as much as they want.  Once we get them through the first day and show them how to get around from our base hotel (which we purposefully chose in the 17th away from Paris center), they will be able to see the city on their own too. We're already getting requests from people to schedule another one around Christmas shopping!
Le Mont Valérien
Where is your favorite place in Paris or around to bring visitors?
This is a really hard question because I love so many different places!  I enjoy taking people up to Suresnes to visit the American Cemetery and Mont Valerian but it's rarely practical because of time constraints.  I also like taking people on my version of walking around Montmartre!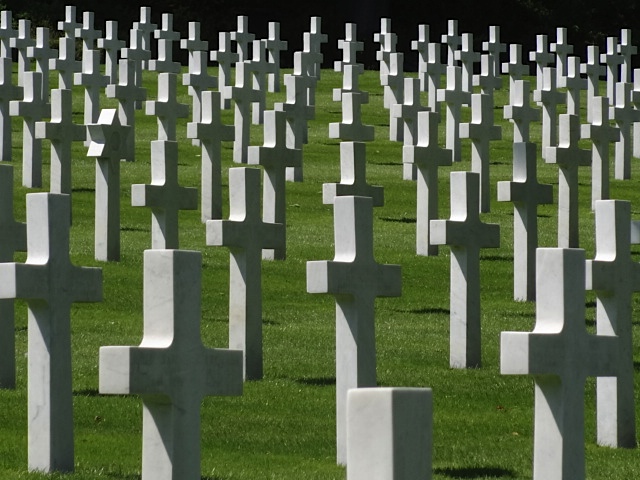 American Cemetery, Suresnes
Where is your favorite place (park, restaurant, café, neighborhood) in Paris or around to go when you are not with a visitor?
Straight back to my old neighborhood in the 17th and riding my bike to the Bois de Boulogne.  I so wish the Bois was more accessible to the general public. It is truly a treasure in Paris.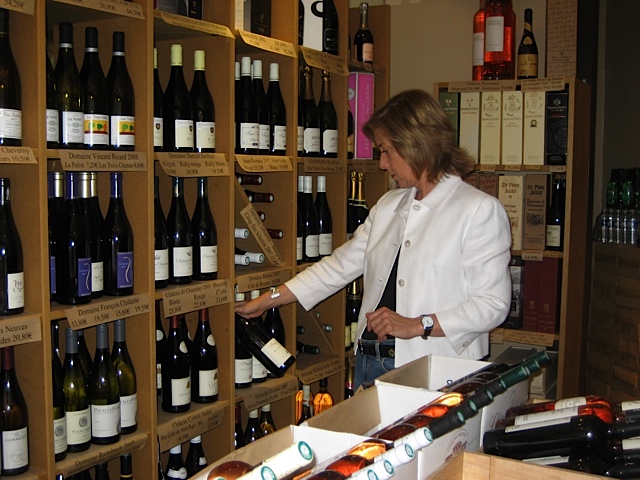 Donna shopping in a wine store
What advice do you have for people traveling to Paris for the first time?  And specifically for those on a tight budget?
Buy a copy of the Essential Paris – 3 Plans Par Arrondissement – map at any kiosk – it will cost you about 8 euros – and study it.  Eat lunch out, not dinner.  Order wine in "pots" or carafes.  Get fabulous views for free on top of Galeries Lafayette and Printemps department stores.  You can also buy great food to go in Lafayette Gourmet and Bon Marche's Grand Epicerie.  Buy a bus/metro pass – it's way easier than looking for tickets and so easy to jump on and off once you know the system.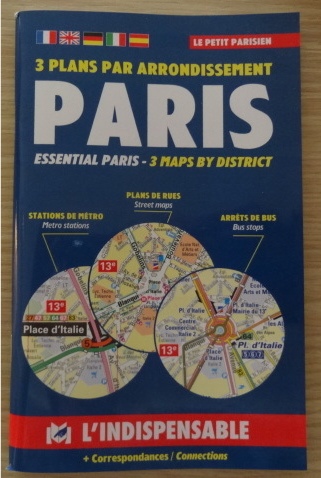 In just one sentence, why should someone hire you as their Best Friend in Paris?
Because I can navigate Paris in my sleep, I love every inch of it and truly enjoy sharing what I know with my friends.
***
Donna, thank you so much for sharing your personal stories and insights with us!