Every month, I post a list of some of my favorite or just the most eye-catching articles, recipes, blogs and other links I have come across in the past month.  Some relate to Paris and European travels and some have nothing at all to do with the themes of Paris Weekender.  Enjoy!  See May's favorite links post for more fun snippets.  And be sure to also visit my page entitled Some Favorite Links for my all-time favorite sites I go back to over and over.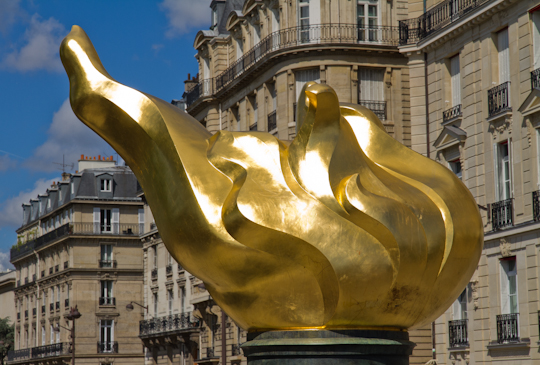 "Diana's Flame," as it is now known, is actually a full-size replica of New York's Statue of Liberty's flame. It was gifted to the city of Paris by the International Herald Tribune in 1989 (eight years before the princess's death in the tunnel below the flame) to commemorate 100 years of this English-language daily newspaper in Paris.
Paris
Paris through literature… Paris Book Club is a wonderful new blog that guides you in exploring the city through the eyes of the authors who write about it.
My Little Paris's map of the best Paris terraces for every taste
I have posted a fair bit on free stuff to do in Paris. I am not sure this Lonely Planet article adds anything new, but it's always fun to see new lists, presented in a different way!
A must for all visitors to Paris: Maggie Battista's post for the Hip Paris Blog on how to avoid bad food in Paris.
France & French
A very useful site, packed with a ton of practical information on moving to France, buying property in France and even just vacationing to France. The "technology" page is especially helpful in muddling through cable/internet set-ups and other fun rights of passage.
Photography
For those who prefer photography on the go, here are 100 Incredible Views Out Of Airplane Windows. Sorry – it takes quite a while to load!
General Travel
France did not make Mint Life's list of top 5 countries for Americans to live abroad. Do you agree with this list? Did France deserve to make the list?
Or if your aim is to live as long as you can…
What a cool idea! This site is trying to compile day trip information for all around the world!  It seems the Paris "day trips" are primarily just sites to see and not full day trip itineraries, but there is still some interesting stuff in here if you sift through it! And it could be a better  resource for UK day trips. It has a way to go, but a brilliant idea!
How about America's craziest hotels? Have you stayed in any of these?
Need to know what time it is anywhere in the world?
Check this out – it's like airbnb but for food! Yes, you can have a home-cooked meal wherever you may travel to!
Food & Wine
A comparison between real BLTs (bacon-lettuce-tomato) and BLT-flavored potato chips from Lay's – someone has to do it!
The Paris Blog recently posted a European Venn Diagram – this could be refrigerator-worthy!