Les JO (jeux olympiques) have begun!
I am adding an extra post this week because I just returned from a weekend in London and want to share my Olympics experiences – before the Games are over!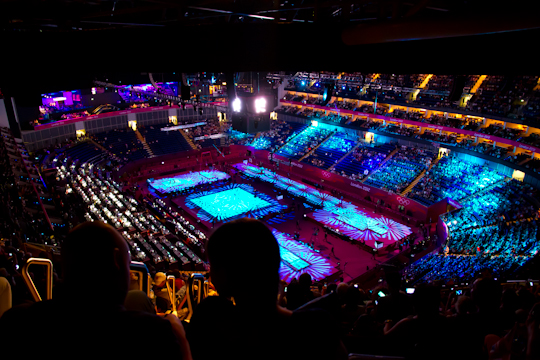 Pre-event show, Men's gymnastics at the O2 Arena
I was fortunate to win four tickets to men's artistic gymnastics in the O2 Arena (formerly the Millenium Dome and temporarily called the North Greenwich Arena for Olympics purposes) in the pre-sale "lottery" for EU residents. Looking back at old e-mails, I see that I applied for the tickets on March 26, 2011, so this weekend was a long time coming!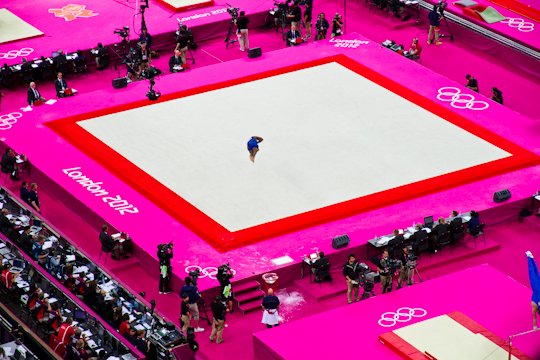 Men's gymnastics at the O2 Arena – John Orozco of Team USA – floor exercises
Overall, I was shocked at how well organized the events were. I arrived in London expecting hour-long waits to get in the underground stations, masses of people everywhere. Instead, I was greeted by friendly faces with free maps and Time Out guides upon leaving the Eurostar. Thousands of volunteers cover the city, ready to help with directions or other inquiries and crowd management. We only encountered one human traffic jam, which was easily avoidable by stopping for a drink before attempting the tube. Almost every time this weekend that I rode the tube I got a seat. I think many Londoners not involved in or watching the games heeded warnings to get out of town or work from home.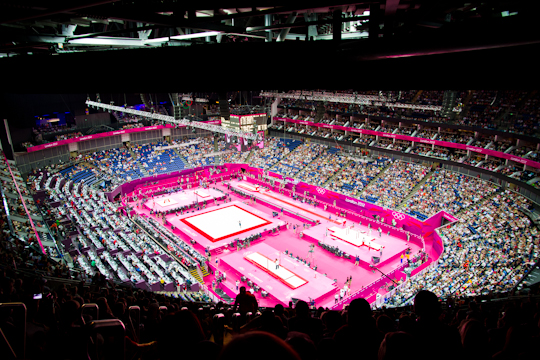 Men's gymnastics at the O2 Arena
I would still leave plenty of time to arrive at your destination, just to be safe. Certain tube stations (Victoria, for example) are rumored to be extremely crowded. It may be too late for these games to order an Oyster Card for London's underground network, but it's something to keep in mind for your next trip. You save significant time and money by not having to purchase individual tickets. (Note that you are given an all-day travel card free with your event ticket, but you must show your event ticket if asked.)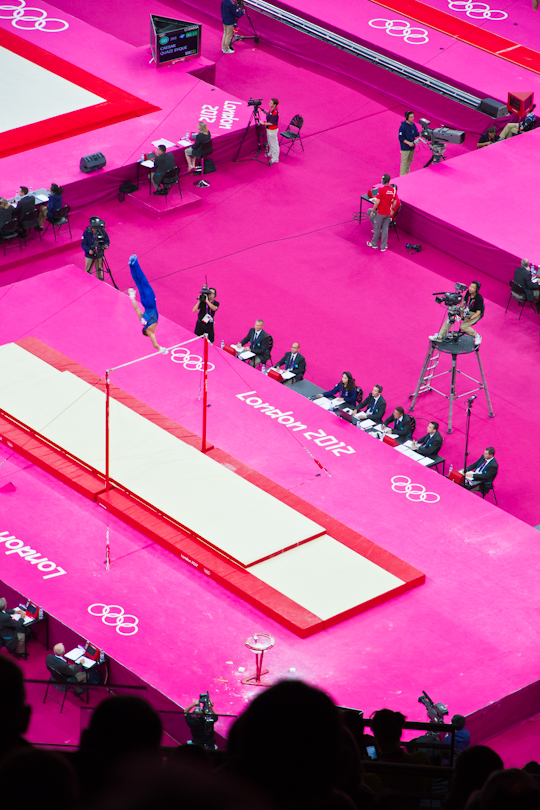 Men's gymnastics at the O2 Arena – Jake Dalton of Team USA – horizontal bar
If you are attending a specific Olympic event, you are encouraged to arrive up to two hours ahead of the start time. This staggers the arrivals and limits lines. The O2 Arena has a number of restaurants just outside and even inside, past security. So it was quite convenient to arrive early and eat lunch calmly knowing we were already inside and past most potential lines.
Read the security guidelines and list of prohibited items carefully before arriving at an event. An important thing to note! Cameras are not excluded on the official list, but I was told I'd have to check my SLR (presumably not because it was an SLR but because I had a zoom lens – well, 15mm to 85mm). I was pretty annoyed so I just didn't and no one said anything. In fact, when I arrived at my seat I saw plenty of other SLRs. So it's up to you whether you want to take the chance or not!
Seeing the Olympics in person for the first time in my life was an amazing experience. But this was also a wonderful weekend for catching up with friends and exploring some new corners of London. Wanting to get our muscles moving and not knowing how crowded the center of town would be, we decided to venture out Sunday on foot.
From Chalk Farm, we walked up Regent's Park Road through the lovely Primrose Hill neighborhood and southwest through the Primrose Hill park. We crossed the street into Regent's Park and almost immediately came upon the canal. We turned right and followed the canal path around the northern edge of Regent's Park, through the southern edge of Maida Vale and veered off to the left at Westbourne Green. We could have kept walking further on the canal (which I plan to do the next time!) Instead, we crossed the train tracks by the Royal Oak tube station, then wound our way to Westbourne Grove. We ate at a wonderful café on Westbourne Grove (see below) before strolling through Notting Hill and the Portobello Road Market.
Yes, London is walkable!
Here are my restaurants to recommend from this weekend:
Chalk Farm: Bar Centrale (Italian), 43a Chalk Farm Road, London NW1 8AJ, Tel. 020 7482 7273. Nothing fancy but an inexpensive stop for excellent pizzas and close to a few bars and pubs that actually stay open past 11pm!
Primrose Hill: Lemonia (Greek), 89 Regent's Park Road, London NW1 8UY, Tel. 020 7586 7454, info@amevaproperties.com. A spacious and nicely decorated restaurant with authentic Greek food – and only the freshest.
Notting Hill: 202 (Café/modern cuisine/healthy), 202 Westbourne Grove, London W11 2RH, Tel. 020 7727 2722. This industrial chic space also contains a high-end boutique. Luckily, the food is more affordable. Menu items include hearty brunch options but also a number of healthy and innovative salads.
***
Have you been to this year's Olympics or are you planning to go? Please share your tips with us!