Your first visit to Paris is exciting but may also be intimidating, especially if you have limited time and you do not know the language. I decided to write out my most common recommendations when I am asked, "I'm visiting for the first time – what should I do?"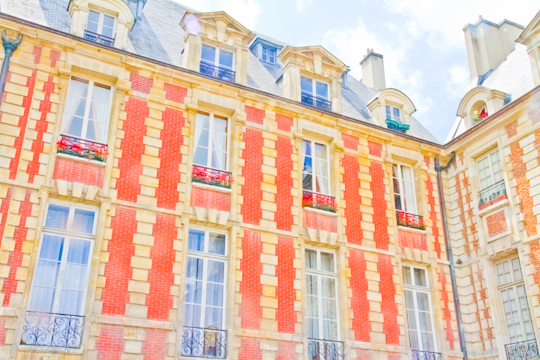 Pick the neighborhood where you are staying carefully. Do a bit of research on the various neighborhoods of Paris before you pick your lodgings. Picking the neighborhood carefully though does not necessarily mean picking the most central or touristy area. While it is hard to go wrong with a hotel or apartment in Saint Germain or in the Marais, you may find just as pleasant accommodations in the less touristy or less central neighborhoods. Do you want to be in the very center of Paris, in the middle of the action, but not with the other tourists? Consider Montorgueil in the 2nd. Is being central your number one concern, but you don't necessarily need a "neighborhood" feel? You can sometimes get good deals in the 1st arr. near the Louvre. Looking for a more edgy neighborhood with good nightlife? Consider staying near Bastille (11th, 12th arr.) or near Oberkampf (11th). Looking for a quieter part of town where you can still walk to your local boulangerie in the morning? Or where you can be near a park for the kids? Consider staying in the 7th near the Champ-de-Mars. Maybe you like the touristy areas but you are looking for something a bit cheaper? Montmartre could be the neighborhood for you.
If you are traveling with more than 3 people, you will almost surely need more than one hotel room. Whether you are in a larger group or just one or two people, if you are staying for 4 or more days, it may be more comfortable and cheaper to rent an apartment instead of reserving a hotel. You'll have more space, kitchen facilities and a glimpse at life in Paris as those who really live here experience it. There are a number of apartment rental agencies out there. My top recommendations for trustworthy agencies are the Adrian Leeds Group, Haven in Paris and Perfectly Paris. A quick addendum: my apartment is now for rent!!
Pick your restaurants carefully. I cringe at travel articles that claim you can just walk into any restaurant in Paris and it will be fabulous. This is very far from the truth. Especially in the touristy areas, restaurants can be downright horrible. Ask friends, ask locals, and look at my restaurant lists before you go! It's best to reserve in advance (at least a week in advance for the fancier spots, or a day or two even for the less fancy ones). No one should eat badly in Paris!!
Plan to splurge once in a while for food in Paris. I know, we are all on a budget, but its better to splurge half the time and picnic the other half than to try to eat at moderately-priced restaurants in Paris the whole time. You will just eat mediocre food the whole time. And it would be a shame to miss out on picnicking in Paris in the nice weather! (and not – picnics) versus moderation all the way. If you are here in colder weather or you aren't into the picnics, alternate French meals with non-French. You can get great sandwiches or salads at Cosi for €7.50, a fabulous burrito at Rice & Beans for €8.50. In general, you can get good Italian and Asian food for under €25 per person. But a good French meal will run you €40 – €60 per person for 3 courses and sharing a bottle of wine. Another tip for saving money on eating out: order tap water (une carafe d'eau) instead of bottled water and skip dessert and go out for gelato after instead.
Bring good walking shoes. Parisians dress up – you will never see Parisians out and about in sneakers. But you can still find comfortable shoes that look OK and you will see more of the city and save money on taxi fares. Here's a suggestion: despite the more formal dress code, it is apparently perfectly acceptable at just about any occasion to wear dark jeans, a white shirt with blue stripes and converse sneakers. For whatever reason, this is the one acceptable outfit if you are looking to dress down.
Do a few "off the beaten track" activities even if at the expense of missing out on a top site. It is your overall experience in Paris that counts, not how many boxes you have ticked. Explore some of the outer arrondissements (maybe the 19th, the 20th, the 11th?) Spend a few hours in a cafe there just people-watching. Visit the parks outside the very center of the city – Buttes Chaumont in the 19th is one of my favorites. Go to a lesser-visited tourist attraction like the Paris sewers.
Take a walking tour. This is a wonderful way to learn some history and a great opportunity to meet a local resident – ask your guide to share with you his or her favorite restaurants! I have done four different walks with Paris Walks and they are always rewarding. You can also do self-guided walking tours such as Time Traveler Tours' French Revolution Tour that can be downloaded to your iphone.
Plan at least one "experience" as opposed to just sightseeing. Not only is this a good way to meet locals and other visitors, but it will be one of your best memories of the trip. A couple of ideas: take a cooking class or go to a French conversation class.
Consider the time of year you are visiting. There is no decidedly good or bad time to visit Paris, but there may be good and bad times depending on your tastes. The winter can be cold and dark, but there are fewer tourists and accommodations (especially apartment rentals) may be cheaper. The spring offers long days but more and more tourists. In August, the city is empty. It's great for anyone who wants to drive or bike around but not such a good time to visit if you are a foodie, as most restaurants close at some point in the month if not for the whole month. The fall sees shorter days, but you can hit surprisingly nice patches of weather. Just before Christmas is of course cold, but the Christmas markets and hot wine help with that!
Learn a few key words and phrases in French so as not to be rude. Read my post on 20 Things You Should Know So Parisians Won't Think You Are Rude and You Won't Think Parisians Are (Exceedingly) Rude.
Consider whether a day trip is really worth it. A day trip can be fun but you can lose a lot of time organizing the trip and getting there and back. If you are hoping to see a lot of the sites in Paris and visit a number of museums, it may not be worth the trek.
That being said, if you have even one extra night, it might be worth it to get out of Paris. There are so many regions of France to explore. Paris is a wonderful city but does not come close to showing you what France is all about. If you are staying in Paris for a full week, I would highly recommend an excursion to the countryside. Skip the mid-sized cities and go right for the villages. Consider staying in a chambre d'hôte (B&B) or splurge and stay at a château B&B (actually, it may still be cheaper than a hotel in Paris).
***
What are your tips for first-time visitors?