This week's get-to-know-Paris challenge is to visit one of  Paris' monuments to the Holocaust.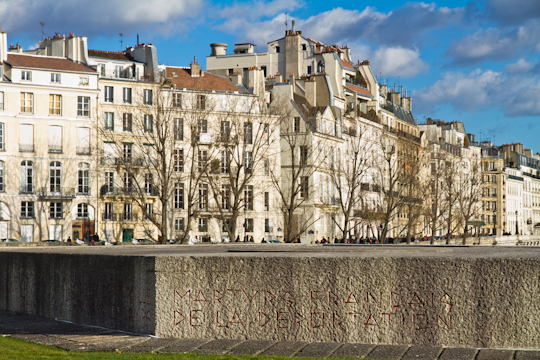 By the entrance to the Memorial to the Martyrs of the Deporation
The Marais houses the Memorial of the Shoah, a museum and documentation center.
On the eastern tip of Île de la Cité is the Mémorial des Martyrs de la Déportation (Memorial to the Martyrs of the Deporation), a sobering reminder of this dark stain on French history. The memorial is open every day but Monday and admission is free.
In the 15th arrondissement, you will find the Place des Martyrs-Juifs-du-Vélodrome-d'Hiver, a memorial to the estimated 13,152 (including 4,115 children) who were rounded up from their homes in Paris and nearby suburbs the night of July 16, 1942 (known as "La Rafle") and taken to this stadium (that has since been torn down). A number of people died from the horrific conditions in the stadium and those remaining were sent on to concentration camps.
***
Have you discovered additional holocaust memorials in Paris?