This is part of my series on ideas for day hikes in Brittany's southern department of the Morbihan. Please also see my earlier posts on Île-aux-Moines, Île d'Arz, Île de Houat and Île d'Hoëdic, Quiberon's Côte Sauvage, Port-Navalo and Locmariaquer and 2 Circuits in Le Bono.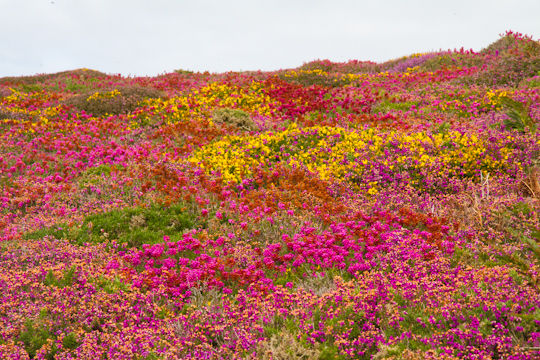 The flowers in the Crozon Peninsula were absolutely spectacular this August: yellows, pinks, purples, reds all out at once. I could not stop staring at this dense carpet of colors and I could not stop taking photos!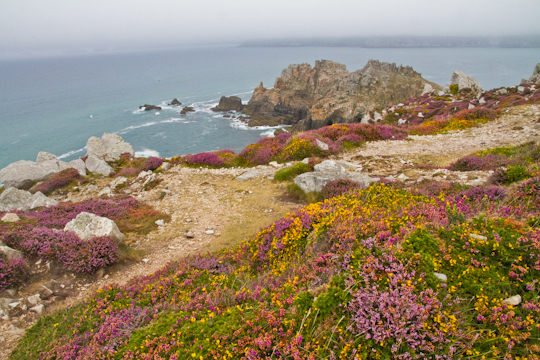 The GR34, the long distance path that follows the entire 1600-kilometers coast of Brittany meets some of its most spectacular scenery way out on the tip of Finistère, where the cliffs meet the ocean in a violent display of power.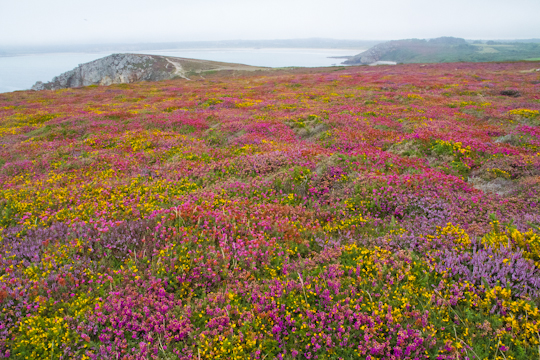 I once again stayed with wonderfully welcoming friends in the small village of Gaoulac'h, part of the commune of Crozon. Be sure to read about my first trip to Gaoulac'h as well!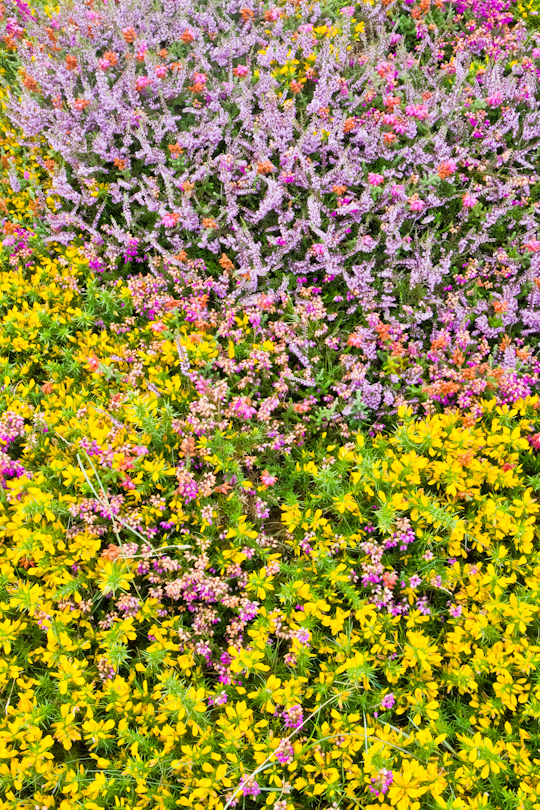 Hiking
My two favorite spots to hike out on the Crozon Peninsula are around Pen Hir and around the Pointe de Dinan. It is easy – just follow the coast and the red and white GR trail markings. At Pen Hir, you can make a nice loop of three hours or so by following the coast around the actual point of Pen Hir, then all the way to the colorful town of Camaret-sur-Mer. Then follow the road by the prehistoric dolmens and menhirs and back to Pen Hir.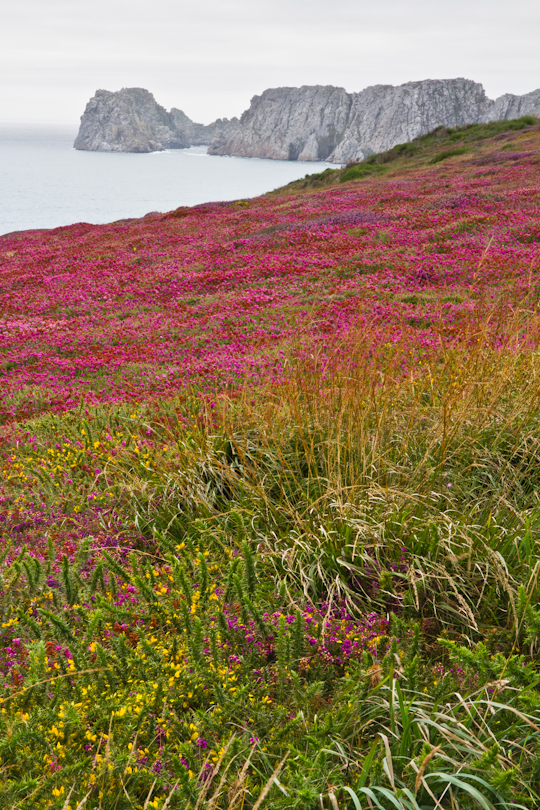 Don't forget to stop off at what may be the best located crêperies in the world! Enjoy the crêpes or just a coffee or cider at Bar du Veryac'h  (Pointe de Pen Hir, 29570 Camaret-sur-Mer, Tel. 02 98 73 37 50) and gaze at the coastline before you.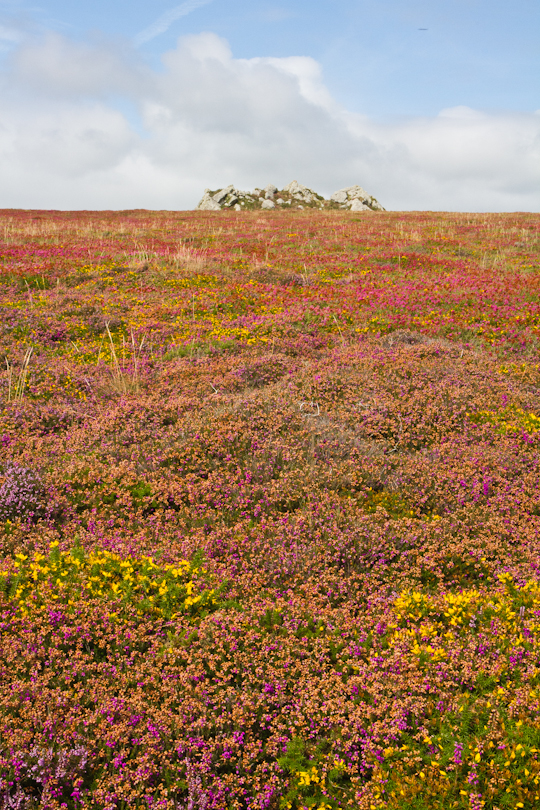 Éclade de Moules
We enjoyed a special treat on this trip while celebrating summer with friends one evening at a friend's house in the neighboring town of Morgat.
An éclade de moules is not your ordinary appetizer. And I would strongly caution you not to try this at home except that… uhhh… we did! But do at least make sure to be careful and to steer clear of anything flammable (your house, your neighbor's house, yourself, etc.)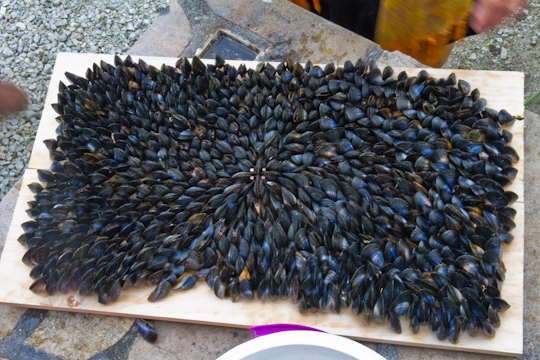 Start with a large wooden board (maybe 1 meter by 1/2 meter) and nail 4 large nails in the center to make a square in the middle. Start lining up your mussels with the opening facing up. It takes a steady hand – inevitable you will end up with some cascading dominoes at some stage!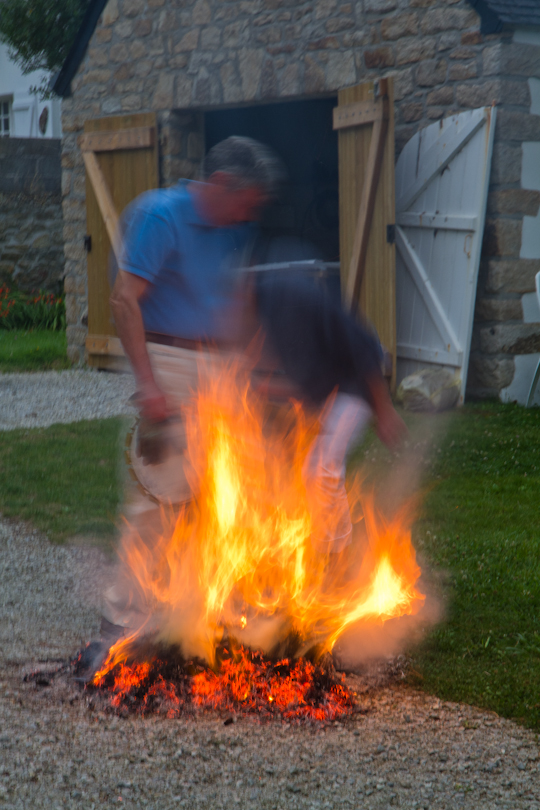 Place the board far from anything flammable if you have not already done so. Cover the mussels with a thick pile of dry pine needles. Then set it ablaze! It helps to light the fire in several places. As soon as the pine needles turn to ash, after about two or three minutes, the fire should go out (though be sure to have something on hand to aid that process if need be!)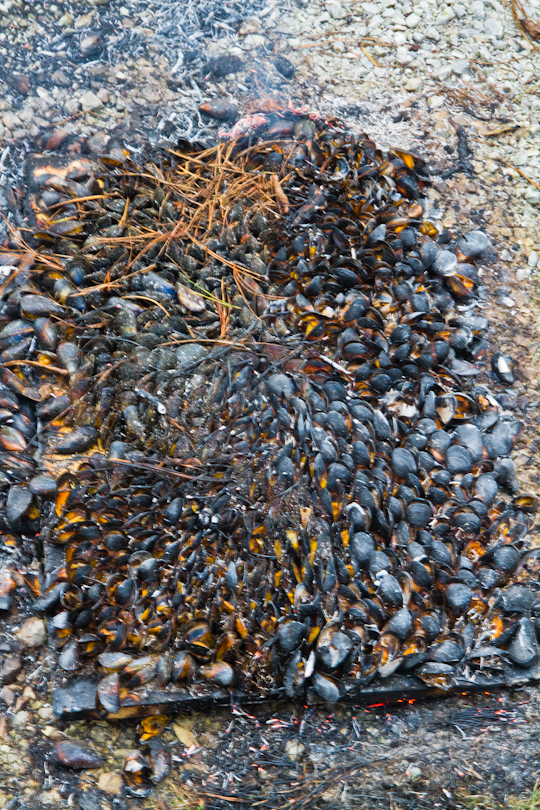 When the flame is out, place the board on a table so everyone can dig in quickly! You can eat the mussels alone or on bread (as a tartine).
Enjoy!