How do I find out about concerts and other events in Paris, and not just at the last minute? There are wonderful resources for telling you what is going on each week, for you last minute planners out there: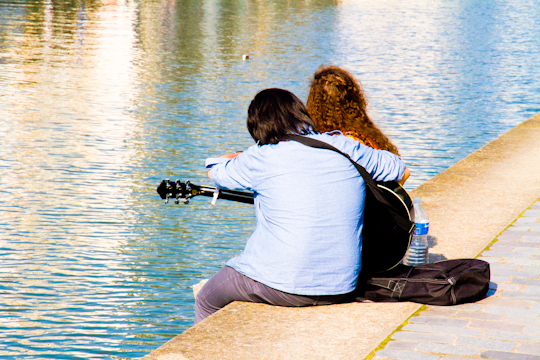 A couple in Parc de la Villette who didn't get tickets in time and had to organize their own concert
Pariscope is a small magazine that comes out every Wednesday. You can purchase it at any news kiosk or tabac. It will cost you 40 Eurocent and is jam-packed with information on every possible show, event and more that Paris has to offer in the upcoming week. But unfortunately, the information comes out a bit too last minute to take advantage of opportunity. There is also an online version, but it's not quite as complete.
There is a blog with a similar name to mine (Paris Weekends) that give suggestions for events for the coming weekend, but again, not so far in advance:  the post for each weekend is usually available on the Thursday or Friday.
Hip Paris Blog has a wonderful monthly post on recommended events in that coming month. Here is the October post.
But what about concerts, the opera and other events for which tickets sell out far in advance?  Here is where I would start:
Time Out Paris: Best for the medium-term (or last minute) planners, it gives you information (in English too) on upcoming events, the "in" venues, and other ideas for locals and tourists.
The FNAC website. They have all sorts of shows, concerts and sporting events, and there is an English version of the site.
Digitrick is similar to the FNAC site, with tickets for numerous venues, including some cabaret theaters.
You can also visit the websites of Paris's venues directly. Here are some of the major ones – but there are many, many more!
***
Which is your favorite site for finding out about upcoming events in Paris?