As you may already know, I am a big fan of walking. Whether it's hiking in the mountains of Corsica or along the coast of Brittany… or just exploring the streets of Paris, I can never get enough of it. So I was thrilled to meet Thomas Butler who has helped to launch Localers, a new brand of walking tour in Paris: walks of Paris with real, experienced locals. 

Could you tell us a bit about www.localers.com and the services you offer through the site?
Localers offer tailor-made excursions to Anglophone visitors who are seeking an authentic, local experience in the "City of Light." Our tours range from the gourmet Eiffel Tower Food Tour; A tour of Montmartre with a professional musician; to a chic Fashion Tour of Saint-Germain-des-Prés.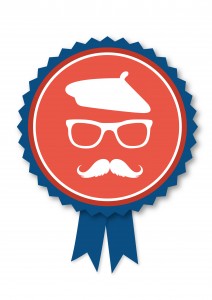 How do Localers' tours differ from tours through other companies? 
High quality, authenticity, and local approach are top priorities at Localers. We stress the importance on tours that are both informative and entertaining. We have vetted our guides personally and some of us on the team are also tour guides ourselves. Specialists in their fields (comedians, musicians, historians, fashion stylists, chefs, sommeliers…), our guides are not going to overlay you with too much information. Rather, the aim of our tours is to introduce you to authentic Parisian life. In addition, when you book a tour with us you are guaranteed a quality service. All our guides are professionals who speak at least French and English and know Paris like the back of their hands. Tour groups are small which guarantees intimacy.
Could you describe for us a few of the tours you offer?
The Eiffel Tower food tour is an example of a tour that offers visitors a quintessential slice of local life, literally on a plate. This tasting excursion, where everything is included in the price, takes in some of the top-end private eateries and artisanal food shops in the chic 7th arrondissement, right in the shadow of the Eiffel Tower. This is a chance to taste French delicacies like foie gras, drink a good Bordeaux or Côtes-du-Rhône, and learn about the hundreds of varieties of French cheese during a private workshop.
Your guide is a French chef who is passionate about both the culinary and historic side of things. You will not only learn about the delicious food available to taste, but you will also be given an historic overview of some of the famous landmarks you are certain to encounter along the way. Last but not least − weather permitting − there is a gourmet picnic organized right in front of the Eiffel Tower − the perfect way to discover the area through the eyes of a local!
Do you offer tours outside of Paris?
Yes we offer a tour of Bordeaux city, which includes a fascinating wine tasting, with a native Bordelaise who works as a conservationist for the local heritage council. Because we work hard to assure the quality of our tours, it takes time to put them together. However, we will add to our list of excursions for the rest of France in the coming months. So watch this space! We promise lots of surprises.
What if the tour I am interested in is not offered on your site – can I design my own tour with a local?
Absolutely! The advantage of booking with us is that we work with a network of over 60 specialized guides. If you don't find a tour that suits, you can contact us and we will design an excursion to match your budget and expectations. Whatever your desire (within reason, of course), we can tailor a tour to meet your specific interests. 
What if I am interested in giving tours – are you hiring local guides?
We are always interested in meeting locals with specific expertise and knowledge to share. We are looking for passionate people in their fields, whether it is cinema, literature, oenology or the Arts…
We also seek people with real insider knowledge about their districts. Get in touch; we love to meet new people!
How else can I get involved with www.localers.com?
We have just launched our blog, which provides visitors all the information, news, and insider tips, essential for any trip to Paris. Each week we do in-depth interviews with our guides, and local specialists like sommeliers and restaurateurs. We include their local top tips and must-see Parisian sights.
Each week we write a comprehensive article on a Parisian quartier, including where to eat and what to see.
If you could offer one tip for the first-time visitor to Paris, what would it be?
Top tip: stop off at one of the top-rate boulangeries and chocolatiers in Paris (Jean Paul Hevin, Pierre Hermé, Sebastien Mauvieux or Djibril Bodian) and order one of the incredible patisseries on offer. Mille Feuille, Ispahan, Opéra, Paris Brest…it will be clear from the first heavenly bite that the French have turned cake making into a fine art!
The taste of a crusty, warm baguette fresh from the oven, dripping with melted butter, is also something any first time visitor must make a top priority.
And for the frequent visitor?
Subscribe to the Velib' city rental bike scheme and you can cycle around the city like a real Parisian. A year's subscription only costs €29. To avoid lengthy taxi queues and expensive fares, sign up for the Autolib' electric self-service car scheme. Autolib' works on the same principal as its sister bike scheme: sign up for a year's subscription and pay according to your usage. Check it out!
***
Thanks, Thomas, for sharing your suggestions and tips with us!