Just before the holidays, I spent a weekend in London, visiting friends and taking in the holiday cheer in this constantly changing city.
These were some of the highlights:
Borough Market
Borough Market: An outdoor market – or technically a complex of markets – by London Bridge tube station. A mix of fresh produce, meats and everything else, gourmet foods and prepared foods. A wonderful experience even if you don't buy anything (but you will). Some stalls also sells crafts, such as Richard Bramble's collection, which I particularly liked.
Somerset House and Bootleg Banquet 
Somerset House: The building that houses Somerset House (Tudor Palace) was built in 1547, but was established – 450 years later is  – as a multi-function public cultural space. There is a deli and coffee shop, several art exhibits, events and more. Some exhibits require an admission fee but many of the exhibits are free to the general public. At Christmastime, part of the building is turned into the Christmas Arcade, with a number of shops representing local craftspeople. I was especially intrigued by the Hoxton Street Monster Supplies stall. Visit their shop in East London throughout the year to purchase your own jar of human snot marmelade and other delicacies.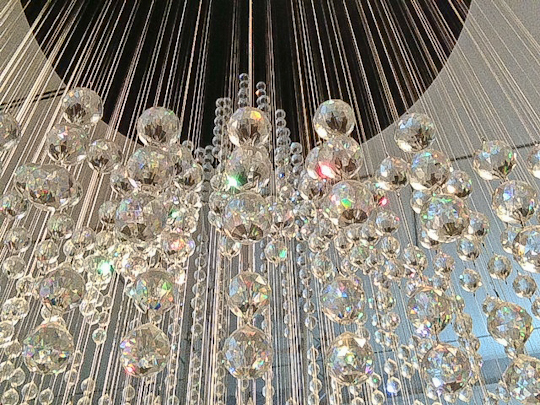 Design Museum
Design Museum: While not all the exhibits were really my style, I had fun photographing the crystals exhibit. And the museum is an easy walk from Borough Market along the newly renovated waterfront on the southern bank of the Thames.
Tower Bridge at night
Bootleg Banquet: Instead of picking a traditional restaurant for her birthday dinner, my friend had Bootleg Banquet cater a private event. Pretty fancy, huh? Yes and no! Yes, the private room in East London was beautifully decorated. But the price was not fancy at all. Just £30 per person, which includes prosecco, a gourmet four-course meal and all the wine you can drink for up to 28 people. After the dinner, we walked one block to the upbeat LoungeLover bar/lounge.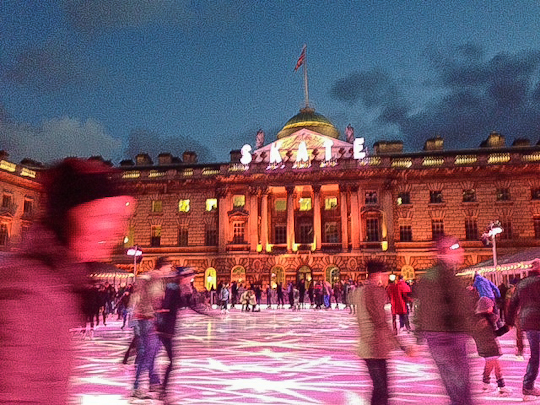 Skating at Somerset House
Primrose Hill: Walking around the Primrose Hill neighborhood and park on a sunny Sunday morning was an absolute delight. I happily stopped off for breakfast at The Little One Coffee Shop (115 Regents Park Road, Primrose Hill, NW1 8UR, helittleoneespresso@yahoo.co.uk). They sell crêpes, coffee, muffins and my favorite pão de queijo (Brazilian cheese bread). They also own a food truck for special events.

 Tower Bridge and the Design Museum
Be sure to also read my London recommendations from my July Olympics weekend!